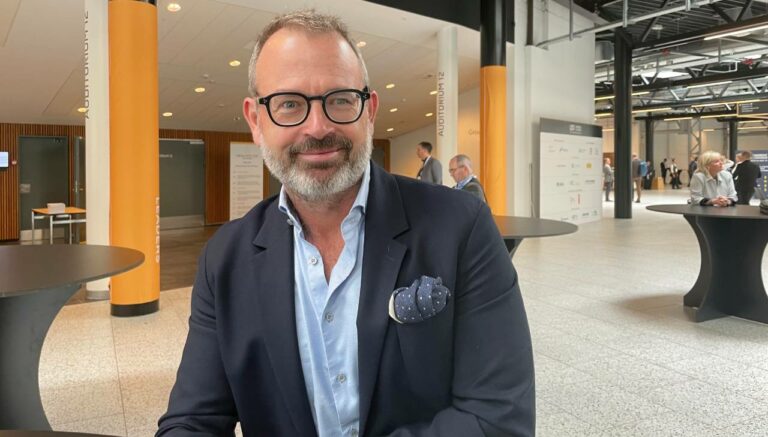 Alligator's CEO: trust is a key to success
At the LSX Nordic Congress in Copenhagen, BioStock bumped into Søren Bregenholt, CEO at Alligator Bioscience. During the conversation, Bregenholt talked about Alligator's lead asset, mitazalimab, and its promising mechanism of action as a cancer therapeutic. He also reflected on the significance of events like LSX Nordic for the regional life science ecosystem. Finally, Bregenholt outlined four key values that shape effective leadership in the industry.
On the final day of the LSX Nordic Congress 2023, BioStock met its Medicon Village neighbour Alligator Bioscience, or rather the company's CEO Søren Bregenholt.
Encouraging anti-tumour activity
Recently, Alligator unveiled compelling phase II interim data, highlighting the potential of their lead immunotherapy candidate, mitazalimab, as an effective pancreatic cancer combination treatment. On site in Copenhagen, we took the opportunity to talk with Bregenholt about the news, while also exploring key facets of leadership in the life science sector.
Søren, to start out with – what is in the pipeline right now?
– As you know, our lead asset mitazalimab is in phase II clinical development in pancreatic cancer, and we expect to read out topline data from that trial in January. What we have been releasing the last weeks, both in a scientific manuscript and in three conference presentations is a set of preclinical and also human data, both from the phase I study with mitazalimab and also from the phase II study OPTIMIZE-1. The interim data there show how mitazalimab's mechanism of action – in a safe way – activates the immune system; dendritic cells, macrophytes, and eventually T-cells have sort of been revalidated.
– We have also been able to look deeper into the timing of these responses – they also correlate some of these responses with positive clinical outcomes in patients. So, I think we have been able to firmly revalidate mitazalimab's mechanism of action during the last weeks, as well as show that the activation of the immune system through mitazalimab correlates with clinical outcomes in the ongoing phase II study. And that's cool!
What does the LSX Nordic Congress mean for the Nordic life science community and ecosystem, not least given your background in the Danish-Swedish life science cluster Medicon Valley Alliance?
– I think it is important for the Scandinavian and the regional ecosystem that we have conferences like LSX. The Nordic Life Science Days meeting will also take place in Copenhagen later this year. It is important to have a place to meet as it attracts some of the more global players to the region while also giving the regional players a natural place to meet a couple of times of year.
– So, I think that this conference is great. I like the opportunity to come and meet my regional network and talk to old friends, old colleagues and old collaborators and hopefully also meet new ones. So far today, I have had a couple of very good meetings with new and upcoming companies.
We have been speaking to other CEOs on leadership – what it takes to become a good CEO in life science and what is important to lead a team. What is your take on this issue?
– There are a couple of things, and you can see them reflected in Alligator's corporate values. One of those is collaborations. You cannot do it yourself. You need to build a strong team around you and be able to know what tasks to delegate and to whom – I think that is an important and central part of leadership.
– Another important value is trust; I mean you need to trust people and you need to be trustworthy and you need to act respectfully towards your colleagues and collaborators.
– You also need to be curious. I think it goes with the life science industry – if you do not have curiosity and the ability to see new horizons, then life science is probably not for you.
– The fourth value is accountability. People need to know that they can rely on you and that you will do what you say you will do. And that not only goes for the CEO but for everyone in the company. All these values go for the entire company. In a life science company, and in any CEO role, you need to be a bit courageous and willing to act on both the strategy and immediate opportunities that come as well as the immediate obstacles.
The content of BioStock's news and analyses is independent but the work of BioStock is to a certain degree financed by life science companies. The above article concerns a company from which BioStock has received financing.
Prenumerera på BioStocks nyhetsbrev