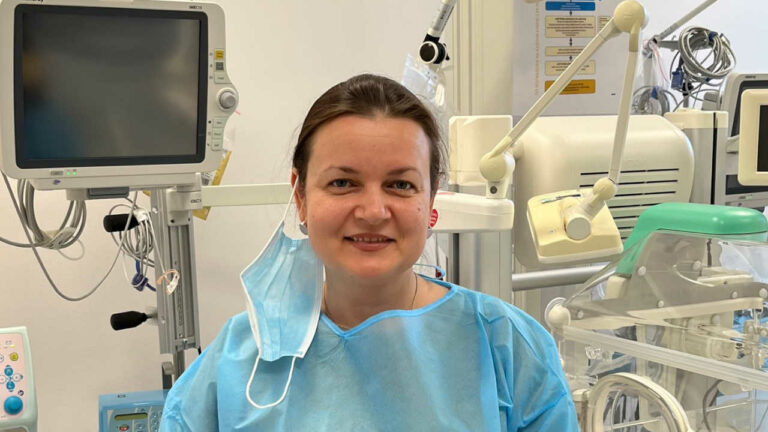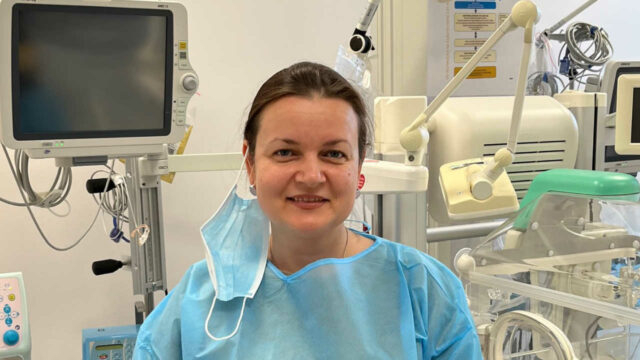 Clinical manager sees great interest in Neola's medical device
A little more than a year ago she fled the war in Ukraine. Today Tetiana Kovtiukh is working as clinical manager at Lund-based medtech company Neola Medical. BioStock talked to her about her role in improving the monitoring of lungs in preterm born infants.
Neola Medical has developed the medical device Neola for continuously monitoring preterm born infants' lungs. The device monitors changes in lung volume and oxygen gas concentrations and makes it possible to detect complications much quicker than current methods. The company hopes that the device will lead to fewer babies sustaining serious lung tissue injuries and that it will prevent bronchopulmonary dysplasia. Likely, Neola Medical's medical device will also free up valuable time for nurses and reduce the number of days that the babies need to spend in the neonatal intensive care unit (NICU).
The company is currently preparing for market launch, with initial focus on the U.S. market. Instrumental in that process is clinical manager Tetiana Kovtiukh, who joined the company last year. Tetiana is an experienced neonatologist with a medical degree and Ph.D. in neonatology from National Pirogov Memorial Medical University, Vinnytsa, Ukraine.
Providing medical expertise
She has been a medical advisor for companies like AbbVie and Teva Pharmaceuticals, providing clinical expertise while building a network of key opinion leaders in the field. That network serves her well in her new role at Neola Medical.
"One of my main responsibilities as a clinical manager at Neola Medical is to provide insight for the development of the product. What should Neola offer the NICUs to improve care for preterm born babies?", says Tetiana Kovtiukh in an interview with BioStock.
She recently toured hospitals in Sweden, Germany and Poland to learn about the needs in the different countries.
"Meeting the staff from different NICUs is very important to understand the clinical need and how Neola can meet those needs. I´m paying a lot of attention to the equipment in the NICUs and how it is used. I´ve noticed, for example, that there are big differences in how the lungs are monitored", says Tetiana.
Enabling better care
The network that she is currently building will not only be important for the further development of the product. During the visits, she has also had the opportunity to talk about what Neola has to offer.
"Doctors want to know what benefit Neola can give them compared to how they monitor oxygenation today, using a pulse oximeter or chest x-ray. With Neola, you measure oxygenation directly in the lung, while at the same time measuring volume. This enables you to see any complications immediately and make quick decisions on how to respond. This is very important considering that these patients are very fragile."
Lots of interest in the Neola system
Babies that are born too early are not yet ready for life outside the womb. Preterm birth is the second most common cause of death among children under the age of 5. If the baby survives its first period, it also risks having complications later throughout its life.
Given the sensitive nature of the neonates, it is important that the care is gentle and as non-invasive as possible. This has been an important aspect of developing the system. To market Neola, building connections with key opinion leaders is key.
"In my hospital visits I have seen a lot of interest in the product, where some believe it will provide a major improvement in the monitoring of preterm born infants. Particularly in Gothenburg, doctors were very interested and had a lot of questions. They especially like that the Neola device is non-invasive", says Tetiana.
Clinical trials next big step
The next big step for Neola Medical is to conduct validation studies including clinical studies. Tetiana will be at the center of the clinical trial process.
"First of all, we hope to see that the system improves the monitoring of the children's lungs. Another important aspect for hospitals is cost. The NICU is a very cost-intensive unit, and we aim to show that the use of Neola decreases the time the child needs to stay there. On top of that, we also aim to show that the monitoring device frees up time for the nurses, who in today's care need to spend a lot of time for visual observational monitoring."
The content of BioStock's news and analyses is independent but the work of BioStock is to a certain degree financed by life science companies. The above article concerns a company from which BioStock has received financing.
Prenumerera på BioStocks nyhetsbrev