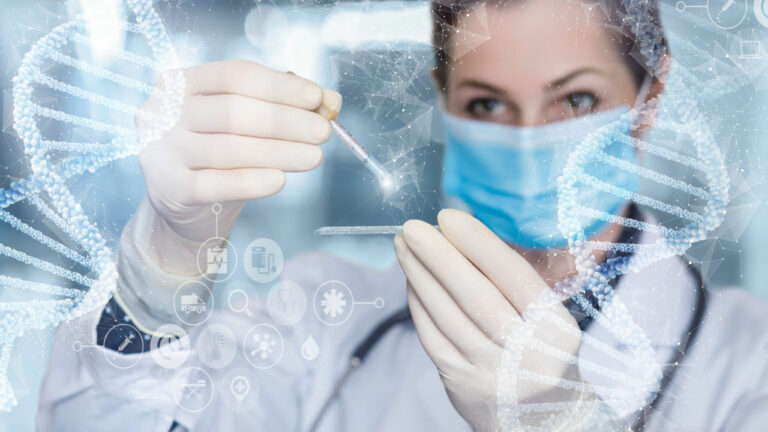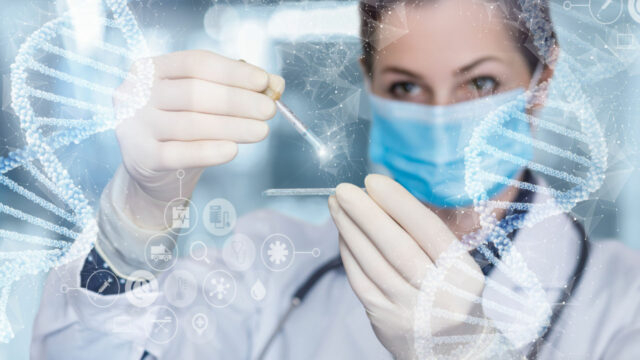 AACR puts spotlight on personalised cancer vaccines
Moderna generated a lot of buzz after reporting clinical data with its personalised mRNA cancer vaccine at AACR. Also showcasing its own personalised cancer immunotherapy at the conference was Evaxion Biotech, which presented promising phase I/II data with its candidate EVX-02. BioStock spoke with Evaxion's Chief Scientific Officer Birgitte Rønø to learn more about how Evaxion plans on impacting the cancer immunotherapy landscape.
American vaccine developer Moderna came into the limelight when it introduced its mRNA Covid-19 vaccine. Now, the company is hoping to exploit that same technology in the fight against cancer by developing a personalised therapeutic cancer vaccine.
At this year's American Association of Cancer Research (AACR) Annual Meeting, Moderna presented data from a phase II trial evaluating the vaccine combined with Merck's checkpoint inhibitor Keytruda. According to the data, the vaccine can cut the risk of melanoma recurrence by 44 per cent when compared to Keytruda alone. This is a big deal – despite their rising popularity in recent decades, checkpoint inhibitors still only offer marginal benefits in some patients. In fact, cancer remains one of the top causes of death globally.
Moderna expects to begin phase III trials by the end of 2023.
A personalised therapy
Moderna calls their vaccine an individualised or personalised neoantigen therapy. The company's CEO Stéphane Bancel explains the concept in a blog post, stating that cancer is different from patient to patient. This is because cancer cells have a unique fingerprint given by genetic mutations, manifested by proteins called neoantigens.
Thus, a personalised neoantigen vaccine is engineered specific to each individual patient. According Bancel, "the goal of individualised neoantigen therapies is to train a patient's immune cells to recognise the cancer fingerprint proteins and launch an immune response against the cancer cells."
Bancel also points out that there are currently no approved individualised neoantigen therapies, but he believes that is soon to change.
Evaxion presents promising data with EVX-02
Moderna was not the only cancer vaccine developer showcasing its results at AACR. Evaxion Biotech, a company based in Copenhagen, presented data from a phase I/IIa study with its own personalised cancer vaccine candidate – EVX-02. This vaccine is being evaluated in combination with checkpoint inhibitor nivolumab in patients who had undergone complete surgical resection of late-stage melanoma. This means patients were at high risk for cancer recurrence.
»Personalised cancer vaccines offer a promising approach to cancer treatment by targeting the unique and specific tumour profile of each patient while accommodating their individual immune system's specificities. Unlike previous unsuccessful attempts in the cancer vaccine fields, personalised cancer vaccines hold great potential because they are tailored to each patient« — Birgitte Rønø, CSO Evaxion Biotech
Unlike Moderna's vaccine, EVX-02 is DNA-based, making it more stable. Moreover, Evaxion's candidate was developed thanks to the company's proprietary AI-based platform PIONEER. The platform chooses the neoantigens to use as targets constructed within the vaccine based on vast amounts of data about the human immune system.
The data show that all 10 patients with late-stage melanoma who completed EVX-02 treatment demonstrated robust and treatment-specific immune responses and were relapse-free at their last assessment.
According to Evaxion's CEO Per Norlén, the data validate the ability of their AI technology to choose the right neoantigens, which is essential for the development of Evaxion's lead cancer vaccine candidate EVX-01, currently evaluated in combination with Keytruda in a phase II study in metastatic melanoma patients. And it is equally important for the company´s next generation personalised neoantigen vaccine EVX-03, which is a DNA-based immunotherapy armed with a genetic immune adjuvant and additional antigens called ERVs. Read the latest about EVX-01 here, and about EVX-03 here.
Evaxion's CSO comments
To learn more about the current cancer vaccine landscape, and where Evaxion fits in, BioStock spoke with the company's CSO Birgitte Rønø who also presented the EVX-02 at the AACR.
Birgitte, what do you make of the Moderna data presented at AACR?
– The mRNA-based cancer vaccine RNA-4157/V940 from Moderna, when administered along with the immune checkpoint inhibitor pembrolizumab (Keytruda), has demonstrated significant improvement in recurrence-free survival (RFS) in patients with high-risk melanoma, as per the results of the phase IIb study. This marks a significant milestone in the field of personalised vaccines as it is first data from a randomised phase IIb study that has shown such promising results. Moderna deserves applause for this breakthrough achievement. However, it is important to note that the KEYNOTE-942 trial, while randomised, is a phase IIb study with limited statistical power. Despite this limitation, the results of the study are extremely promising as they provide hope that this therapeutic approach will indeed yield clinical benefits.
What was your experience at the AACR this year?
– It is always a great pleasure to attend the AACR annual meeting. It is very inspiring and the enthusiasm in the field is remarkable. The presentation of the KEYNOTE-942 data from Moderna/Merck was undoubtedly the highlight of the event. While it is important to point out that more data is needed to confirm the excellent results presented by Moderna, the positive impact this breakthrough could have on cancer treatment cannot be overstated.
– Further, I was stunned by the immense amount of data being generated in all aspect of cancer research. One of the current and potentially persistent challenges in biomedical research, and even in the world at large, is finding solutions for managing and using the data. To address this challenge, the future of research lies in automated systems, artificial intelligence, and machine learning. These technologies offer the promise of finding intelligent solutions to manage and harness the value of data being generated.
Looking specifically at the data you presented during the conference, how significant is it, and what does it mean for project moving forward?
– We are very excited about the data from our EVX-02 clinical trial as they prove our ability to select clinically relevant neoantigens with our AI platform, and further it substantiates that DNA-based delivery of neoantigens drive a meaningful immunological response. Moreover, our team's ability to manufacture the EVX-02 vaccines during the challenging Covid pandemic is a significant accomplishment. With our upcoming personalised DNA-based vaccine, EVX-03, we anticipate providing an even more potent vaccine to a broader range of patients, including those who may not benefit from neoantigen targeting vaccines currently under development by Moderna and other companies.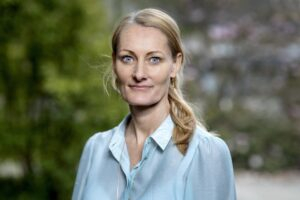 Both EVX-02 and Moderna's vaccines are aimed at preventing cancer recurrence in melanoma patients undergoing complete tumour resection. Why is this patient population chosen for such a therapy?
– The risk of recurrence still persists in patients with advanced melanoma, even after undergoing surgery with complete removal of their tumours, and administering checkpoint inhibitors may not be enough to prevent it. The one-year recurrence-free survival (RSF) rate for these patients is approximately 30 per cent, while the estimated 5-year RFS rate for these patients is reported to be between 40-50 per cent., The numbers underscore the significant medical need for effective interventions in this patient population. In our EVX-02 trial, none of the patients who received the complete EVX-02 immunisation schedule experienced a relapse. Despite the small size of the study, the encouraging initial clinical data and favourable safety profiles of our personalised vaccines, as well as others, provide hope to provide for better support for cancer patients at-risk in the future.
Both Evaxion and Moderna refer to their respective vaccines as personalised. Could you speak to the similarities and differences between the two approaches?
– Both our EVX-02 therapy and the Moderna's mRNA-4157/V940 are truly personalised cancer vaccines that are based on the the same principles. In both cases, the vaccines include tumour-specific sequences designed to train the patients' immune system to fight the cancer. To create the vaccines, a tumour specimen and a blood sample are collected from the patient and the DNA and RNA are purified. Next-generation sequencing is then performed on the samples to generate data that serve as input to AI-based target discovery platforms. These platforms identify tumour sequences with the highest likelihood of eliciting a clinically meaningful immune response when incorporated in a vaccine. The sequences identified by the AI models are so called neoantigens – antigens derived from somatic mutations in the tumour DNA and are exclusively presented on the surface of tumour cells. This makes them attractive targets for immune cell-directed killing. The top-ranked neoantigens are included in the personalised vaccine, in our case as a plasmid DNA based vaccine, while Moderna uses mRNA as vaccine platform.
– At Evaxion we have been using AI models for over a decade to develop vaccines, and we are proud to be at the forefront of AI-powered vaccine target discovery. Our top-tuned algorithms out-perform public tools with improved precision to identify clinically relevant neoantigens. We are confident that our approach will lead to the development of more effective vaccines that can address a range of diseases.
Finally, in your opinion, are cancer vaccines the answer we've been looking for in the quest to defeat cancer?
– Personalised cancer vaccines offer a promising approach to cancer treatment by targeting the unique and specific tumour profile of each patient while accommodating their individual immune system's specificities. Unlike previous unsuccessful attempts in the cancer vaccine fields, personalised cancer vaccines hold great potential because they are tailored to each patient. The failure of earlier cancer vaccines highlights the critical importance of developing treatments that address the diversity of each patient's immune system. This can only be achieved through a personalised approach.
– Although personalised cancer vaccines hold great promise, several challenges need to be addressed before they can be widely available. Firstly, it is necessary to confirm the finding from the Moderna trial and demonstrate robustness and benefits for the majority of vaccinated patients. Secondly, the manufacturing time needs to be reduced as patients with even more aggressive cancers may not benefit from the vaccines if it not delivered quickly. Thirdly, creative solutions to reduce cost of personalised vaccines, such as small-scale bedside manufacturing processes, need to be explored. However, I'm optimistic that these challenges can be overcome as emerging technologies continue to mature. DNA can in fact be produced synthetically, meaning that we could potentially "print" the drug at the bedside in the future. I believe that such DNA-based immunotherapies will be possible to produce at the hospitals, so that doctors could be able to provide a personalised therapy within days or even within hours of a tumour biopsy. It sounds mind-blowing but I think it could be a reality within the next 10 to 15 years.
For a more general overview of the cancer vaccine landscape, read here.
The content of BioStock's news and analyses is independent but the work of BioStock is to a certain degree financed by life science companies. The above article concerns a company from which BioStock has received financing.
Prenumerera på BioStocks nyhetsbrev