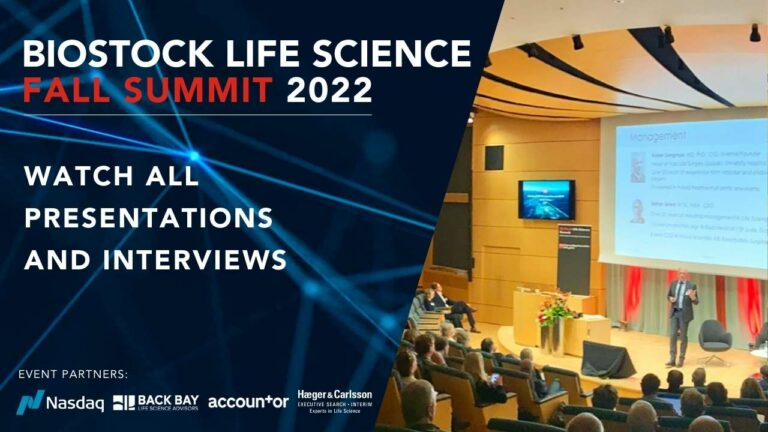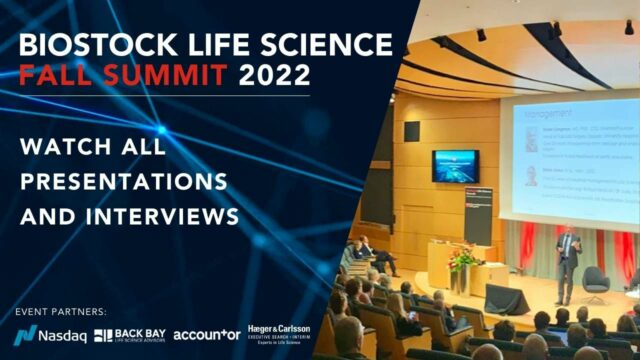 Watch the BioStock Life Science Fall Summit!
8 December, 2022
For a fifth consecutive year, the BioStock Life Science Summit was arranged on November 29-30, with more than 40 companies covering a broad spectrum of therapeutic areas presenting their projects and innovations. The programme also included pitches from unlisted companies, expert panel discussions, keynote speakers and live interviews.
Last week, BioStock Life Science Summit, the Nordic region's foremost showcase platform for life science companies in the early development and growth phase, took place in Lund. During two packed days, the audience enjoyed presentations by companies working with a wide range of technologies, therapeutic areas and indications. In addition, the program offered quick pitches from private companies as well as panel discussions, a keynote speech and interviews, all of which provided a deeper insight into the Nordic life science ecosystem.
Below are the links to all features included in the BioStock Life Science Fall Summit 2022!
Program
DAY 1: TUESDAY 29 NOVEMBER
09:05 Evaxion Biotech – Per Norlén, CEO
09:25 PharmNovo – Per Von Mentzer, CEO
09:45 Ziccum – Ann Gidner, CEO
10:05 BioInvent – Martin Welschof, CEO
10:25 Break & networking
10:50 Amniotics – Marcus Larsson, CEO
11:10 Idogen – Christina Herder, Interim CEO
11:30 Lipum – Einar Pontén, CEO
11:50 ClexBio – Armend Håti, CEO
11:55 Pharma Holdings – Christian Lütken, CEO
12:00 Lunch & networking
12:45 Ectin Research – Anna Sjöblom Hallén, CEO
13:05 Ultimovacs – Carlos de Sousa, CEO
13:25 Sprint Bioscience – Erik Kinnman, CEO
13:45 Kongsberg Beam Technology – Kerstin Jakobsson, CEO
13:50 XNK Therapeutics – Johan Liwing, CEO
13:55 Break & networking
14:20 Panel: "Financing the life science ecosystem – valuation, investor sentiment and market trends" with Benjamin Nordin, Head of Healthcare Investment Banking ABG Sundal Collier; Dan Bergström, Project Leader Life Science, Erik Penser Bank; Jacob Lindberg, Head of Equity Sales Sedermera Corporate Finance; Anna Boqvist, Head of Healthcare ECM Carnegie.
14:50 WntResearch – Pernilla Sandwall, CEO
15:10 Emplicure – Håkan Engqvist, CEO
15:30 PharmNovo – Per Von Mentzer, CEO
15:35 PainDrainer – Erik Frick, CEO
15:40 iCoat Medical – Peder Waern, CEO
15:45 Break & networking
16:10 AroCell – Anders Hultman, CEO
16:30 Stock Market Outlook –  a live interview with Carsten Borring, Head of Listings & Capital Markets Nasdaq Copenhagen
DAY 2:  WEDNESDAY 30 NOVEMBER
09:05 LIDDS – Anders Månsson, CEO
09:25 Cyxone – Carl-Magnus Högerkorp, Interim CEO
09:45 Xintela – Evy Lundgren-Åkerlund, CEO
10:05 Colzyx – Karin Bryder, CEO
10:10 Selcis Biopharma – Alexandra Ellervik, CEO
10:15 Acorai – Kasper Bourdette, Co-Founder
10:20 Break & networking
10:45 Lumito – Mattias Lundin, CEO
11:05 Neola Medical – Hanna Sjöström, CEO
11:25 Cantargia – Göran Forsberg, CEO
11:45 Keynote speaker: Jonathan P Gertler, Managing Partner & CEO Back Bay Life Science Advisors
12:15 Lunch & networking
13:00 Alligator Bioscience – Søren Bregenholt, CEO
13:20 Pharmiva – Karoline Akerjordet, Vice CEO
13:40 Chordate Medical – Anders Weilandt, CEO
14:00 AdjuTec Pharma – Bjørn Klem, CEO
14:05 Thelper – Katja Vetvik, CEO
14:10 Oncorena – Börje Haraldsson, CEO
14:15 Break & networking
14:40 ExpreS2ion Biotechnologies – Bent U Frandsen, CEO
15:00 Miris – Camilla Sandberg, CEO
15:20 Theracule – Alexander Crawford, CEO
15:25 Liita Care –  Martin Ohrt, CEO
15:30 Asgard Therapeutics – Cristiana Pires, CEO
15:35 Break & networking
16:00 Panel: "Attracting venture capital in a market downturn – opportunities & challenges" with Johan Kördel, Managing Partner Sound Bioventures; Miao He, Senior Investment Associate Hadean Ventures; Peter Wolpert, CEO Industrifonden; Tobias Horneman-Thielcke, Partner Eir Ventures.
16:30 CLS – Dan Mogren, CEO
16:50 Respiratorius – Johan Drott, CEO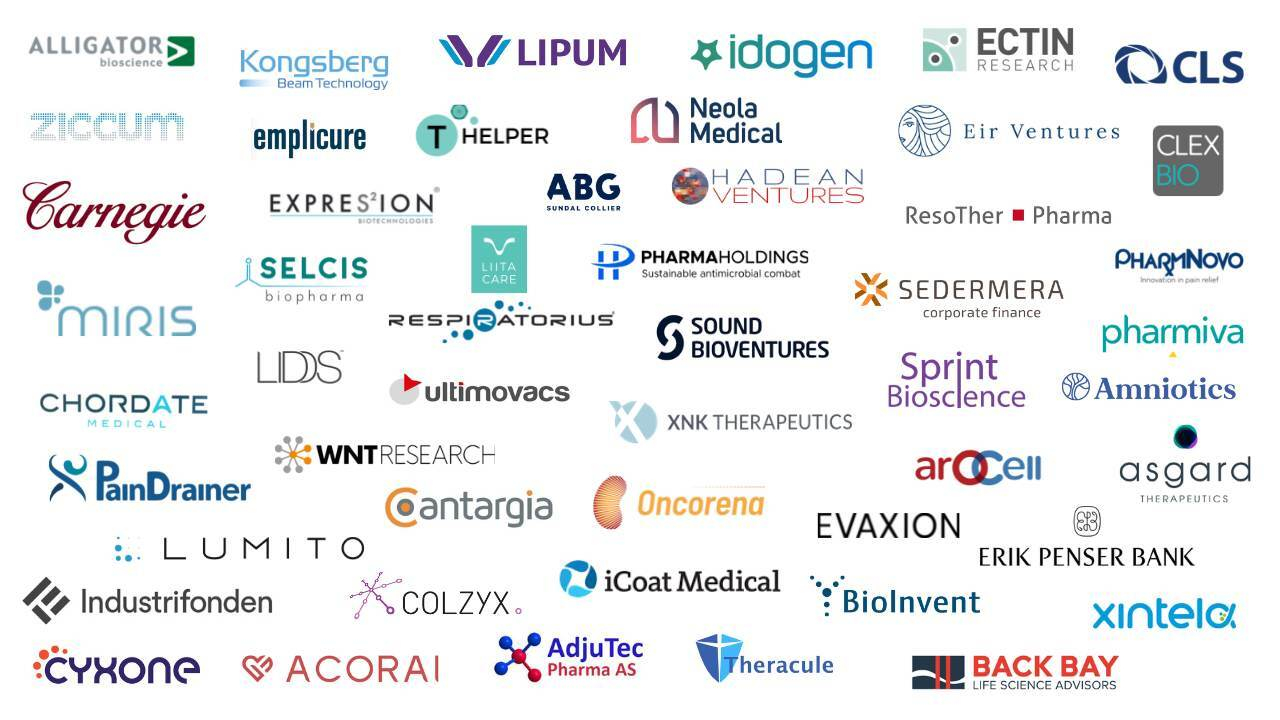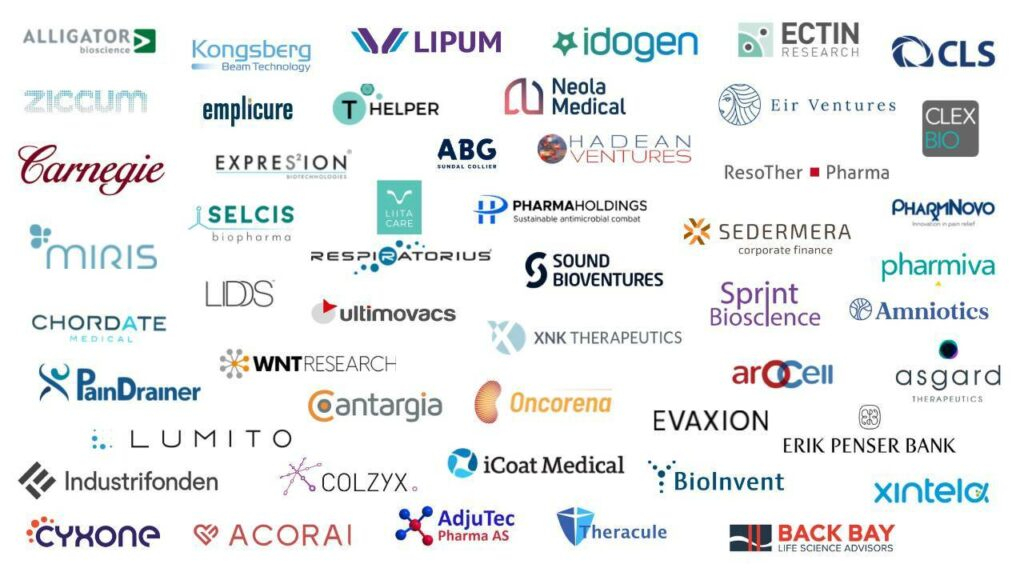 Event partners
BioStock Life Science Summit 2022 was presented in collaboration with Nasdaq Nordic, Back Bay Life Science Advisors, Accountor and Haeger & Carlsson.

A warm welcome to BioStock Life Science Fall Summit 2023, October 25 & 26!
Prenumerera på BioStocks nyhetsbrev
"*" indicates required fields