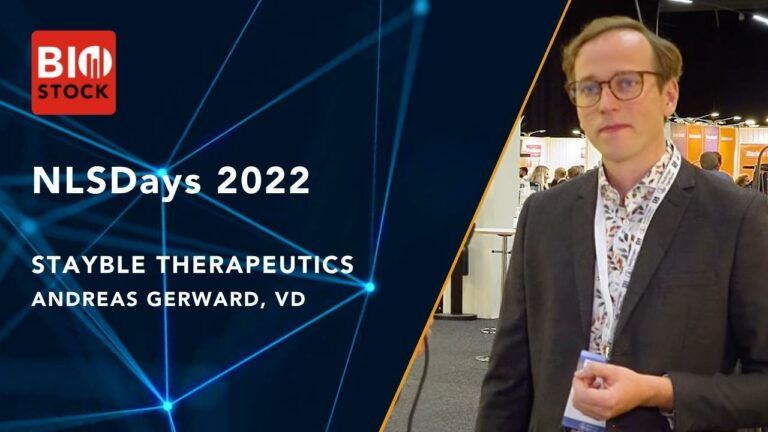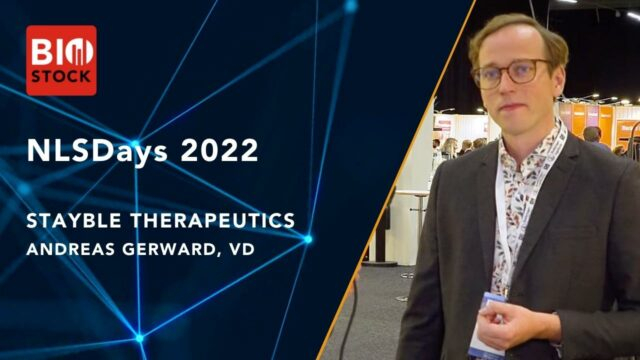 NLSDays: Stayble steps up partnering activities
Stayble's most important milestones going forward are to present study results from the phase IIb study with the drug candidate STA363 and then enter into a license agreement with a larger player for phase III. Thus, the company will put more focus on partnering activities during the autumn and 2023. An important part of this work is to participate in partnering events, such as Nordic Life Science Days 2022 in Malmö where BioStock got the chance to interview CEO Andreas Gerward.
Stayble Therapeutics is developing an injection treatment, STA363, for patients with discogenic chronic low back pain. The treatment is aimed at those patients who do not get better with physiotherapy and painkillers, and who cannot or do not want to undergo spinal fusion or disc replacement.
STA363 is considered a disease-modifying treatment because it address the two underlying causes of the pain – leakage of inflammatory substances and instability in the disc segment. Only one injection of STA363 into the disc induces a connective tissue transformation, which is expected to provide permanent pain relief.
Partnering in focus after fully recruited phase IIb study
Since 2020, Stayble has been conducting a clinical phase IIb study with STA363 to evaluate the safety and efficacy of the treatment. At the beginning of the autumn, the company was able to announce that the last patient has been recruited for the study and that they plan to present top-line data in Q4 2023.
With a fully recruited phase IIb study and a clear timeline, interest from potential partners increases. The goal is to enter a collaboration with one or more partners who can take the candidate through phase III and to the market, with an initial focus on the US and Europe.  Read more about Stayble's path to phase III and market.
STA363's low development risk and simplicity attract partners
According to Stayble, STA363 has special features that make it an attractive candidate among potential takers of the project. STA363 is based on lactic acid, a well-used and well-documented substance, which reduces the risk of unexpected side effects. The candidate's simplicity also enables a cost-effective scale-up of manufacturing. Read more about the benefits in BioStock's article 10 benefits of Stayble's treatment.
In addition, the addressable market for STA363 is significant – Stayble estimates that there are approximately 3.5 million treatable patients in the US, Europe, and Japan. The company expects to reach about 10 percent of this market, i.e., 350,000 patients. With 1.5 injections per patient (1-3 treatable discs) and a price of EUR 1000 per treatment, it would generate a peak sale of EUR 525 million annually.
Video interview from NLSDays
Stayble's focus over the next year will be to tie the knot in the phase IIb study, intensify partnering activities and prepare for the next step in development. To increase exposure to potential partners, the company attends various partnering conferences, where they continue in already initiated discussions and make new contacts.
So far this autumn, Stayble has participated in LSX Nordic Congress in Copenhagen and NLSDays in Malmö. At the end of October, they will also participate in BIO-Europe, which is Europe's largest partnering meeting in life science.
BioStock met CEO Andreas Gerward during NLSDays and took the opportunity to ask some questions about the event and the company's partnering activities. Watch the video interview below.
The content of BioStock's news and analyses is independent but the work of BioStock is to a certain degree financed by life science companies. The above article concerns a company from which BioStock has received financing.
Prenumerera på BioStocks nyhetsbrev