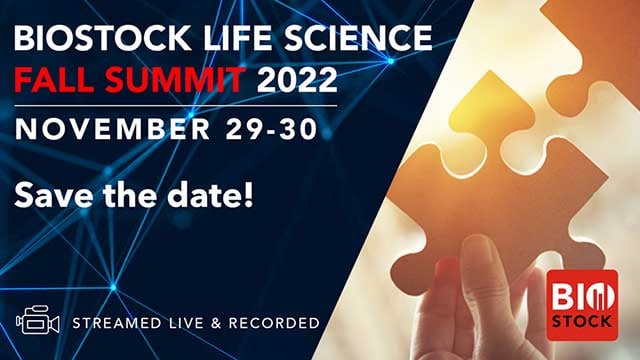 BioStock Life Science Summit 2022
We proudly welcome you to the fourth annual fall edition of the BioStock Life Science Summit, where innovation and capital connect.
Save the dates November 29-30 in your calendar!
Hosted live at the innovation super-cluster Medicon Village in Lund, the Summit is the Nordic region's premier showcase platform for early- and growth stage companies covering a wide range of therapeutic areas.
The BioStock Life Science Summit takes place during two days and features showcases from private and listed life science companies. The program also aims to provide crucial insights on life science investments, capital raising and market trends, with an exclusive focus on the Nordic ecosystem.
At the Summit, companies get the opportunity to pitch to industry experts, business developers, financing professionals and investors on every level. While the full program is live broadcasted, attendance offers a dynamic atmosphere allowing for spontaneous meetings between interested parties.
To sum it all up, the Summit is an accessible, must-attend event for all serious investors and early-stage or maturing company executives looking for that competitive edge.
Make sure to subscribe to our newsletters for upcoming information and updates – and start preparing for two days packed with business opportunities!
See you in Lund on November 29 & 30!
You can also read about BioStock's other events during 2022 below: