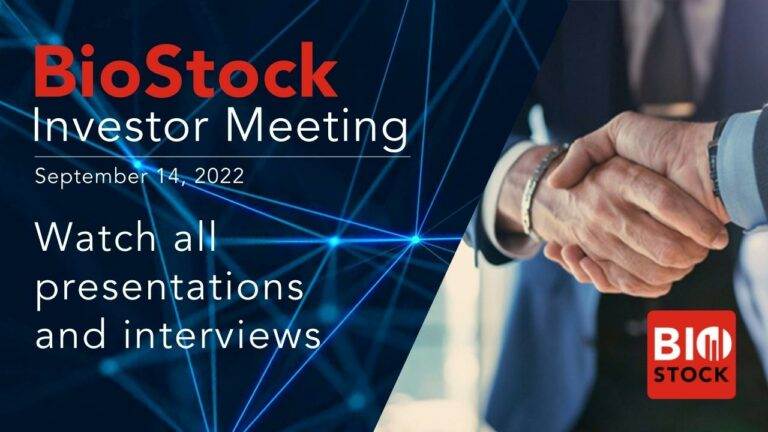 BioStock Investor Meeting, September 14
On September 14, we arranged the BioStock Investor Meeting, where life science companies from various therapeutic areas presented their activities to investors and potential partners. The event was held in front of a live audience, but you may access the recorded presentations via the links below.
At the BioStock Investor Meeting, investors, analysts and stakeholders had the chance to listen to – and mingle with – companies in the Nordic life science sector on site in central Stockholm.
The program included eleven companies from a wide range of therapeutic areas and indications. In addition, we got to listen to Mattias Häggblom, Equity Research Analyst and Sector Head for Nordic life science stocks at Handelsbanken, who talked about the conditions on the stock market as well as for Nordic life science projects in general.
Program and video presentations
Below, you may find the full program from the BioStock Investor Meeting on September 14, 2022, including links to each presentation.
9:00-10:00 Registration & breakfast
10:00 Pharmiva, presented by CEO Anna Linton
10:20 Redwood Pharma, presented by CEO Martin Vidaeus
10:40 Key Note: Mattias Häggblom, Handelsbanken
11:00 Paus
11:20 Elicera Therapeutics, presented by CEO Jamal El-Mosleh
11:40 WntResearch, presented by CEO Pernilla Sandwall
12:00 Lipum, presented by CEO Einar Pontén 
12:20 Lunch
13:00 Cereno Scientific, presented by CEO Sten R. Sörensen (and CMO Björn Dahlöf)
13:20 Arcede Pharma, presented by CEO Mia Lundblad
13:40 Cyxone, presented by interim CEO Carl-Magnus HögerKorp
14:00 Paus
14:20 Idogen, presented by interim CEO Christina Herder
14:40 Brain+, presented by CEO Kim Baden-Kristensen
15:00 OssDsign, presented by CFO Anders Svensson
Interviews
In connection with the BioStock Investor Meeting on September 14, 2022, BioStock took the opportunity to chat with the representatives from each of the presenting companies. Watch the interviews via the links below, listed alphabetically by company name.
Upcoming events
You can read more about BioStock's other 2022 events via the links below. Next up is our flagship event the BioStock Life Science Summit held at Medicon Village in Lund 29-30 November – see you there!