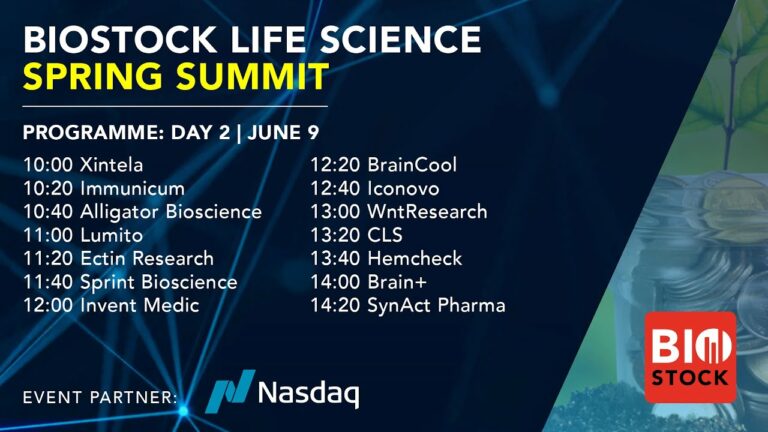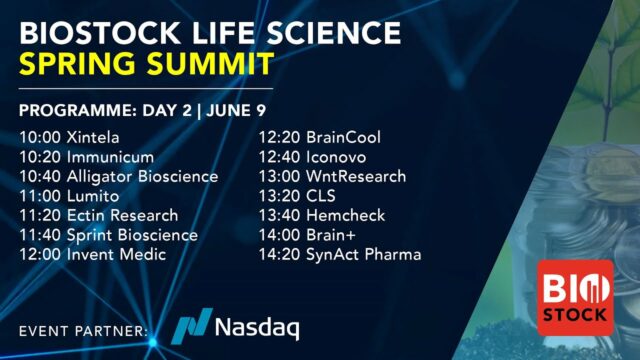 Watch day 2 of the BioStock Life Science Spring Summit
Today, starting at 10am, we broadcast day 2 of the BioStock Life Science Spring Summit 2022. A two-day event where about 30 life science companies in a wide range of therapy areas present their projects and innovations. The live event, which also offers insights from investment experts and industry profiles, is broadcast from BioStock's TV studios in Lund and Stockholm.
BioStock Life Science Spring Summit 2022 offers an important platform for innovative Nordic companies to pitch their projects to both Swedish and international investors, industry colleagues and potential partners. The program includes companies active in biotechnology, drug development, medtech and diagnostics, within a wide selection of treatment areas and indications. During the program, we also get to take part in experts in both financing and business development in the life science industry.
Watch all presentations and expert insights on BioStock's YouTube-channel. 
Programme June 9 
10:00 Xintela
10:20 Immunicum
10:40 Alligator Bioscience
11:00 Lumito
11:20 Ectin Research
11:40 Sprint Bioscience
12:00 Invent Medic
12:20 BrainCool
12:40 Iconovo
13:00 WntResearch
13:20 CLS
13:40 Hemcheck
14:00 Brain+
14:20 SynAct Pharma
Programme June 8 
10:00 BioArctic
10:20 Stayble Therapeutics
10:40 Evaxion Biotech
11:00 Cline Scientific
11:20 Chordate Medical
11:40 Alzinova
12:00 Spago Nanomedical
12:20 Cereno Scientific
12:40 Redwood Pharma
13:00 Idogen
13:20 Lipum
13:40 Expert Insights: Partnering & Dealmaking
14:00 Klaria
14:20 Respiratorius
14:40 Arcede Pharma
BioStock's other 2022 events
You can read more about BioStocks 2022 event via the links below.
Prenumerera på BioStocks nyhetsbrev