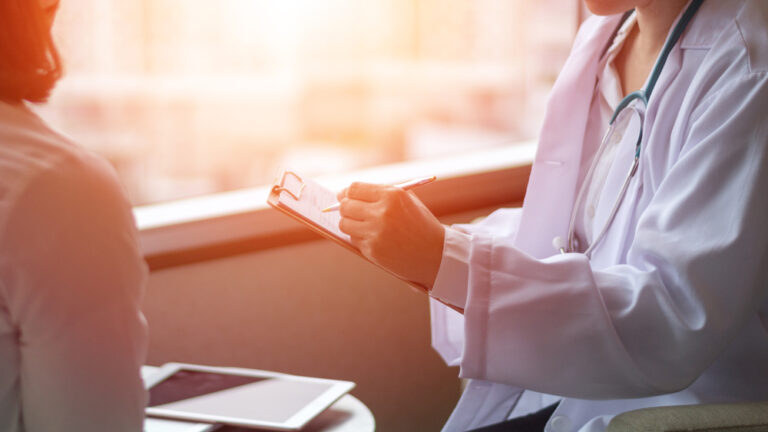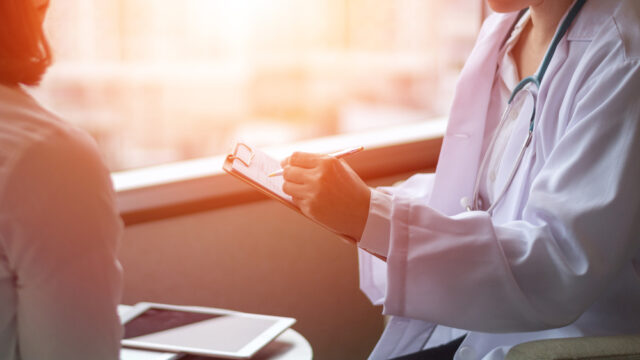 Saniona initiates clinical trial in rare disease
Saniona has started the phase IIb clinical trial with Tesomet in patients with the rare disease hypothalamic obesity. Results from the study are expected in the second half of 2023. Saniona is already strengthened by an FDA orphan drug designation as well as promising data from a previous phase II study, and the Q3 report indicates significant market potential.
Biotech company Saniona is developing the main candidate Tesomet for the treatment of patients with Prader-Willisyndrome (PWS) and hypothalamic obesity (HO). PWS and HO are two serious, rare diseases where intractableweight gain, disturbances in metabolic function and uncontrollable hunger overshadow patients' everyday lives.
The world's first and only orphan drug designation in HO
HO is a rare incurable disease characterised by rapid, severe and intractable weight gain with an increased risk ofdepression, cardiovascular disease and metabolism disorders such as type 2 diabetes. HO is very hard to treat and currently there are no approved treatments available. With the phase IIb start, Saniona's Tesomet is one step closer tochanging this.
In 2021, Saniona has made great progress on both the clinical and regulatory fronts, with Tesomet receiving orphandrug designation (ODD) from the FDA for both HO and PWS. For HO, it was the first ever ODD, and it brings severalstrategic benefits to the Tesomet clinical development program, including shorter development timelines, marketexclusivity and lower development costs for the company.
»Earlier this year, the FDA awarded Tesomet the first-ever orphan drug designation for HO, which was a significant milestone for the HO community, and we are so excited to now see another milestone achieved with the initiation of the trial« – Amy Wood, Executive Director of the Raymond A. Wood Foundation and parent of a child living with HO
The FDA has confirmed that Tesomet can be advanced under the regulatory procedure 505(b)(2) which, in short, is abeneficial streamlined NDA process that can lead to a faster path to approval.
The phase IIb study has begun
Last week, Saniona announced that the planned phase IIb study with Tesomet in HO has been initiated. Therandomised, double-blind, placebo-controlled study will last for 36 weeks, followed by an equally long open-labelextension, with the goal of recruiting approximately 110 patients.
During the first part of the study, participants will be randomised to either a daily dose of Tesomet, at any of threedifferent dose levels, or placebo. However, during the extension study, all participants will be given the highesttolerated dose of Tesomet established during the first double-blind phase of the study. The primary endpoint of thestudy will be the change in body weight from baseline to week 36.
 »We desperately need treatment options for HO, and I am encouraged to see Saniona initiate this clinical trial.« — Ashley Shoemaker, Attending Physician, Assistant Professor of Pediatrics, Pediatric Endocrinology, Vanderbilt University Medical Center
The trial is multi-centred and conducted at sites across the world. Countries represented include the United States, Sweden, the United Kingdom, Italy, Spain, New Zealand and Australia. More information is available at www.hypothalamicstudy.com.
Events during Q3
Saniona also reported Q3 results last week, showing a productive quarter. In addition to the now initiated phase IIb study in HO and ODD in HO, Saniona also signed a non-dilutive fixed-term loan of 10 MUSD with Formue Nord Fokus A/S and appointed Wendy Dwyer as Chief Business Officer, a role in which she will focus on business development opportunities in non-core markets and/or non-core therapeutic areas to generate non-dilutive capital.
Another appointment was Robert E. Hoffman, who was added to the board as chairman of the Audit Committee. Read BioStock's interviews with Dwyer here and with Hoffman here.
In addition to Tesomet, which is expected to begin another Phase 2b trial in PWS before year end, Saniona is also developing a broad pipeline based on its drug discovery platform within ion channels, where the main candidateSAN711 is currently undergoing a phase I study and SAN903 is expected to enter clinical development during H22022.
»With two clinical trials now underway and a third poised to begin before the end of this year, Saniona has made significant progress on our mission to discover, develop and ultimately commercialize our medicines to treat rare diseases,« said Rami Levin, President & Chief Executive Officer of Saniona, in the Q3 report.
A bright future with significant potential
In his CEO letter, Levin also pointed to multiple exciting future milestones:
»Looking forward, we expect top-line data from the Tesomet Phase 2b study in PWS in the first half of 2023 and from HO in the second half of 2023. In addition, we see the potential for multiple value-creating milestones in 2022, including data from the Phase 1 study of SAN711, initiation of a Phase 1 study with SAN903, and advancement of a new ion channel modulator program into our pipeline. In 2022, our partner Medix expects feedback from the regulatory authorities in Mexico regarding the potential approval of tesofensine for general obesity in Mexico, and we continue to explore additional business development opportunities.«
The Q3 report was also notable as it included some market projections for Saniona's pipeline, which point to significant potential. While the company emphasized the difficulties of sharing its own market projections, it did share publicly available estimates from independent and commissioned analysts, which shareholders may find helpful in understanding Saniona's vision for building a successful rare disease company.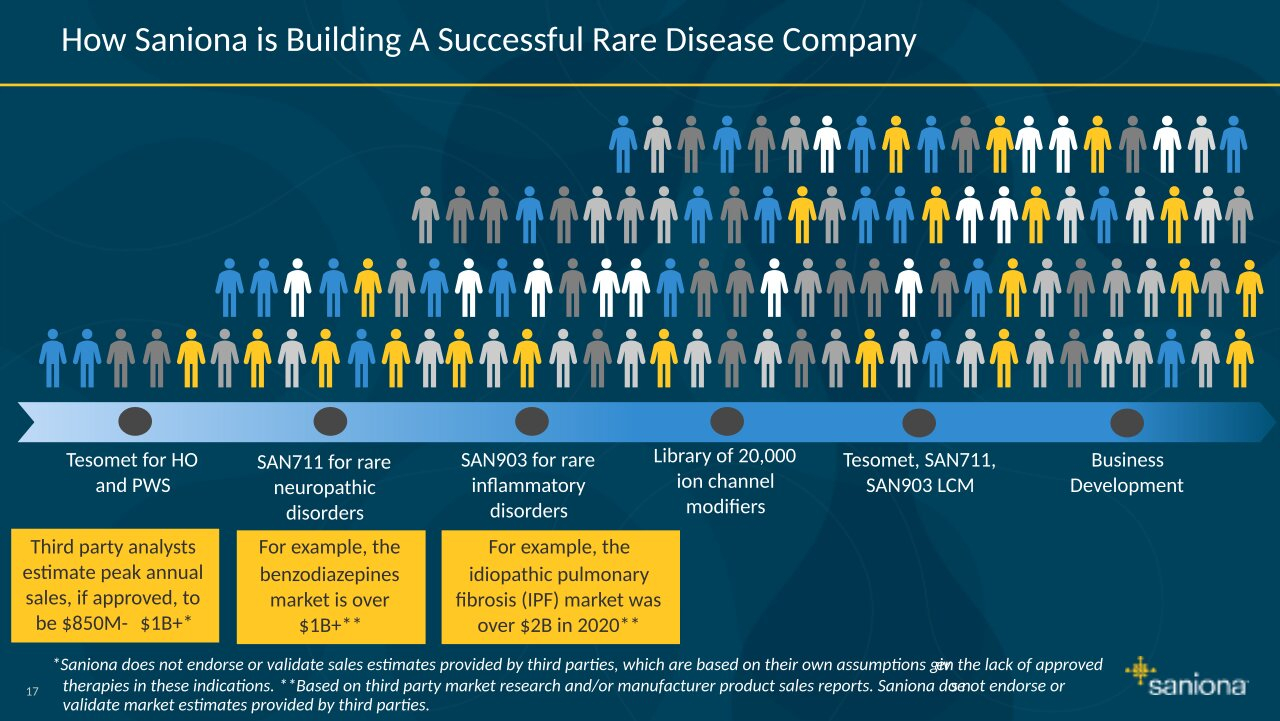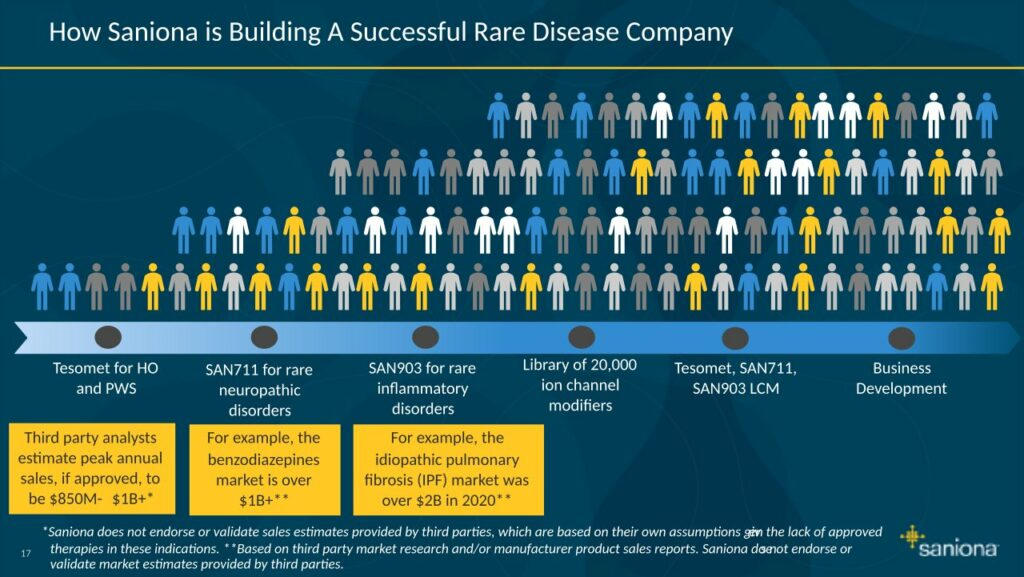 The content of BioStock's news and analyses is independent but the work of BioStock is to a certain degree financed by life science companies. The above article concerns a company from which BioStock has received financing.
Prenumerera på BioStocks nyhetsbrev