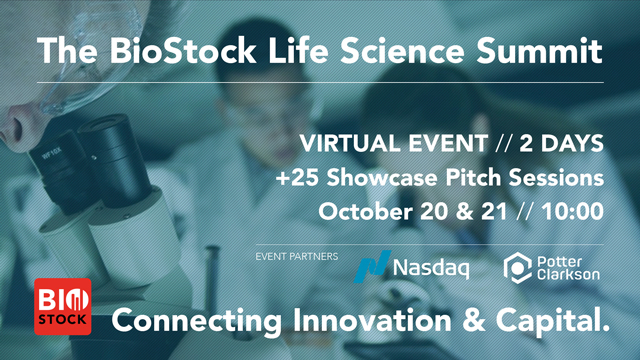 Join us for the BioStock Life Science Summit on October 20 – 21
The BioStock Life Science Summit continues to connect life science innovators with investors focused on the Nordic life science scene. Join us during October 20 and 21 as  more than 25 small to medium-sized Nordic pharma, biotech, medical device and diagnostics companies pitch to an online audience of investors and potential partners.
The BioStock Life Science Summit, which is presented in collaboration with Nasdaq and Potter Clarkson, will also feature expert insights on the value of IP protection, by patent attorney Benjamin Hoffmann, as well as comments on the current IPO climate and market trends from Carsten Borring, Head of Listings and Capital Markets at Nasdaq Copenhagen.
Hosted at BioStock's studios at Medicon Village in Lund and in central Stockholm, the Summit is the Nordic region's premier showcase platform for early- and growth stage companies, covering a wide range of therapeutic areas. The full agenda is presented below.
Program & Webcast Links
DAY 1:  WEDNESDAY OCTOBER 20 
10:00 Carbiotix
10:20 Senzime
10:40 Chordate Medical
11:00 Invent Medic
11:20 Alligator Bioscience
11:40 Ultimovacs
12:00 AroCell
12:20 Karolinska Development
12:40 Spago Nanomedical
13:00 NeoDynamics
13:20 Curasight
13:40 Cline Scientific
14:00 Abliva
14:20 Idogen
CLICK THIS LINK TO WATCH DAY 1
DAY 2: THURSDAY OCTOBER 21
10:00 Targinta
10:20 Modus Therapeutics
10:40 Respiratorius
11:00 SenzaGen
11:20 Cereno Scientific
11:40 Aptahem
12:00 Annexin Pharmaceuticals
12:20 Gabather
12:40 Ectin Research
13:00 Sprint Bioscience
13:20 Saniona
13:40 BioInvent
14:00 RhoVac
CLICK THIS LINK TO WATCH DAY 2
NB: The schedule is preliminary and variations may occur.
Prenumerera på BioStocks nyhetsbrev