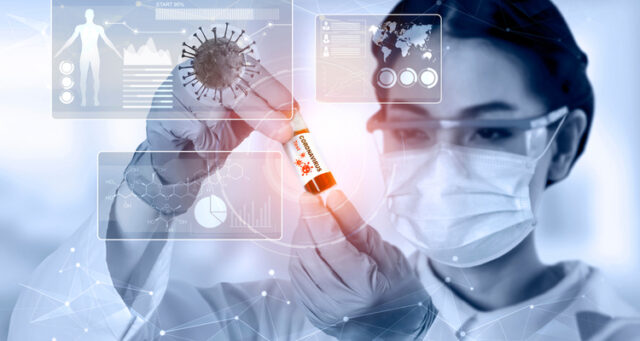 Cyxone has closed recruitment to the phase II Covid-19 trial
Swedish biotech Cyxone announced last month that the patient recruitment for its phase II trial testing Rabeximod in Covid-19 could come to a close as a sufficient number of patients have been enrolled to power an effective analysis. BioStock reached out to Cyxone's CEO Tara Heitner to get her thoughts on the implications of the news.
 As reported by BioStock late last year, Malmö-based biotech company Cyxone saw the potential to treat Covid-19 patients suffering from moderate disease with Rabeximod, Cyxone's rheumatoid arthritis (RA) candidate, and decided to plan a phase II trial to test this hypothesis due to the urgency of the situation and high unmet medical need.
Phase II trial completes recruitment
The trial began patient recruitment in January this year and at the time, the company was aiming to recruit about 300 patients. However, in July, Cyxone announced that approximately 90 patients have been enrolled into the trial to date and after running a reanalysis of the statistical requirements for study size, experts in biostatistics involved in the trial have concluded that a sufficient number of patients has been reached to power an analysis of Rabeximod's effect over placebo. The results of the study will be reported in Q3 2021.
Despite the rapidly changing landscape for patient recruitment during the spring of 2021, by June 2021 Cyxone has successfully engaged 21 trial sites across 5 countries in Eastern Europe and enrolled approximately 90 patients to the study in 6 months – a demonstration that the company was well positioned to perform in this previously unchartered clinical trial market. And with the Delta variant leading to an increase in cases across Europe and thus a new tightening of restrictions, the closing of patient recruitment seems to be timely.
Current treatments are sub-par
For now, patients with moderate to severe Covid-19 still lack effective treatments. Antiviral drugs like Gilead Sciences' Remdesivir have been approved by the FDA for treating such patients, however, their effectiveness is still lacklustre.
With the rise of new and more infectious variants jeopardising the vaccination campaign, as well as the difficulty in distributing and ensuring widespread vaccination, the need for treatments to prevent severe disease remains high.
One of the most common complications affecting Covid-19 patients with moderate to severe symptoms is acute respiratory distress syndrome (ARDS), a type of respiratory failure characterised by rapid onset of widespread inflammation in the lungs, a so-called cytokine storm.
Since some of the pathological mechanisms present in RA can be found in ARDS, Cyxone believes its RA candidate, Rabeximod has high potential in Covid-19 patients.
CEO comments
BioStock got in touch with Cyxone's CEO Tara Heitner to ask her about the implications of reaching full recruitment for the Covid-19 trial and how Rabeximod compares to current Covid treatments.
Tara, this phase II trial with Rabeximod in Covid-19 patients had originally planned for 300 patients. Will 90 patients be enough for accurate data analysis?
– We originally designed the trial based on assumptions around clinical effect stemming from what little was known about Covid-19 trials in the early phase of the pandemic. Many Covid-19 trials have been run since then and we can build on this experience. Based on the current knowledge we chose to perform a reassessment of the statistical foundations for the trial and have concluded that the approximately 90 patients that have been enrolled in the study constitute a sufficient number to conclude the study.
– In retrospect, knowing what we know now, it was quite ambitious to try to recruit 300 patients on only 6 months. I am actually, quite pleased that we managed to recruit 92 patients in all at an average of 15 patients per month. It is a very fine achievement especially given the difficult and often dire conditions during the pandemic. We will now get the opportunity to learn more about the potential for Rabeximod in this complicated disease indication and stick to our original timelines.
What are the overall implications of this decision to close patient recruitment, in your view?
– A major implication is that with the new statistical assessment, we will get results from the study and thus understand the efficacy of Rabeximod in Covid-19 patients by end of Q3 as planned and so remain on schedule and within a smaller budget.  Armed with this data we will be able to meet with the regulatory authorities to discuss top line results which will determine how best to move forward with the program.
– Another implication is that we do not need to take on additional risk and allocate additional resources to complete the trial while being able to complete the phase 2 assessment under budget.
– One learning that we will build on as an organisation is the experience gained from running a clinical study in a disease indication characterised by high complexity and constantly changing requirements. This makes us much better prepared for the upcoming clinical programs in RA and MS.
Did the rise of Delta variant cases influence this decision in any way?
– The rise of the Delta variant emphasises the continued need for further development of drugs in the covid space. We hear patients that have been vaccinated are contracting the disease and can spread the disease especially to the unvaccinated. Many people remain unvaccinated even when the vaccine is easily accessible. The healthcare systems therefore need to have tools at hand to treat new patients with Covid-19 and prevent progression to severe disease and hospitalisation.
Why does Rabeximod have such high potential in Covid-19 patients, and how does it compare with antivirals like Remdesivir, for example?
– We see a potential for Rabeximod to prevent cytokine release syndrome that is seen as a consequence of Covid-19, leading to severe disease and hospitalization. Rabeximod has been proven to have an impact on the mechanisms that lead to release of the cytokine molecules which drive inflammation in Covid-19. These mechanisms are also central to the disease pathology in RA.
– In contrast to Remdesivir which functions by impacting on the virus particle itself, Rabeximod affects the exaggerated inflammatory response that the virus infection give rise to, and which is the cause of the severe symptoms of Covid-19.
Finally, could you address the challenges of vaccine distribution and efficacy and why Covid treatments will still have their place on the market?
– The experiences of the past year underscore that even though the pharmaceutical industry has done a phenomenal job in developing effective vaccines in record time, science in not enough to stop the pandemic. Advanced production and distribution strategies that are equitable and not focused only on developed countries are required.
– Many wealthy countries are currently vaccinating children while the majority of adults in developing regions remain unvaccinated. There needs to be political will to educate and distribute, and society also needs to accept to take the vaccine. The latter requires education and may apparently take time. Time that the virus and its variants are not giving us.
– Therefore, effective treatments that can be efficiently produced and distributed to prevent severe disease are still urgently needed and unfortunately will be needed for some time to come.
The content of BioStock's news and analyses is independent but the work of BioStock is to a certain degree financed by life science companies. The above article concerns a company from which BioStock has received financing.
Prenumerera på BioStocks nyhetsbrev