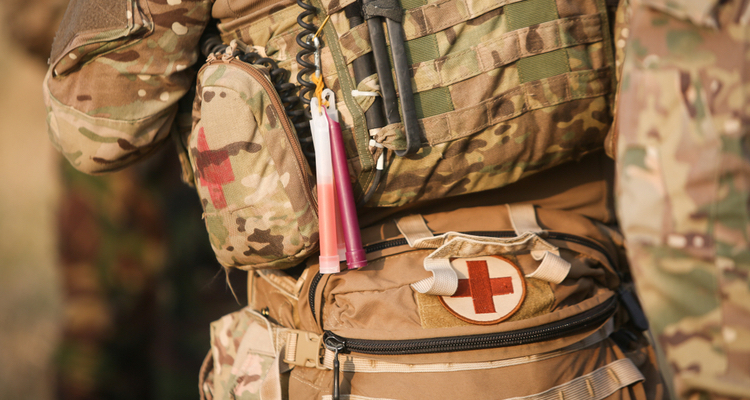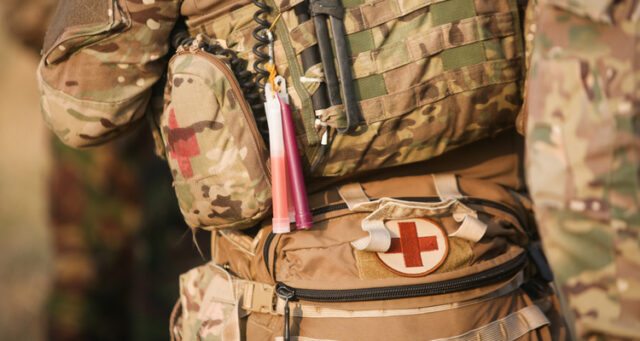 Aptahem on the potential for collaboration with the US military
Aptahem has been listed as a member of the American MTEC, a consortium that cooperates with the U.S. Army Medical Research and Material Command (USAMRMC). BioStock called CEO Mikael Lindstam to get a better idea of what opportunities he sees through this membership. Among other things, we find out how the company's emergency medicine for sepsis could offer a safer treatment for soldiers in the field, which happens to be one of MTEC's focus areas.
Sepsis means that there is an ongoing infection spreading throughout the body through the bloodstream, usually by bacteria, but in rare cases also by fungi, parasites like the ones that cause malaria, or viruses. According to new estimates, 49 million people suffer from sepsis annually and 11 million die. This makes the disease more deadly than all forms of cancer put together.
Apta-1 attacks sepsis on two fronts
Swedish Aptahem develops Apta-1 for use as an emergency medicine to treat sepsis. This means that the candidate can be used both in ambulances before the patient reaches a hospital and in battlefield scenarios or other cases when geographical circumstances limit the healthcare facilities immediately available.

Studies conducted in non-human primates (NHP) have shown that Apta-1, unlike today's treatments, can address, among other things, both the coagulation process and the inflammatory process present in sepsis. This opens up the possibility of being able to counteract the harmful effects that occur when infections reach the bloodstream, such as tissue breakdown and leaking blood vessels. These, in turn, are followed by reduced blood pressure and a suboptimal oxygenation of the vital organs, which can be directly life threatening.
Today's treatments, in comparison and in a best-case scenario, are only able to treat the inflammation, and this is why permanent damage can still occur due to coagulation. Thus, by addressing two separate mechanisms, Apta-1 could potentially – this must first be proven in humans – be able to reduce the damage and, in optimal conditions, the mortality in sepsis.
 Potential advantages of the membership
Recently, Aptahem was admitted as a member of the Medical Technology Enterprise Consortium (MTEC), a biomedical technology consortium consisting of companies and organisations that focus on the stated medical needs of the US military. New technological advances that can lead to better treatment of diseases that have a proven or potential capacity to reduce operational military efficiency are thus of interest to MTEC.
Aptahem's newly won membership also means that the company, like the other METC members, can gain concrete insights concerning research needs prioritised by the US government. Furthermore, members can get more detailed information about different technology requirements that may not be publicly available. This can also involve information exchanges between decision makers and the consortium's members on a case-by-case basis, plus the network may reveal new out-licensing opportunities and facilitate communication with the FDA.
Furthermore, membership may also open the door to more targeted assistance to small growth companies regarding how they can obtain federal funds, provided that the companies' products comply with the stated needs.
This can potentially be valuable as many smaller companies tend to lack procurement experience in relation to the US government, so the assistance should make it easier for the company to compete for federal funding. Securing a sponsor of that calibre for soft money and not having to go cap in hand to the market is certainly an appealing scenario for many companies.
MTEC opens new doors
In addition to the benefits that comes with the membership itself, MTEC is also in partnership with the US Army Medical Research and Development Command (USAMRDC). This opens up yet another area with an enormous budget on a global scale, the US Defense Department.
So, this collaboration means that MTEC's members can present new medical solutions that can help prevent injuries and accelerate the development of medical solutions for injured soldiers in the field.
The MTEC Group's scope ensures that research development and new technologies are applied throughout the medical infrastructure for the benefit of the military, as well as for veterans and civilians.
Combat Casualty Care Research Program (CCCRP)
CCCRP is one of MTEC's focus areas. The program develops solutions that can offer advanced resuscitation care closer to the geographical location of where the injury occurred and possibly for longer periods before the patient can reach a permanent military facility, or hospital in terms of a civilian context.
With this shift of capacity focus, away from care at specific locations, the overall goal is to be able to practice advanced trauma care at the time of injury on the battlefield, regardless of geographical context. One area of particular interest is tissue ulceration and management of sepsis. It is worth noting that Apta-1 is being developed as an emergency treatment to be administered directly at the site of injury and without the assistance of medical personnel.
BioStock called Mikael Lindstam, CEO of Aptahem, for a comment.
Mikael Lindstam, CEO Aptahem, you are now part of MTEC's network with a clear focus on the needs of the military. In your opinion, what are the main advantages this network can offer Aptahem?
– The network not only offers the opportunity to receive sponsorship for development programs but also to exchange experiences, contacts and collaborations. There is also a significant focus on serious infections that are relatively common in the military context today. The needs are the same regardless of who is suffering from an infection that leads to sepsis, be it within the military or in a civilian context.
– As the US government places a high priority on its military interests, large amounts of money are budgeted for this sector. There is, of course, a deep rooted responsibility and incentive to take care of their staff in the field that, statistically, are more likely to be exposed to various emergency and life-threatening situations.
– MTEC is a fairly young organisation, 5 years old, and it complements the similar, but more well-known US sponsors such as the Defense Advanced Research Projects Agency (DARPA) and National Institute of Health (NIH).
MTEC have several collaborations with biomedicine groups, not least with American authorities such as USAMRMC. In what ways would the American military make use of Apta-1 in the field?
– Many US troops are currently stationed in hostile or underdeveloped areas where the healthcare infrastructure cannot meet the same standard as in developed countries. It is very understandable that a country such as the United States is making serious investments in projects that may increase the chances of survival for its military personnel. In difficult-to-reach and underdeveloped areas, sepsis poses a life-threatening danger as injuries from trauma and infections can very well lead to sepsis. Apta-1 has the potential to treat sepsis quickly and effectively, which can save lives.
– Apta-1 has a unique multifaceted potential that addresses the fundamental drivers of sepsis. We have seen that Apta-1 so far indicates strong stability and high insensitivity, which keeps the possibilities open for easy manageability in the field under different conditions.
– On the other hand, it is important to mention that we have not had any discussions with MTEC or associates in the network other than about how Apta-1 could be used in military contexts in practice. But they have understood the great potential, which is emphasised by the fact that we were admitted as members of the MTEC network.
How do you view the new financing alternatives that could potential appear as a consequence of MTEC, such as direct loans and research grants?
– Sponsorship through MTEC is an alternative that we are open to and, which, for a company such as Aptahem, can mean a significant contribution to our funding. We only see the benefits of membership in the MTEC network and see this as a great opportunity to increase our international exposure of both the company and Apta-1.
– MTEC clearly opens other doors for us, both in the science sector but also in completely new areas such as the US military where we can now have a completely different kind of visibility. We also believe that this can benefit us in meetings with potential partners or perhaps even introduce us to potential partners.
News of COVID-19, the Corona virus, has hardly escaped anyone in recent weeks. As a drug development company in infectious diseases, how do you view the developments?
– If we only look at the disease itself, it is a very interesting question. Judging from the reporting on the illness, many of those who die of the virus seem to have died after having sepsis. This can be compared to the Spanish flu of a hundred years ago – but this is not explicitly mentioned in the media. However, it has been reported that the cause of death itself is organ dysfunction, i.e., the organs fail because of reduced oxygenation, an area where Apta-1 has so far shown the ability to potentially counteract in various animal models. So you can only speculate on how high the number of sepsis cases actually is.
– If we look at Apta-1, the substance is potentially not pathogen-specific. Just as you can get sepsis from different pathogens, e.g., from fungal or bacterial infections, or from a non-pathogen like severe trauma, Apta-1 can potentially address anyone suffering from sepsis. Our main focus is to develop Apta-1 for sepsis, but it is also interesting to see how a global event such as this can affect drug development of substances that can counteract the adverse inflammatory effects caused by the Corona virus. We will follow this development closely to be able to quickly react if there are any synergies with our work.
Finally, what are you working on at Aptahem right now and which milestones can we expect in the near future?
– As far as the development program is concerned, we have to deliver the big batch so that we can finish the GLP for toxicology, prepare for the clinical studies, which are being performed, in part, together with Recipharm, and we have to start the production of the GMP-batch of Apta-1 needed for the clinical studies. At the same time, our CSO Luiza Jedlina and her team are busy spreading the news about our fantastic results, and they will be at one of the major congresses in Brussels in a few weeks. To obtain a global reach within the scientific world and to strengthen Apta-1's evidence base through validated publications are both important pillars for Aptahem to build upon.
– Other than that, we always make sure to look at how we build the business around Aptahem and how we can add value to the company outside the development program, such as research collaborations with Seattle CRI and the consortium with Örebro University. We are constantly on the ball!
The content of BioStock's news and analyses is independent but the work of BioStock is to a certain degree financed by life science companies. The above article concerns a company from which BioStock has received financing.
Prenumerera på BioStocks nyhetsbrev