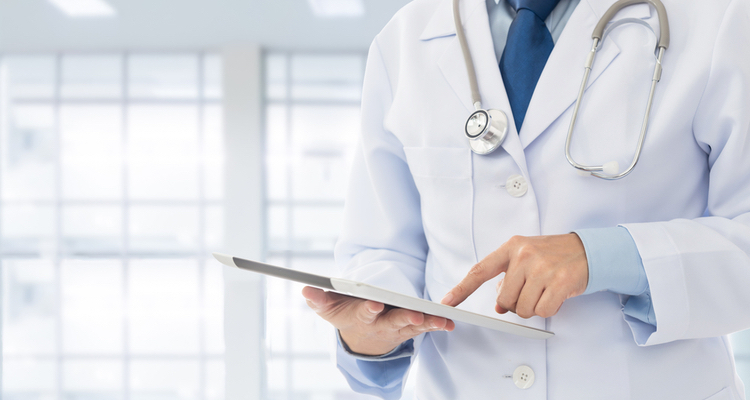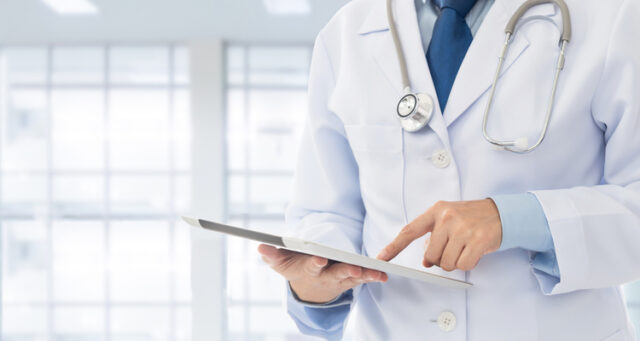 Coegin Pharma's clinical development in actinic keratosis
Actinic keratosis (AK) is one of the most common skin disorders and can be a first step in the development of skin cancer. Patients undergoing conventional AK treatments frequently experience pain, bleeding, inflammation, and scarring. Consequently, new and better treatment options to reduce patient side effects such as skin damage are high demand. The Nordic biotech Coegin Pharma will soon start clinical evaluation of its candidate AVX001 as a potential new and better treatment of AK. BioStock was able to speak with the lead clinician in the clinical program, Professor Merete Hædersdal, to learn more about AK and Coegin Pharma's clinical development program.
Cancer of the skin is quite common, especially among fair-skinned individuals whose skin cells are more vulnerable to harmful light rays coming from the sun. According to the World Health Organization (WHO), every third cancer diagnosis is skin cancer, and about three million people are diagnosed with some form of skin cancer globally every year.
Actinic keratosis – a hidden healthcare burden
Even more common is a condition called actinic keratosis (AK) – a pre-cancerous skin disease that affects close to 60 million people in the US alone each year. AK usually presents as small, rough, or scaly lesions caused by too much exposure to the sun. Many patients suffer from multiple lesions, which can be a significant burden and affect the quality of life of many patients They often appear on the face, ears, chest, backs of the hands, and arms of middle-aged or older people, and, while AK is not life-threatening in itself, if left untreated, it can develop into skin cancer.
Lack of proper treatments
Cryotherapy, freezing the affected skin with liquid nitrogen, is the most common way to remove AK. It can be painful and can give cosmetic damages to the skin. Most patients need repeated cryotherapy when new lesions appear which is time-consuming and becomes a significant burden to the patients. According to the American Cancer Society, photodynamic therapy (PDT) is effective for treating certain cancer forms and AK, but it is costly, painful, and time-consuming. There are several topical creams or gels available, but treatment with these products takes months with several doses needed per day to heal the affected skin. Furthermore, many of the topical products lead to bothersome skin reactions.
Therefore, new innovative therapies are in high demand for pre-cancerous conditions like AK. In fact, according to Grand View Research, AK therapy was valued at 6.3 BUSD in 2018, and they forecast an annual growth rate of 4.8 percent between 2014 and 2026. The market growth, according to analysts, will be due to an increase in disease prevalence and increased awareness of AK.
Coegin Pharma has new vision for treating AK
The Nordic biotechnology company Coegin Pharma is currently developing a small molecule treatment for AK that targets an enzyme called cPLA₂α, which is a novel but well-validated target for treating inflammation and cancer. The enzyme regulates the production of arachidonic acid and other bioactive lipid mediators that play a well-documented role in several diseases. Arachidonic acid is a prominent fatty acid that resides in the cell membrane, and on which the body relies for promoting and resolving inflammation. This makes it a relevant player in inflammation and cancer.
Read more about Coegin Pharma's story, therapeutic vision, and business concept, as well as an interview with the company's CEO, Tore Duvold, here.
Taking AVX001 to the clinic
Coegin Pharma's top candidate is AVX001, a compound that was originally developed as a topical treatment of mild-to-moderate psoriasis, an inflammatory disease of the skin where keratinocytes are heavily affected. The candidate reached the clinic, where it showed promising results in a phase I/II trial in 2015, providing the company with the first human proof-of-concept.
Since then, Coegin Pharma has made a shift in strategy towards diseases with high unmet medical needs due to strong preclinical evidence supporting that AVX001 can be effective in treating certain cancers, as well as AK. Now, the company is ready to pursue a phase I/II trial with AVX001 for treating AK patients in collaboration with Studies&Me and Bispebjerg Hospital.
Studies&Me, a spin-out company from LEO Pharma, is an innovative virtual contract research organisation (CRO) based in Denmark. Studies&Me is working to facilitate patient recruitment and digitalise treatment development across all stages of clinical development. Meanwhile, Bispebjerg Hospital, also in Denmark, is where the study will be conducted, under the leadership of Principal Investigator, Professor Merete Hædersdal (MD, PhD, DMSc).
»AKs are one of the most common conditions that dermatologists diagnose and treat, which means that patient-centred care forms the backbone of a typical day in the skin cancer clinic. That being said, Bispebjerg Hospital has for years been a pioneer in managing patients with non-melanoma skin cancer and its pre-stages (AK) by dedicating resources to the development of new diagnostic and therapeutic approaches« — Professor Merete Hædersdal, Principal Investigator for the AVX001 project
Learning more about the clinical strategy
For the trial, AK patients will be treated with a topical formulation of AVX001 in different doses, with the purpose of investigating safety and efficacy. Coegin Pharma plans to submit an application to the Ethics Committee and the Danish Medicines Agency in March 2021 with the aim of starting a clinical trial in August 2021.
BioStock reached out to Professor Hædersdal to learn more about the clinical project.
Merete Hædersdal, could you tell us more about your background and how you got involved in the AVX001 project?
– I am a consultant in dermatology at Bispebjerg Hospital, clinical professor at the University of Copenhagen, and head of a research group of 16 researchers, focusing on translational medicine in the field of skin cancer, non-invasive imaging, lasers, and energy-based devices in dermatology.
Internationally, I have, since 2009, been a visiting scientist at the Wellman Center for Photomedicine at Massachusetts General Hospital, Harvard Medical School, where I collaborate with Professor R. Rox Anderson's team on the development of new lasers and light-based techniques.
I was approached to conduct this study on AVX001 by Dr John Zibert John is the CEO of Studies&Me, a highly successful LEO Pharma A/S tech spin-out, and a close collaborator in our skin cancer research network, SCIN-CAG. We are currently running a proof-of-concept study on the use of app-based treatment monitoring which we are keen to expand. Running a clinical trial on a new topical compound for AK using a largely decentralised study concept sounded like a wonderful opportunity to strengthen our partnership.
You have a lot of experience with clinical trials in skin cancer. Do you have clinical experience working specifically with AK as well?
– AKs are one of the most common conditions that dermatologists diagnose and treat, which means that patient-centred care forms the backbone of a typical day in the skin cancer clinic. That being said, Bispebjerg Hospital has for years been a pioneer in managing patients with non-melanoma skin cancer and its pre-stages (AK) by dedicating resources to the development of new diagnostic and therapeutic approaches.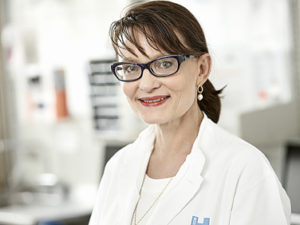 – This dermato-oncology hub at Bispebjerg Hospital has given me the unique opportunity of getting involved in the clinical management of complex AK patients and applying my expertise to all facets of research – ranging from observational quality of life assessments to multicentre randomised controlled trials to international consensus guidelines. As a supervisor of a number of PhD students, the initiator of the SCIN-CAG (Skin Cancer Innovation – Clinical Academic Group), and chairwoman of the newly founded Danish Research Center for Skin Cancer (Videncenter for Hudkræft), I have made conscious efforts to help cement Bispebjerg Hospital's status as a research powerhouse, but also become part of a larger dermato-oncology network.
– As the head of the laser clinic and a research group that is very active in the field of non-invasive optical imaging, I'm in the fortunate position of having access to treatment and monitoring modalities for photodamaged and pre-cancerous skin.
In your opinion, what will be the most challenging aspect of the clinical development for this project?
– I don't foresee any challenges that are specific to this project. My team and I have been involved in many experimental trials, and we are very familiar with the target patient group. While not having any experience with decentralised trials in dermato-oncology, Studies&Me has successfully recruited patients for other trials at our department before leading to publications in high-impact journals. I would imagine that digital recruitment and monitoring can cause a shift in the future design of clinical studies on patients with AKs. Given the hybrid design of our study and an app that has been customised to embrace the needs and doubts of elderly patients, I am convinced that patients will come to appreciate the lower number of on-site visits and greater flexibility of remote monitoring. There will be lots of learning opportunities for us along the way, but I have complete faith in our strategy to address any potential challenges. 
Do you have high hopes that AVX001, if shown to be clinically effective against AK, will then be able to be clinically validated in cancer indications like SCC and BCC?
– After reading up on the literature of AVX001 and working on the investigator's brochure, I was intrigued to see that we are dealing with a topical compound that boasts a completely new mechanism of action. Depending on the efficacy and side-effect profile, I could see this compound being used as a treatment of non-melanoma skin cancer or in a preventative approach for the management of skin dysplasia in at-risk groups. Given the tremendous number of patients we see for non-melanoma skin cancer and precursor lesions, AVX001 could be a true game-changer in dermatology.
The trial is run in collaboration with Studies&Me. Have you worked with them before and what expertise do you expect them to bring to this project?
– We are currently running a study using the Studies&Me Imagine Skin Tracker for monitoring of a laser-assisted drug delivery project, which helped us understand just how valuable the information we can gain from healthcare apps is, for patients, clinicians and researchers.
– Working with Studies&Me in a formal collaboration, one where the burden of patient recruitment and remote monitoring is taken off our shoulders, will give us an opportunity to digitise dermato-oncological research and consider new ways of optimising clinical patient management. John Zibert has surrounded himself with bright, hard-working, ambitious health-tech enthusiasts, and so far, it's been a pleasure to work with and learn from them. They come equipped with an understanding of what's needed in the healthcare sector and bring innovative, adaptive solutions to the table.
The content of BioStock's news and analyses is independent but the work of BioStock is to a certain degree financed by life science companies. The above article concerns a company from which BioStock has received financing.
Prenumerera på BioStocks nyhetsbrev