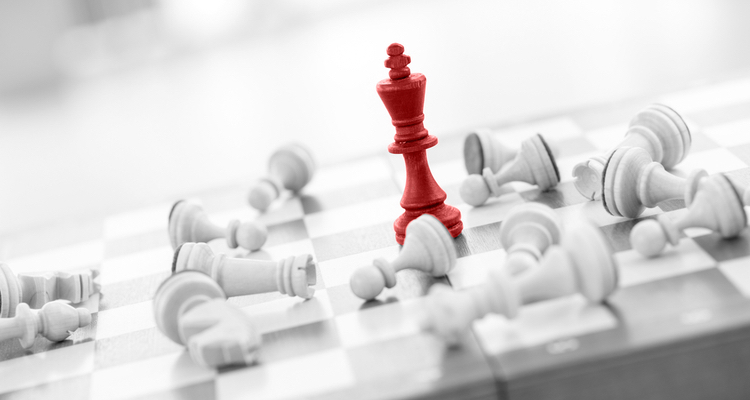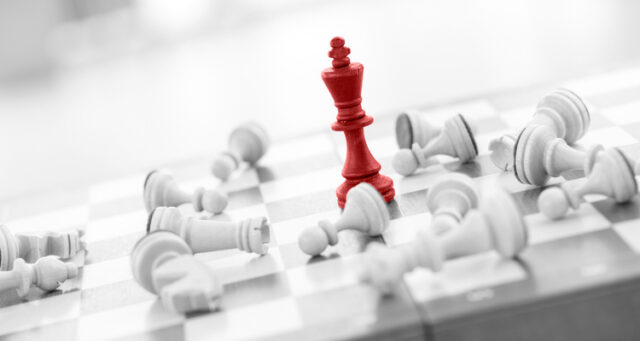 Biologics are a success factor according to Lipum
Lipum develops a new biological drug for chronic inflammatory diseases. According to one study, the probability for approval of biological drugs is almost twice as high as that of small molecules (new molecular entities, NME). This bodes well for Lipum's drug candidate SOL-116, which is an antibody. In addition, it has the potential to achieve orphan drug status, which would further increase the chances as it provides many benefits during the development process.
Umeå company Lipum aims to develop a new treatment for chronic inflammatory diseases such as childhood rheumatism (Juvenile idiopathic arthritis, JIA), rheumatoid arthritis and inflammatory bowel diseases. The company is in the late preclinical stage with SOL-116, a humanised antibody that blocks the target molecule BSSL (Bile Salt-Stimulated Lipase) and can thus inhibit the inflammatory process.
The company has just begun toxicology and safety studies with SOL-116, and the plan is then to initiate clinical trials with the candidate. To finance the preparations for the clinical trials, Lipum intends to be listed on the stock exchange in April. This is an important step towards the goal of taking SOL-116 all the way to being an approved biological drug.

See CEO Einar Pontén's presentation at BioStock Life Science Summit here.
The story behind Lipum
Lipum is based on research with deep roots. About 45 years ago, Olle Hernell, professor of paediatrics, studied the uptake of breast milk and found a fat-splitting enzyme protein known today as Bile Salt-Stimulated Lipase, BSSL.
Hernell's research group later discovered that BSSL is also found in the blood and in granulocytes, a type of white blood cell that plays an important role in the body's defence against infections and inflammation. This finding shifted the group's research focus to investigating BSSL's role in inflammatory processes. When they then understood the medical potential of the discovery, Lipum was founded in 2010 by Olle Hernell, associate professor Susanne Lindquist and Professor Lennart Lundberg.
Read BioStock's interview with Olle Hernell, in Swedish, here.
The antibody SOL-116 has the potential to inhibit inflammation
According to Lipum, BSSL stimulates the recruitment of inflammatory cells to the area of ​​inflammation in order to fight it in the acute phase. When the inflammation becomes chronic, i.e., when the body's own defences can no longer control it, BSSL instead contributes to continued inflammation.
The discovery of BSSL opened up a whole new possibility for the treatment of chronic inflammatory diseases. Lipum realised that by blocking BSSL's function with a specific antibody, the inflammatory process could be inhibited, and so the development of the company's monoclonal antibody SOL-116 was initiated.
In arthritis animal models, Lipum showed that mice lacking BSSL are protected against developing the disease. The same positive results were shown in a colitis model where mice without BSSL were protected against developing the inflammatory bowel disease. In addition, a rat model showed that antibodies directed against BSSL protect against arthritis development.
Biologics and NMEs
Lipum's candidate SOL-116 is a biologic, meaning that the active substances are produced or refined from material with biological origins, i.e. living cells or tissue, according to the definition used by the Swedish Medical Products Agency (Läkemedelsverket).
Many drugs in development are not biological drugs but instead contain a chemical substance. Most of them are NMEs, new molecular entities, which means that they contain substances that have not previously been included in approved drugs.
Study shows that biologics meet with greater success
During 2006-2015 a large study looked at more than 7 000 drug development programs in order to examine the success of different types of drugs. The study conducted by BIO, Biomedtracker and Amplion, makes use of the concepts Phase Success and Likelihood of Approval (LOA), both expressed as a percentage. Phase Success is a measure of the probability that the drugs will move on to the next development phase, e.g., from phase I to phase II. Likelihood of Approval (LOA) is the likelihood that drugs will achieve FDA approval from the current phase of development.
The graph below shows that the biological drugs included in the study had a higher Phase Success than NME drugs in all phases of drug development. In addition, NME had a phase I LOA of only 6.2 per cent, while biological drugs had an LOA of 11.5 per cent. This means that biological drugs are almost twice as likely to achieve approval compared to NME. Non-NMEs had the highest Phase Success and LOA, probably as they tend to be reformulations or combinations of already approved products.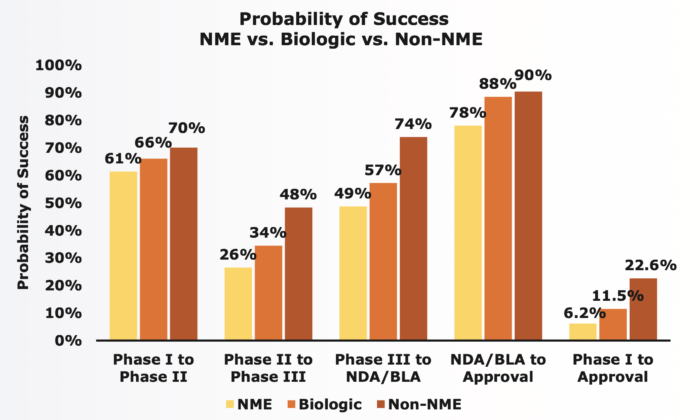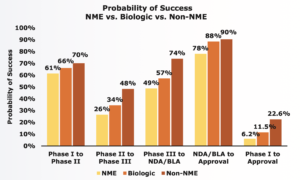 Clinical Sevelopment Success Rates 2006-2015
The possibility of orphan drug designation
The fact that SOL-116 is a biological drug is not Lipum's only ace up the sleeve – the candidate may also qualify for orphan drug designation (ODD) as Lipum has chosen to target the rare disease JIA.
One of the benefits of ODD is enhanced protection of intellectual property rights through additional market exclusivity for ten years in Europe and Japan and seven years in the United States for an approved drug. According to Lipum, ODD also gives certain regulatory advantages, a higher degree of approval, favourable pricing, faster market introduction and more potent market shares, as well as a decreased need for marketing resources.
With promising preclinical results in the bag, Lipum can look forward to interesting work developing its biologics candidate SOL-116. BioStock will return with reports on the ongoing development for SOL-116, as well as the company's upcoming IPO.
Read more about the benefits of biological drugs in one of BioStock's previous articles, in Swedish, here.
The content of BioStock's news and analyses is independent but the work of BioStock is to a certain degree financed by life science companies. The above article concerns a company from which BioStock has received financing.
Prenumerera på BioStocks nyhetsbrev