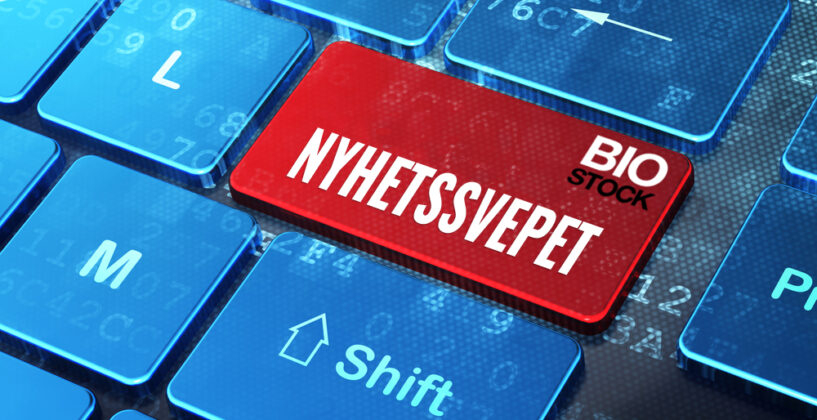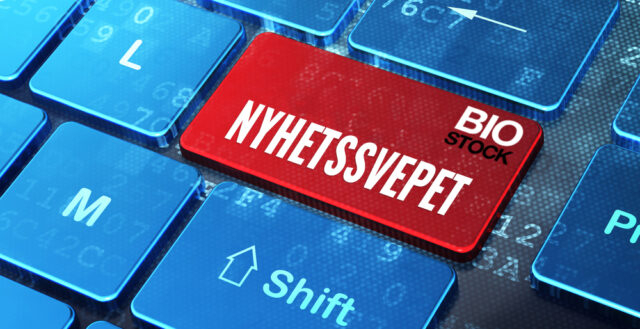 Nyhetssvepet tisdag 13 juni
Det senaste från BioStock
Läs BioStocks nyhetsbrev för v.23 här.
---
Se det senaste avsnittet av BörsRonden nedan!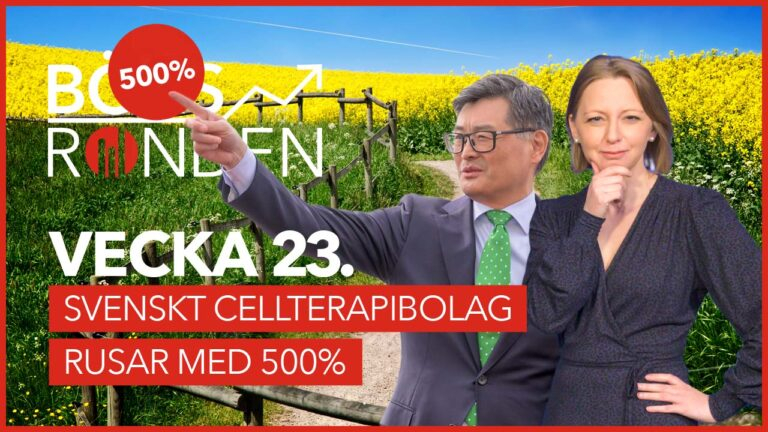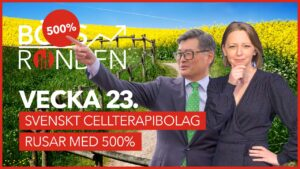 ---
Förmiddagens nyheter
Alligator Bioscience arrangerar virtuellt KOL-event. Läs mer.
Spago Nanomedical stärker Tumorad genom nytt vetenskapligt råd. Läs mer.
Sensidose meddelar sista dag för handel med teckningsoptioner av serie TO 1. Läs mer.
Alzinova ansöker om Pre-IND möte med FDA och EMA Scientific Advice. Läs mer.
Peptonics patentansökan godkänns i USA som första land. Läs mer.
Prolight Diagnostics visar proof-of-performance för högkänsligt troponin. Läs mer.
SyntheticMR introducerar kvantitativa neurorapporter för att förbättra det kliniska arbetsflödet. Läs mer.
UCB meddelar att Europeiska kommissionen godkänner BIMZELX för behandling av vuxna patienter med psoriasisartrit och axial spondyloartrit. Läs mer.
AlzeCure Pharma publicerar artikel om sjukdomsmodifierande data med NeuroRestore ACD856 mot Alzheimers. Läs mer.
AstraZeneca meddelar att Soliris godkäns i Kina för behandling av vuxna med refraktär generaliserad myasthenia gravis. Läs mer.
Sista dagen av teckningsperioden i företrädesemissionen för BerGenBio. Läs mer.
Attana stärker kassan genom konvertibler och lån om totalt 10 Mkr. Läs mer.
Medimi tecknar avtal om pilotinstallation i Norge. Läs mer.
BioInvent presenterar BI-1206 på 17th International Conference of Malignant Lymphoma Annual Meeting 2023. Läs mer.
IRLAB presenterar på den vetenskapliga konferensen XIV Triennial Meeting of the International Basal Ganglia Society. Läs mer.
---
Se BioStock Life Science Spring Summit via bannern nedan:
---
Flaggningar, insynshandel, förändringar i eget kapital:
Bavarian Nordic  BerGenBio  Circio Holding  Fluicell  Novo Nordisk 
---
Nyheter sedan måndag lunch
Clinical Laserthermia Systems offentliggjorde prospekt med anledning av företrädesemissionen av units. Läs mer.
Stayble Therapeutics besökte Bio International Convention i Boston. Läs mer.
Attana har stärkt kassan genom konvertibler och lån om totalt 10 Mkr. Läs mer.
Aptahem publicerade sin presentation från Aktiespararnas Småbolagsdagar. Läs mer. Man offentliggjorde även sitt EU-tillväxtprospekt i samband med företrädesemission. Läs mer.
Sensidose ansökan om avnotering har godkänts. Läs mer.
Modus Therapeutics presenterade nya data vid European Hematology Association Congress. Läs mer.
Hamlet Pharma säkerställde långsiktig produktion av alfa1-peptider i ett avtal med Polypeptide Group. Läs mer.
Arcoma tecknade distributionsavtal med Canon Korea. Läs mer.
---
Förmiddagens kursutveckling
Vinnare: Prolight Diagnostics 38,5%, Idogen 25,4%, PolarCool 20,4%, Prostatype Genomics 19,4%, Medfield 14%
Förlorare: Lipidor -17,1%, Zenicor -12,4%, Amniotics -10,6%, S2Medical -7,6%, Toleranzia -6,9%
Index: OMSX30 2 323 1,04%, Hälsovård -0,30%
Prenumerera på BioStocks nyhetsbrev