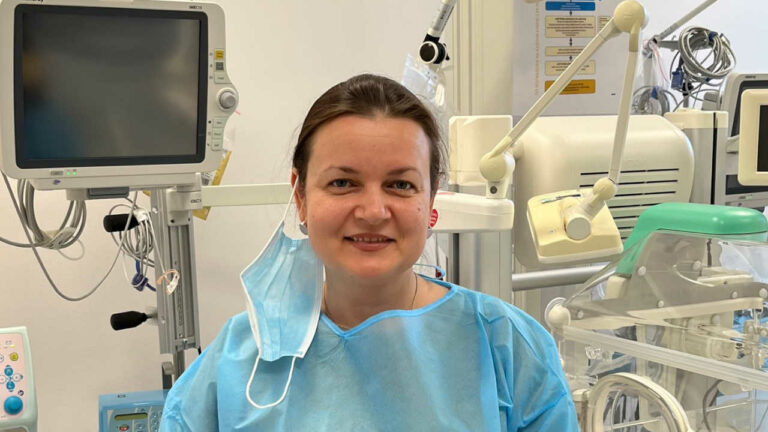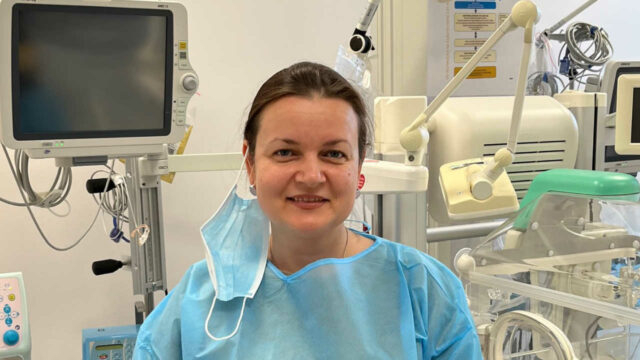 Klinisk chef ser stort intresse för Neolas medicintekniska produkt
För lite mer än ett år sedan flydde hon kriget i Ukraina. Idag arbetar Tetiana Kovtiukh som klinisk chef på det Lundabaserade medicinteknikbolaget Neola Medical. BioStock pratade med henne om hennes roll i att förbättra övervakningen av lungor hos för tidigt födda barn.
Neola Medical har utvecklat den medicintekniska produkten Neola för kontinuerlig övervakning av för tidigt födda barns lungor. Enheten övervakar förändringar i lungvolym och syrgaskoncentrationer och gör det möjligt att upptäcka komplikationer mycket tidigare än med nuvarande metoder. Bolaget hoppas att systemet kommer att leda till att färre barn får allvarliga lungvävnadsskador och bidra till att förhindra bronkopulmonell dysplasi. Sannolikt kommer Neola Medicals medicintekniska produkt också att frigöra värdefull tid för sjuksköterskor och minska antalet dagar som barnen behöver spendera på den neonatala intensivvårdsavdelningen (NICU).
Bolaget förbereder sig för närvarande för marknadslansering, med initialt fokus på USA. En viktig person i den processen är Tetiana Kovtiukh, som sedan förra året är klinisk chef på bolaget. Tetiana är en erfaren neonatolog med doktorsexamen i neonatologi från National Pirogov Memorial Medical University, Vinnytsa, Ukraina.
Bidrar med medicinsk expertis
Hon har varit medicinsk rådgivare för bolag som AbbVie och Teva Pharmaceuticals, där hon bidragit med klinisk expertis samtidigt som hon byggt upp ett nätverk av viktiga key opinion leaders inom området. Det nätverket tjänar henne väl i hennes nya roll på Neola Medical.
"One of my main responsibilities as a clinical manager at Neola Medical is to provide insight for the development of the product. What should Neola offer the NICUs to improve care for preterm born babies?", säger Tetiana Kovtiukh i en intervju med BioStock.
Hon besökte nyligen sjukhus i Sverige, Tyskland och Polen för att ta reda på vilka behov som finns i de olika länderna.
"Meeting the staff from different NICUs is very important to understand the clinical need and how Neola can meet those needs. I´m paying a lot of attention to the equipment in the NICUs and how it is used. I´ve noticed, for example, that there are big differences in how the lungs are monitored", säger Tetiana.
Möjliggör bättre vård
Det nätverk som hon nu bygger upp kommer inte bara att vara viktigt för den fortsatta utvecklingen av produkten. Under besöken har hon också haft möjlighet att berätta om vad Neola har att erbjuda.
"Doctors want to know what benefit Neola can give them compared to how they monitor oxygenation today, using a pulse oximeter or chest x-ray. With Neola, you measure oxygenation directly in the lung, while at the same time measuring volume. This enables you to see any complications immediately and make quick decisions on how to respond. This is very important considering that these patients are very fragile."
Stort intresse för Neola-systemet
Barn som föds för tidigt är ännu inte redo för livet utanför livmodern. För tidig födsel är den näst vanligaste dödsorsaken bland barn under 5 år. Om barnet överlever denna första period riskerar det också att få komplikationer senare under hela livet.
Med tanke på de nyfödda är väldigt känsliga är det viktigt att vården är skonsam och så icke-invasiv som möjligt. Detta har varit en nyckelaspekt i utvecklingen av systemet. För att marknadsföra Neola är det viktigt att skapa kontakter med key opinion leaders.
"In my hospital visits I have seen a lot of interest in the product, where some believe it will provide a major improvement in the monitoring of preterm born infants. Particularly in Gothenburg, doctors were very interested and had a lot of questions. They especially like that the Neola device is non-invasive", säger Tetiana.
Kliniska studier nästa stora steg
Nästa stora steg för Neola Medical är att genomföra valideringsstudier med produkten, inklusive kliniska studier. Tetiana kommer att stå i centrum för den kliniska prövningsprocessen.
"First of all, we hope to see that the system improves the monitoring of the children's lungs. Another important aspect for hospitals is cost. The NICU is a very cost-intensive unit. We aim to show that the use of Neola decreases the time the child needs to stay there. On top of that, we also aim to show that the monitoring device frees up time for the nurses, who in today's care need to spend a lot of time for visual observational monitoring."
Innehållet i BioStocks nyheter och analyser är oberoende men BioStocks verksamhet är i viss mån finansierad av bolag i branschen. Detta inlägg avser ett bolag som BioStock erhållit finansiering från.
Prenumerera på BioStocks nyhetsbrev