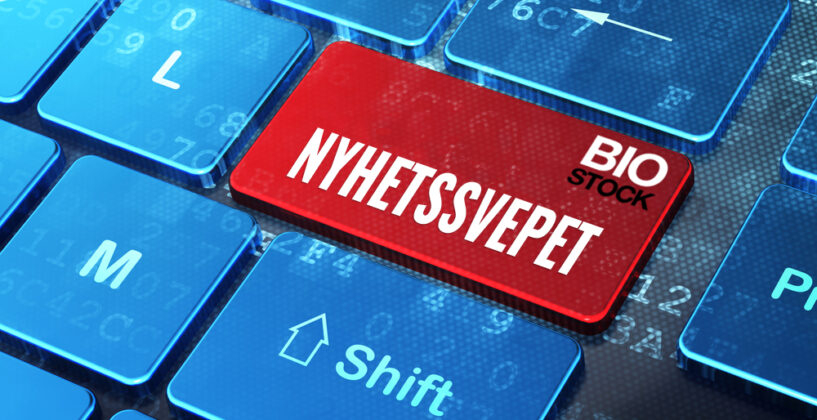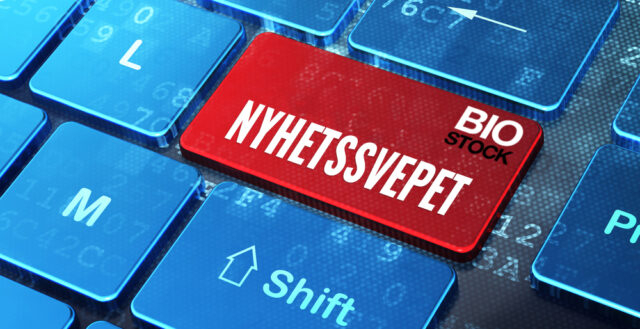 Nyhetssvepet torsdag 2 februari
Det senaste från BioStock
» Carbiotix blivande vd om tillväxtplanerna 2023
» CAR T-revolutionen i kampen mot cancer
» LIDDS vd om nyemissionen 
» Flera bioteknik-raketer under starkt januari 
» Framsteg och omorganisation i Carbiotix

Läs BioStocks nyhetsbrev för v.4 här.
---
Förmiddagens nyheter
Calliditas får villkorat marknadsgodkännande i Storbritannien för Kinpeygo för behandling av IgA-nefropati. Läs mer.
Sista patientens sista besök har ägt rum i Asarina Pharmas fas IIa-studie med Sepranolone. Läs mer.
Attana och 19 Plus tecknar samarbetsavtal om marknadsföring och försäljning av individuella immunitetsprofiler. Läs mer.
ProstaLund erhåller ett avtal värt 2,4 MKr. Läs mer.
Tillträdande vd Torbjörn Sköld har köpt aktier i Stille. Läs mer.

Tony Hoos blir ny Head of R&D and Medical Affairs och Chief Medical Officer i SOBI. Läs mer.
Raytelligence meddelar rättelse om den föreslagna företrädesemissionen av units. Läs mer.
En nanokikare gör det möjligt att analysera och kvantifiera biologiska läkemedel i mänskliga celler, meddelar Chalmers tekniska högskola. Läs mer.
Ett blodprovstest kan genom att identifiera tau upptäcka Alzheimers sjukdom tidigt. Läs mer.
---
---
Nyheter sedan onsdag lunch
PolarCool medverkar på UEFA Medical Symposium som Official Gold Partner. Läs mer.
Beactica Therapeutics har beviljats särläkemedelsstatus av FDA för BEA-17 avseende behandling av glioblastom. Läs mer.
Invent Medic meddelar utfall i riktade emissioner av teckningsoptioner. Läs mer.
Hemcheck har fått en uppföljningsorder från sin brittiska distributör. Läs mer.
PExA har erhållit en order avseende PExA 2.1 från en amerikansk myndighet. Läs mer.
Elos Medtech har justerat utdelningspolicy och föreslagit att ingen utdelning lämnas för 2022. Läs mer.
Cantargia har rekryterat Patrik Renblad som bolagets Chief Financial Officer. Läs mer.
PainDrainer har utnämnt Philip Siberg till ny styrelsemedlem. Läs mer.
ViroGates har utsett Josephine Baum Jørgensen till bolagets CFO. Läs mer.
Kombination av immunceller kan ge tydligare prognos för vissa cancerformer, visar ny studie vid Uppsala universitet. Läs mer.
---
Förmiddagens kursutveckling
Vinnare: PBC Instruments 24,7%, Attana 17,4%, Modus Therapeutics Holding 13,9%, ProstaLund 13,1%, Vitrolife 10,9%
Förlorare: QuiaPEG -42,7%, Raytelligence -32,4%, Odinwell -9,5%, Peptonic Medical -9,2, Boule Diagnostics -8,6%
Prenumerera på BioStocks nyhetsbrev