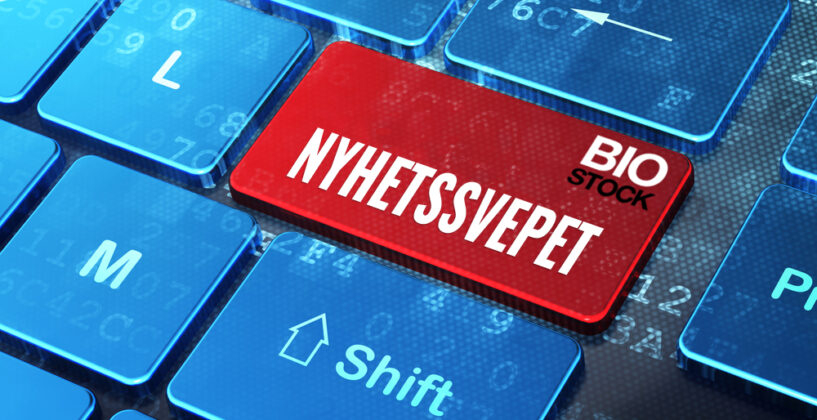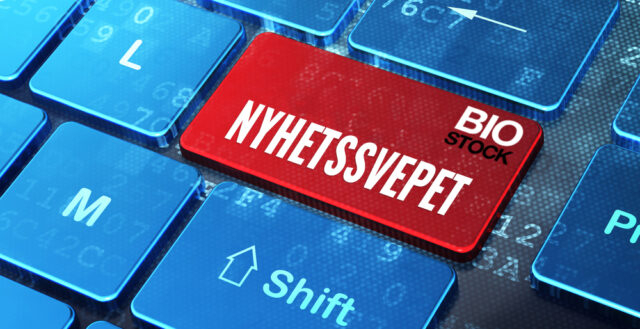 Nyhetssvepet onsdag 21 september
Det senaste från BioStock 
» Green light for Alligator Bioscience and Aptevo Therapeutics 
» BioStock Investor Meeting: Expert insights med Mattias Häggblom
» Promore Pharmas bensårsbehandling ska minska patientens lidande 
» BioStock Investor Meeting: Brain+ presenterar
» BioStock Investor Meeting: Redwood Pharma presenterar 
Läs BioStocks nyhetsbrev för v.37 här.
---
Förmiddagens nyheter
Spago Nanomedical får SpagoPix-abstract accepterat på bröstcancerkonferens. Läs mer.
Klinisk studie på 100 nyfödda barn med Neola Medicals medicintekniska utrustning slutförd, positiva subgruppsresultat presenterades. Läs mer.
Idogen har erhållit godkännande av regionala etikkommittéen för att genomföra klinisk fas I/IIa-studie inom IDO 8-programmet. Läs mer.
Episurf Medical kommunicerar uppdatering angående 510(k)-ansökan. Läs mer. De bjuder även in till kapitalmarknadsdag 16 november 2022. Läs mer.
Initiator Pharma rapporterar den slutliga analysen av positiv effektdata i IPTN2021-programmets fas I-studie. Läs mer.
Styrelsen för ChemoTech beslutar om företrädesemission av units om cirka 20,1 Mkr. Läs mer.
AstraZeneca har fått EU-godkännande av Tezspire för svår astma. Läs mer.
XVIVO presenterar strategi för 2023-2027 på kapitalmarknadsdagen. Läs mer.
---
Bolagsrapporter:
Förändringar i eget kapital och antal röster:
Kallelser: 
Kommunikéer:
DanCann Pharma  Arctic Bioscience
---
Nyheter sedan tisdag lunch
BrainCool har erhållit nytt patentgodkännande i USA för IQool. Läs mer.
Luc Debruyne utsågs till observatör i Bavarian Nordics styrelse. Läs mer.
Xintela startade klinisk fas I/IIa studie med XSTEM för svårläkta bensår. Läs mer.
Cereno Scientifics läkemedelskandidat CS1 har fått stärkt patentskydd genom sin tredje patentfamilj. Läs mer.
Invent Medic meddelade att Efemia Menstrual Cup inkluderas i Apoteas sortiment. Läs mer.
S2Medical har meddelat att Ministry of Health and Prevention i UAE direktupphandlat Epiprotect. Läs mer.
Oncopeptides meddelade att FDA har publicerat briefingboken inför mötet med ODAC. Läs mer.
Diamyd Medical meddelade uppdaterade resultat från klinisk studie med Diamyd på diabeteskonferens. Läs mer.
Calliditas Therapeutics offentliggjorde att deras partner STADA lanserar det första läkemedlet som godkänts i EU för behandling av primär IgA-nefropati. Läs mer.
Expres2ion Biotechnologies meddelade att de deltar i flera event under september. Läs mer.
---
Förmiddagens kursutveckling
Vinnare: Double Bond Pharmaceutical 13,1%, Invent Medic 11,4%, BrainCool 9,1%, AlzeCure Pharma 8,7%, NeoDynamics 7,4%
Förlorare: Oncopeptides -26,5%, Scandinavian ChemoTech -24,2 %, Elicera Therapeutics -14,4%, Alteco -12,7%, Glycorex Transplantation -12%
Index: OMXS30 1 858 0,07%, Hälsovård 0,07% 
---
Fler artiklar från BioStock
» Pharmacolog ökar marknadsfokus med emission 
» BioStock Investor Meeting: Idogen presenterar 
» BioStock Investor Meeting: Elicera Therapeutics presenterar 
» BioStock Investor Meeting: Cyxone presenterar 
» Positiva resultat från Respiratorius PK-studie 
Prenumerera på BioStocks nyhetsbrev