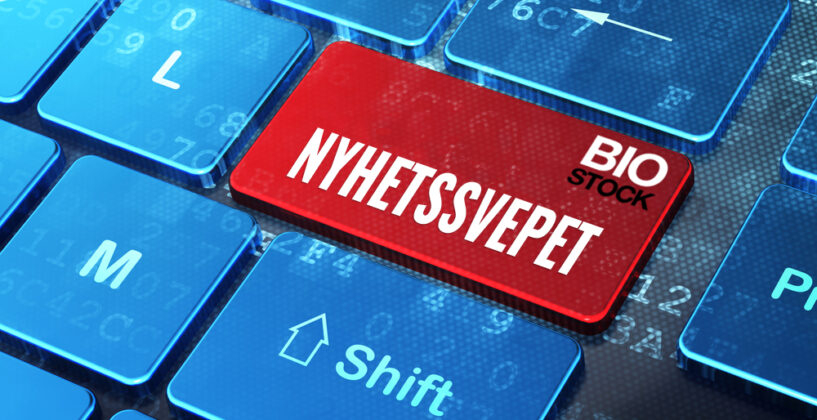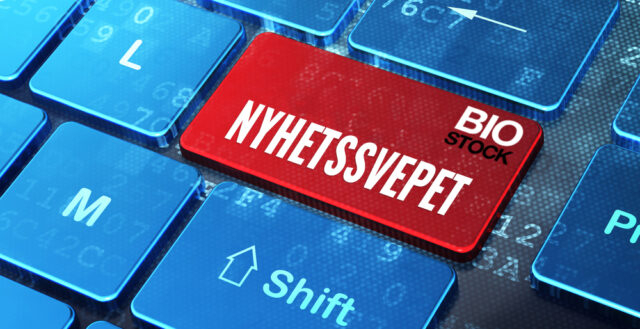 Nyhetssvepet tisdag 23 november
De senaste artiklarna från BioStock

Läs BioStocks nyhetsbrev för v. 46 här.
SynAct Pharma rapporterar positiva farmakokinetiska data på AP1189-tabletter. Läs mer.
Carbiotix påbörjar installation av den första CarbiAXOS-produktionslinjen. Läs mer.
Karo Pharma förvärvar Sylphar International för 290 MEUR och avser genomföra en företrädesemission om cirka 200-250 MEUR. Läs mer.
PharmNovo har beviljats patent i Kanada för läkemedelskandidat mot neuropatisk smärta. Läs mer.
Vaccibody byter namn till Nykode Therapeutics. Läs mer. Bolaget meddelar även att man ingått en licens- och samarbetsavtal med Regeneron. Läs mer.
ADDvise Group utser tillfällig CFO. Läs mer.
Double Bond Pharmaceutical International meddelar att Named Patient Treatment Access-programmet för Temozolomid-gel (Temodex) startades upp 23 november. Läs mer.
Immunovia högtidliggjorde World Pancreatic Cancer Day genom att fira invigningen av det amerikanska dotterbolaget Immunovia, Inc. Läs mer.
Idag inviger AstraZeneca sitt The Discovery Centre i Cambridge, England. Läs mer.
Rapporter:
AegirBio  Allarity Therapeutics  LIDDS  Prolight Diagnostics  S2Medical  SensoDetect
Kallelser till bolagsstämmor:
EQL Pharma  Eurocine Vaccines  Oxcia  Polymer Factory  Vaccibody
Kommunikéer:
Nyheter inkomna sedan igår lunch:
Gabather presenterade lovande resultat från preklinisk studie av GT-002 i en försöksmodell för Alzheimers sjukdom. Läs mer.
ISR Vaccine har nu genomfört in vivo delen av toxikologistudien för bolagets SARS-CoV-2 vaccinkandidat. Läs mer.
Zealand Pharma rapporterade positiva resultat från fas Ib-studie med dapiglutide. Läs mer.
Getinge kommenterade nya finansiella mål. Läs mer.
Styrelsen för Prolight Diagnostics har beslutat att starta en särskild utveckling inom s.k. distributed testing tillsammans med bolagets teknologiparter, brittiska TTP. Läs mer.
Kancera meddelade att läkemedelskandidaten KAND145 ger effektiv minskning av tumörstorlek i preklinisk modell av äggstockscancer. Läs mer.
XVIVO Perfusion utökade sin ledningsgrupp genom att utse Jaya Tiwari till Vice President Clinical and Regulatory Affairs för USA. Läs mer.
Invent Medic informerade att sista dag för handel med BTA i bolaget är 26 november. Läs mer.
Annexin Pharmaceutical meddelade sista dag för handel med BTU och första handelsdag för teckningsoptioner av serie TO3. Läs mer.
Valberedning för Stille inför årsstämman 2022. Läs mer.
Genmab informerade insidertransaktioner. Läs mer. Bolaget meddelade även att styrelsen beslutat att dela ut aktier till styrelsemedlemmar och anställda. Läs mer.
Scandion Oncology meddelade att styrelsemedlemmar och personer i bolagets ledning köpt aktier i bolaget. Läs mer.
Novo Nordisk informerade om bolagets aktieåterköpsprogram. Läs mer.
Förmiddagens vinnare: Oncopeptides 16,3%, Karolinska Development 8,5%, BBS-BioactiveBoneSubstitutes 7,5%, Klaria 5,4%, Ortivus B 5,1%
Förmiddagens förlorare: Aegirbio -28,8%, Duearity -9,9%, PolarCool -9,3%, AroCell -8,5%, S2Medical -8,4%
Index: OMXS30 2338 -1,27%, Hälsovård -2,37%
Fler artiklar från BioStock
Prenumerera på BioStocks nyhetsbrev