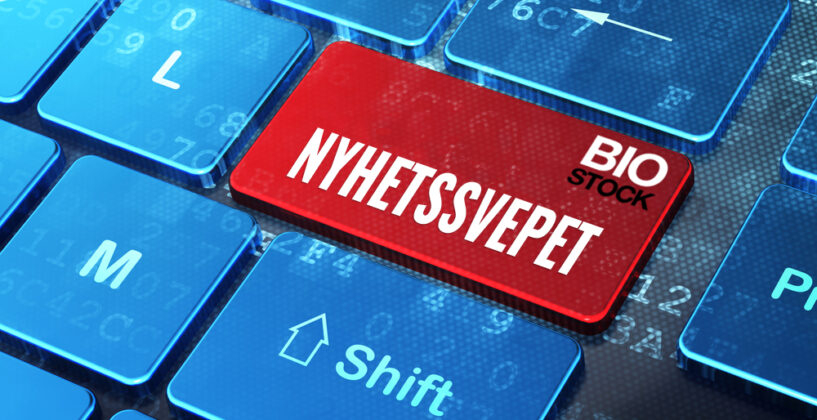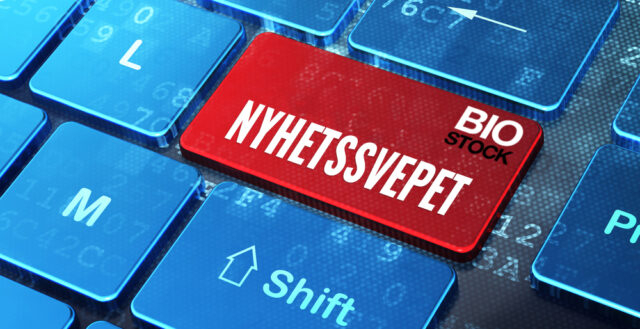 Nyhetssvepet onsdag 17 november
De senaste artiklarna från BioStock

Läs BioStocks nyhetsbrev för v. 45 här.
Saniona inleder klinisk studie i fas IIb med Tesomet för hypotalamisk fetma. Läs mer.
AroCell signerar ett distributörsavtal med Rock Medical som täcker Storbritannien och Nordirland för försäljning av UBC Rapid. Läs mer.
Engelska fotbollslaget Leeds United har ingått ett utvärderingsavtal med PolarCool om användning av PolarCap System. Läs mer.
Inhalation Sciences Sweden har tecknat CRO-avtal värt 900 000 kr med Akari Therapeutics. Läs mer.
Nanoform vinner Star of Innovation-priset vid European Small and Mid-Cap Awards 2021. Läs mer.
Valberedning har utsetts i LIDDS. Läs mer.
Rapporter:
Eurocine Vaccines  Monivent  NeoDynamics  Odinwell  OssDsign  Oxcia  PCI Biotech  Photocure  SpectraCure  Vaccibody
Årsredovisningar:
Nyheter inkomna sedan igår lunch:
Affibody har tecknat avtal värt totalt 305 miljoner USD plus royalites med ACELYRIN för utveckling och kommersialisering av izokibep. Läs mer.
Cellenion har ingått gemensamt marknadsföringsavtal med Bruker. Läs mer.
Vd Anders Göransson investerar i Bactiguard. Läs mer.
Lumito meddelade att dr Bo Holmqvist bedömer att bolaget har uppnått målen för sina inmärkningar av nya bröstcancervävnader. Läs mer.
Valberedning utsedd inför årsstämma 2022 i Promore Pharma. Läs mer.
Kapitalet har ökat i Genmab. Läs mer.
ALK- Abelló informerade om transaktioner utförda av anställda. Läs mer.
Observe Medical har beslutat att dela ut aktieoptioner till CFO Per Arne Nygård. Läs mer.
Brain+ meddelade att Kim Arvid Nielsen avser att lämna bolagets styrelse. Läs mer.
Återstående nya aktier i RNB Retail and Brands apportemission har idag tecknats och betalats genom tillskjutande av återstående aktier i Coala-Life. Läs mer.
Förmiddagens vinnare: PolarCool 23,4%, Oncopeptides 21,7%, Alligator Bioscience 21,3%, RNBS 20,1%, Abera Bioscience 11,4%
Förmiddagens förlorare: Immunicum -11,2%, Annexin Pharmaceutical -10%, Diagonal Bio -6,8%, Herantis Pharma -6,2%, Saniona -6,2%
Index: OMXS30 2374 -0,49% %, Hälsovård +0,23%
Fler artiklar från BioStock
Prenumerera på BioStocks nyhetsbrev