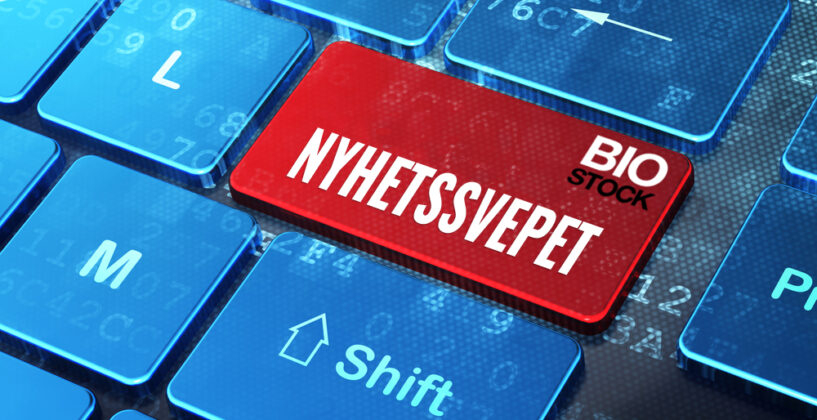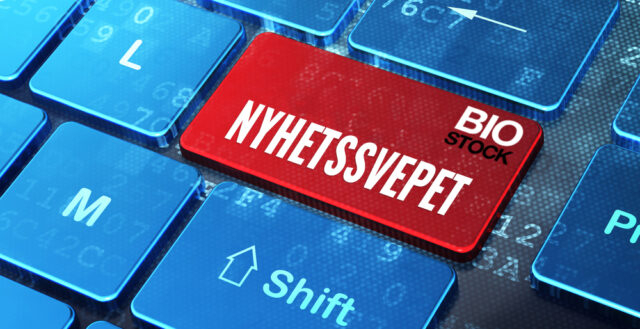 Nyhetssvepet måndag 15 november
De senaste artiklarna från BioStock

Läs BioStocks nyhetsbrev för v. 45 här.
Hansa Biopharma avser att initiera en fas III-studie med imlifidase för behandling av anti-GBM-sjukdom efter framgångsrikt rådgivningsmöte med FDA. Läs mer.
BioArctic meddelar att nya lecanemab-data presenterades vid Alzheimerkonferensen CTAD. Läs mer.
Jakob Lindberg utnämnd till vd för Oncopeptides. Läs mer.
Alteco Medical tecknar distributörsavtal på flera marknader. Läs mer.
Lundbeck inleder en klinisk fas II med Lu AG09222. Läs mer.
AcuCort meddelar att registreringsprocessen för den nordiska marknaden pågår för bolagets läkemedel ISICORT. Läs mer. Genom de nyligen utförda nyemissionerna har bolaget tillförts totalt cirka 31,0 Mkr före avdrag för emissionskostnader. Läs mer.
Nightingale Health introducerar nya servicemodeller. Läs mer.
ArcticZymes Technologies publicerar finansiell kalender. Läs mer.
Sista dag för handel med teckningsoptioner av serie TO2 i ISR är imorgon. Läs mer.
Bavarian Nordic informerar om insidertransaktioner. Läs mer.
Mangold har höjt riktkursen för ISR. Läs mer.
Analysguiden publicerar analys av Active Biotech. Läs mer.
Rapporter:
Nyheter inkomna sedan fredag lunch:
BrainCool kommenterade amerikanska Centers for Medicare and Medicare Services beslut gällande Medicare Coverage of Innovative Technology and Definition of "Reasonable and Necessary". Läs mer.
Miris meddelade att ytterligare två Miris HMA sålts till Filippinerna. Läs mer.
EMA har gett ett positivt utlåtande gällande Lundbecks Vyepti. Läs mer.
Novo Nordisks kandidat Ozempic har erhållit positivt utlåtande från EMA. Läs mer.
Enorama Pharma meddelade att avtalet mellan Enorama och Evolan Pharma upphör. Läs mer.
Double Bond Pharmaceutical publicerade rättelse gällande kvartalsrapport. Läs mer.
Dagens Industri har intervjuat Polymer Factorys vd Elin Mignérus. Läs mer.
Zealand Pharma kommer att delta vid Jefferies London Healthcare Conference. Läs mer.
Nordic Nanovector har bjudit in till presentation av kvartalsrapport. Läs mer.
Cessatech har publicerat ett nyhetsbrev. Läs mer.
Targovax publicerade finansiell kalender. Läs mer.
Mangold har gjort en analys av ISR. Läs mer.
Förmiddagens vinnare: Oncopeptides 25,1%, Karolinska Development 21,2%, Allarity Therapeutics 13%, GPX Medical 9,9%, Hemcheck Sweden 9%
Förmiddagens förlorare: Raytelligence -8,2%, SpectraCure -7,6%, Enorama Pharma -7,6%, AddVise Group -7,5%, Luxbright -7,2%
Index: OMXS30 2362 -0,12%, Hälsovård -0,01% 
Fler artiklar från BioStock
Prenumerera på BioStocks nyhetsbrev