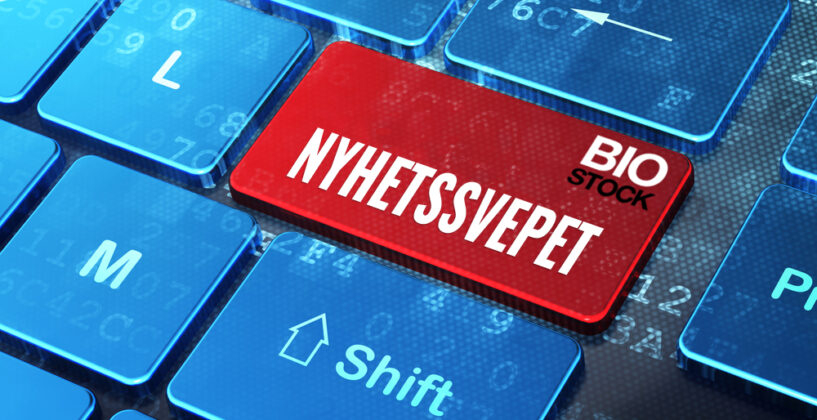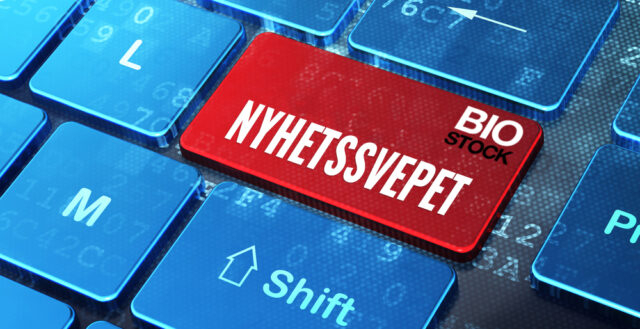 Nyhetssvepet fredag 19 november
De senaste artiklarna från BioStock
Läs BioStocks nyhetsbrev för v. 45 här.
Attana och Triolab har tecknat distributionsavtal för samtliga Attanas produkter på den svenska marknaden. Läs mer.
Xspray Pharma har lämnat in ansökan om marknadsgodkännande för produktkandidaten Dasynoc till FDA. Läs mer.
Kancera rapporterade top-line data från fas IIa-studie med KAND567 i covid-19 patienter. Läs mer.
S2Medical meddelade att Ministry of Health and Prevention i Förenade Arabemiraten förlänger ramavtal för Epiprotect under 2022. Läs mer.
Lytix Biopharma informerade att FDA godkänt bolagets IND-ansökan gällande LTX-315. Läs mer.
AcouSort har tillsammans med ett kaliforniskt life science-bolag genomfört ett projekt i syfte att testa AcouSorts trappingteknik för att lägga till en ny funktion till en av det kaliforniska bolagets befintliga produkter. Läs mer.
Pharmivas vd Christina Östberg Lloyd har gett en intervju i samband med rapporten för tredje kvartalet. Läs mer.
GPX Medical kommer att presentera på Aktieportföljen Live den 24 november. Läs mer.
ChemoMetec Holding ägande i ChemoMetec har minskat till under 5 procent av aktiekapital och röster efter aktieutdelning i ChemoMetec. Läs mer.
Lumito deltar med investerarpresentation hos ProHearings torsdagen den 25 november. Läs mer.
Förmiddagens vinnare: iZafe Group 15,8%, Duearity 14,99%, Spermosens 8,76%, Herantis Pharma 8,12%, ADDvise Group A 7,18%
Förmiddagens förlorare: Oncopeptides -17,34%, Allarity Therapeutics -9,59%, European Institute of Science -8,00%, CLS -7,24%, PExA -7,14 %
Index: OMXS30 2374,8 0,07%, Hälsovård 0,99%
Fler artiklar från BioStock
Prenumerera på BioStocks nyhetsbrev