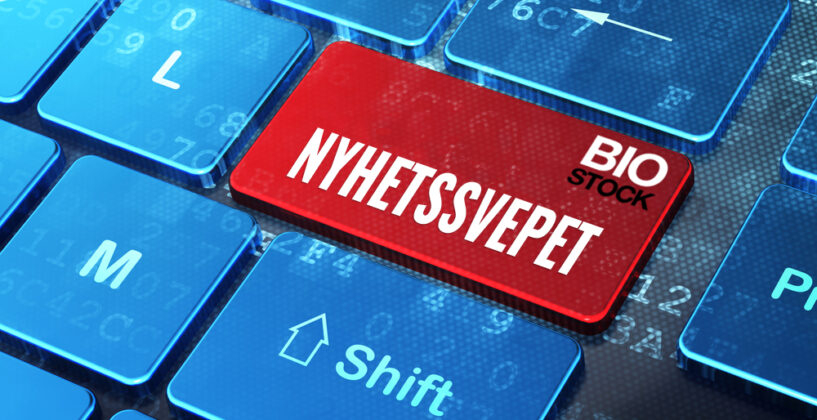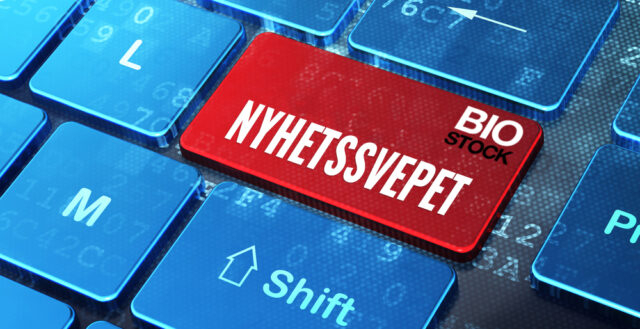 Nyhetssvepet tisdag 5 oktober
De senaste artiklarna från BioStock
» Cereno Scientific tillförs 95,3 Mkr
» Kapitalmarknadsdag med SenzaGen
» Anna Lindström blir ny vd i Invent Medic
» Curasight riktar sig till den snabbväxande marknaden för nuklearmedicin
» Respiratorius får patentgodkänt i Brasilien för VAL001
Läs BioStocks nyhetsbrev för vecka 39 här.
DanCann Pharma förvärvar CannGros och får alla nödvändiga licenser för import och distribution av medicinsk cannabis. Läs mer. Bolaget meddelar också sin avsikt att genomföra en riktad emission av units. Läs mer.
Nobelpriset i fysiologi eller medicin, som annonserades igår, har koppling till Pila Pharmas ledande forskningsprincip. Läs mer.
Glycorex Transplantation informerar om utmärkta resultat av levertransplantationer efter behandling med Rituximab och Glycosorb. Läs mer.
AlzeCure Pharma har presenterat nya data som visar på NeuroRestore-projektets potential inom depression. Läs mer.
2CureX tecknar distributionsavtal med Labormed i Slovenien. Läs mer.
Dignitana har utsett Audra Byrne till DigniCap Dignitary. Läs mer.
Lipums vd Einar Pontén deltar i Aktiers liveintervju. Läs mer.
Orphazyme har uppdaterat om arimoklomol-projektet samt informerat att de räknar med att avsluta 2021 med en kassa på minst 80 MDKK. Läs mer.
AstraZeneca har lämnat in en begäran till FDA om tillstånd för nödanvändning av AZD7442. Läs mer.
Ny klinisk studie visar 53 procents reduktion av ventilator-associerad lunginflammation med Bactiguards endotrakealtub. Läs mer.
AcuCorts läkemedel ISICORT uppnår tre års hållbarhet. Läs mer.
SpectraCures ledningsgrupp förstärks med Johan Glindre, Head of Clinical Affairs och Johan Ingemansson, Head of Business Development. Bolaget har även rekryterat en Quality Assurance Manager. Läs mer.
AcouSort startar nytt projekt med Instrumentation Laboratory. Läs mer.
Getinge publicerar sin kvartalsrapport för Q3 2021 den 20 oktober och bjuder in till telefonkonferens kl. 10.00. Läs mer.
Onsdagen den 20 oktober presenterar även Orion sin Q3-rapport. Läs mer.
Nyheter inkomna sedan igår lunch:
Karolinska Developments portföljbolag OssDsign har erhållit utökat marknadsgodkännande av FDA för OssDsign Cranial PSI. Läs mer. 
Avtalet mellan CS MEDICA och Kronans Apotek kommer nu att omfatta försäljning av produktlinjen Cannasen CBD på 326 apotek i Sverige. Läs mer.
C-RAD och Accuray Incorporated har tecknat ett avtal för förbättra möjligheterna hos Accurays system Radixact vid behandling av bröstcancer. Läs mer.
Första leveransen av iZafe Groups läkemedelsrobot Dosell har skickats för säljstart till Apoteket. Läs mer.
EQL Pharmas läkemedel Latanoprost har blivit godkänt för försäljning i Sverige, Danmark och Norge. Läs mer.
LIDDS tillkännagav att inga fler patienter kommer att delta i fas I-studien NZ-DTX-00. Läs mer.
Cline har lämnat in en etisk ansökan för ex-vivo-testning av StemCART-produkten på mänsklig broskvävnad. Läs mer.
Den 10 november kommer Navamedic att hålla livesänt webbinaruim. Läs mer.
Novo Nordisk har informerat om aktieåterköpsprogram. Läs mer.
Förmiddagens vinnare: ADDvise Group A +21,4%, AegirBio +8,7%, Hamlet Pharma +7,7%, Nanoform Oyj +5,9%, Nexstim +5,1%, Monivent +5,1%
Förmiddagens förlorare: S2Medical -9,6%, GN Store Nord -7,8%, Medfield -6,8%, Papilly -6,4%, Hemcheck Sweden -6,2%, Doxa -5,3%
Index: OMXS30 2230,66 -0,12%, Hälsovård -0,35%
Fler artiklar från BioStock
» Lipidors fas III-studie är godkänd och startredo
» PolarCool tecknar avtal med franskt rugbylag
» Sprint Bioscience börjar marknadsföra DISA-programmet
» Fluicell ingår avtal med big pharma för 3-D-bioprintingprojekt
» BioInvents vd om fördelarna med en differentierad portfölj 

Prenumerera på BioStocks nyhetsbrev