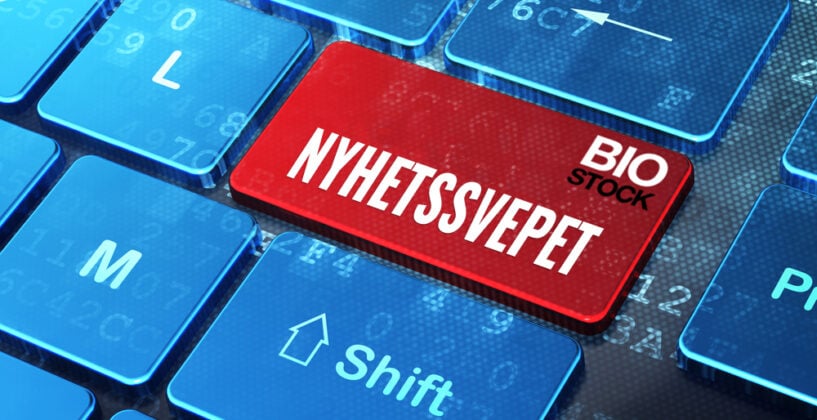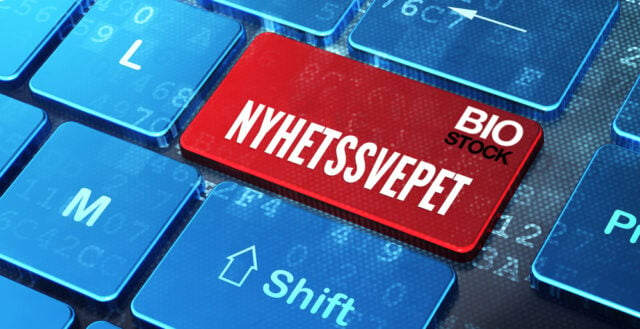 Nyhetssvepet tisdag 19 oktober
De senaste artiklarna från BioStock
» Umecrine Cognition i samarbete med University College London
» Schweiziskt genombrott för PolarCool
» Evaxion Biotechs AI-plattform prisas av Frost & Sullivan
» BrainCool ökar försäljningen av engångsprodukter i USA
» Skärpta krav på läkemedelskvalitet banar väg för Pharmacolog
Läs BioStocks nyhetsbrev för v. 41 här. 
I veckan äger BioStock Life Science Summit rum under två dagar med start kl 10.00 onsdagen den 20 oktober. Följ det digitala eventet här eller via bannern nedan.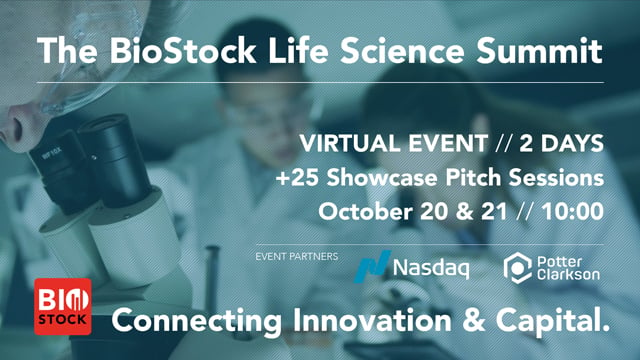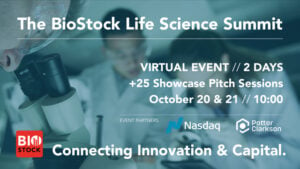 RhoVacs läkemedelskandidat RV001 har fått sitt vetenskapliga namn – onilcamotide. Läs mer.
Pharmacolog och New York Presbyterian tecknar ytterligare avtal. Läs mer.
Fluicell meddelar att avstämningsdag för tilldelning av teckningsoptioner av serie TO 3 till befintliga aktieägare är den 1 november 2021. Läs mer.
Nordic Nanovector har ingått forskningssamarbete med University of Pennsylvania avseende CAR T-celler. Läs mer.
Ascelia Pharmas mateffektstudie med Orviglance är slutförd. Läs mer.
Första patienten har inkluderats i SoftOx Solutions fas I-studie. Läs mer.
Revenio Group har bjudit in till presentation av delårsrapporten för tredje kvartalet. Läs mer.
Modus Therapeutics deltar i Biostock Life Science Summit 2021. Läs mer.
Publicering av Probis Q3-rapport 2021 sker den 22 oktober kl 8:00. Läs mer.
Genetic Analysis ingår serviceavtal med Eurofins ADME BIOANALYSES, den första CRO:n som erbjuder GA–map Microbiome-testet. Läs mer.
Dignitana Honors utser Nikki Cox till DigniCap Dignitary. Läs mer.
DBP International har varit värd för ett investigatormöte avseende fas I-studien med SI-053. Läs mer.
Brighter tecknar återförsäljningsavtal för Actiste Mini med Medico i Indonesien. Läs mer.
Lumito ska presentera sin Q3-rapport den 20 oktober. Läs mer.
Kvartalsrapporten för Vitrolife presenteras den 29 oktober kl 10:00. Läs mer.
Kommunikéer:
Kallelser till bolagsstämmor:
Nyheter inkomna sedan igår lunch:
Nytt nummer av CombiGenes nyhetsbrev Genevägen har publicerats. Läs mer.
Saniona har slutfört inlämningen till FDA av tillverkningsdata för tesometkapslar. Läs mer.
Valberedning har blivit utsedd inför årsstämman 2022 i Odinwell. Läs mer.
Xbrane Biopharma har presenterat valberedning. Läs mer.
ContextVision meddelade att Inify Prostate kan visa på misstänkt prostatacancer enligt studie med två medicinska center. Läs mer.
Valberedning har utsetts i Redsense Medical. Läs mer.
Isofol Medical har offentliggjort prospekt och ny finansiell information i samband med notering på Nasdaq Stockholm. Läs mer.
Nightingale har bjudit in till ett digitalt event. Läs mer.
Rekord har noterats för ett donatorhjärta utanför kroppen med teknologi från XVIVO. Läs mer.
Novo Nordisk har redovisat transaktioner i återköpsprogrammet. Läs mer.
Calmark har intensifierat arbetet i Indien. Läs mer.
Förmiddagens vinnare: ADDvise Group A +13,7%, Magle Chemoswed +12,1%, PolarCool +11,0%, Invent Medic +9,3%, Pharmacolog +8,0%, ADDvise Group B +7,7%
Förmiddagens förlorare: Diamyd Medical -12,6%, Ultimovacs -8,4%, ODI Pharma -7,4%, ObsteCare -7,0%, Asarina Pharma -5,1%, PCI Biotech -4,6%
Index: OMXS30 2324,80 +0,57%, Hälsovård -0,16%
Fler artiklar från BioStock
» Respiratorius inleder produktion av VAL001
» Dicots kandidat effektiv i djurmodell med diabetes
» BrainCools vd om de nya dotterbolagen
» Lovande resultat från klinisk studie med CLS produkt
» Ultimovacs levererar positiva fas I-data

Prenumerera på BioStocks nyhetsbrev