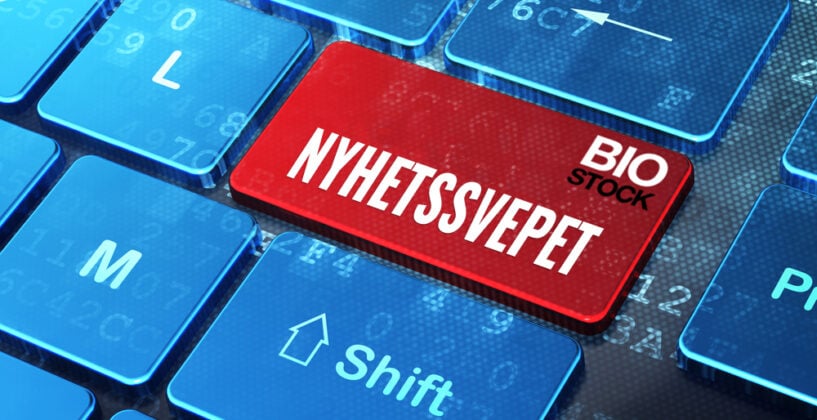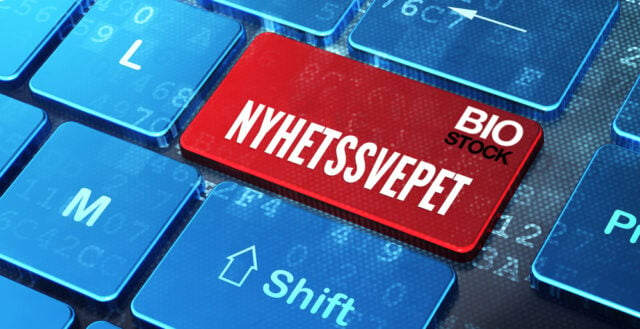 Nyhetssvepet måndag 18 oktober
De senaste artiklarna från BioStock
» Evaxion Biotechs AI-plattform prisas av Frost & Sullivan
» BrainCool ökar försäljningen av engångsprodukter i USA
» Skärpta krav på läkemedelskvalitet banar väg för Pharmacolog
» Chordate Medicals vd om marknadsplanerna för USA  
» Respiratorius inleder produktion av VAL001
Läs BioStocks nyhetsbrev för v. 41 här. 
I veckan äger BioStock Life Science Summit rum under två dagar med start kl 10.00 onsdagen den 20 oktober. Följ det digitala eventet här eller via bannern nedan.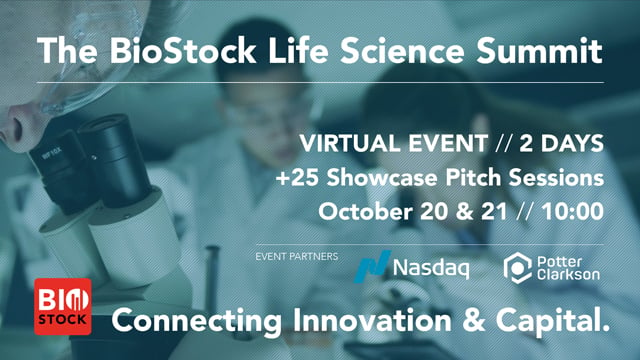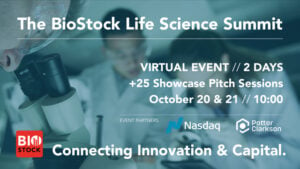 Polarcool meddelar att den schweiziska ishockeyklubben HC Davos tecknar kommersiellt avtal för PolarCap System efter utvärdering. Läs mer.
Nanoform har föreslagit Jeanne Thoma till ny styrelsemedlem. Läs mer. Bolaget har kallat till en extrastämma den 17 november. Läs mer.
En artikel om Orexos digitala terapi har publicerats i Journal of Medical Internet Research Mental Health. Läs mer.
Mentice erhåller order om totalt 7 Mkr från Abbott. Läs mer.
Vibrosense Dynamics meddelar att onkologen på Universitetssjukhuset i Linköping köper VibroSense Meter II och startar en multicenter studie. Läs mer.
Initiator Pharma publicerar informationsmemorandum i samband med listbytet till Nasdaq First North Growth Market. Läs mer.
Diamyd Medical avser att inleda fas III-studie i typ 1-diabetes i Europa, medan diskussioner fortsätter med FDA om studiepaus i USA. Läs mer.
Presentation av Medistims resultat för tredje kvartalet sker den 22 oktober. Läs mer.
Mangold har publicerat en analys av Addvise Group. Läs mer.
Rapporter:
Nyheter inkomna sedan fredag lunch:
Clinical Laserthermia Systems har förstärkt bolagets organisation och ledningsgrupp. Läs mer.
SynAct Pharma doserade första försöksperson i studie med nya AP1189-tabletter. Läs mer.
Immunovia har utsett ny CFO. Läs mer.
Integrum utnämnde Thomas Dugan till President, Integrum Inc., USA. Läs mer.
Inbjudan till presentation av Alligator Biosciences delårsrapport januari – september 2021 den 21september 2021 har skickats. Läs mer.
Ultimovacs meddelade om förändrat eget kapital. Läs mer.
Patientrekryteringsarbete har gett positiv effekt i SpectraCures studie. Läs mer.
Curasight ska presentera under BioStock Life Science Summit 20 October 2021. Läs mer. Bolaget ska även presentera under Økonomisk Ugebrev Life Science Investor Conference i Köpenhamn den 20 oktober 2021. Läs mer.
Scandinavian ChemoTechs dotterbolag Vetiqure har skrivit avtal med Evidensia Specialistdjursjukhuset Helsingborg. Läs mer.
Sobis Aspaveli (pegcetacoplan) har fått positivt utlåtande från CHMP för behandling av PNH. Läs mer.
Xspray Pharmas har utsett valberedningen inför årsstämman 2022. Läs mer.
Observe Medical publicerade sin finansiella kalender. Läs mer.
Medivir har publicerat en gemensam patentansökan för MALT1-hämmare. Läs mer.
GPX Medical offentliggjorde omräknade villkor för teckningsoptioner av serie TO 1. Läs mer.
AcouSort har tillförts 39,6 Mkr i den genomförda företrädesemissionen. Läs mer.
Isofol Medical meddelade att man avser notera sina aktier på Nasdaq Stockholm. Läs mer.
Ortivus och Trapeze Group har ingått strategiskt partnerskap för marknaderna i Australien och Nya Zeeland. Läs mer. Bolaget har tilldelats ytterligare kontrakt på defibrillatorer till Region Jönköping läns sjukhusvård. Läs mer.
BICO har nominerats till Sveriges regerings utmärkelse Årets exportsuccé 2020. Läs mer. BICO slutför förvärvet av QInstruments. Läs mer.
Oncopeptides CFO Anders Martin-Löf kommer att lämna bolaget. Läs mer.
Genmab meddelade att Janssen erhållit positivt utlåtande från CHMP gällande RYBREVANT (amivantamab) . Läs mer.
Flaggningsmeddelande i Eurocine Vaccines. Läs mer.
DNB Markets har publicerat en analys av Episurf Medical. Läs mer.
Odinwell ska presentera på Aktiespararnas Kvinnokväll i Malmö. Läs mer.
Förmiddagens vinnare: PolarCool +8,3%, Nanexa +7,7%, Alteco Medical +6,6%, Dicot +6,3%, Elos +6,0%, PharmaLundensis +5,9%
Förmiddagens förlorare: ADDvise Group A -10,9%, Ultimovacs -5,8%, SpectraCure -5,4%, Monivent -5,0%, Zenicor Medical -4,8%, Scibase -4,7%
Index: OMXS30 2313,61 -0,06%, Hälsovård -0,28%
Fler artiklar från BioStock
» Dicots kandidat effektiv i djurmodell med diabetes
» BrainCools vd om de nya dotterbolagen
» Lovande resultat från klinisk studie med CLS produkt
» Ultimovacs levererar positiva fas I-data
» Respiratorius RCD405 visar effekt i preklinisk studie

Prenumerera på BioStocks nyhetsbrev