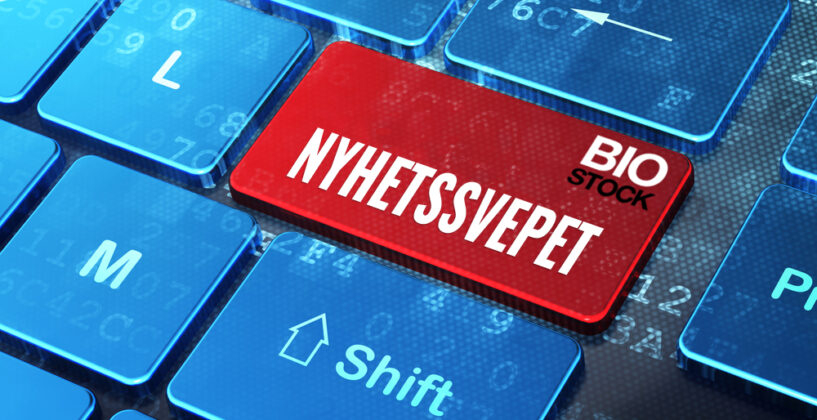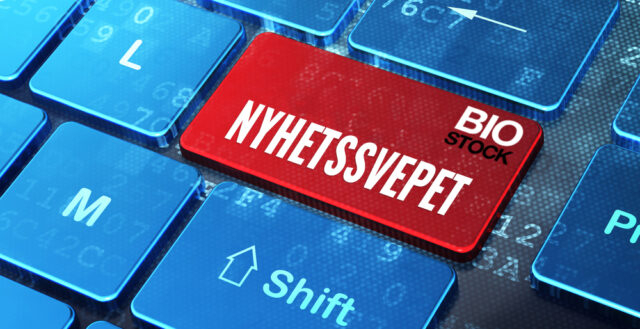 Nyhetssvepet fredag 15 oktober
De senaste artiklarna från BioStock
» BrainCool ökar försäljningen av engångsprodukter i USA
» Skärpta krav på läkemedelskvalitet banar väg för Pharmacolog
» Chordate Medicals vd om marknadsplanerna för USA  
» Respiratorius inleder produktion av VAL001
» Dicots kandidat effektiv i djurmodell med diabetes

Läs BioStocks nyhetsbrev för v. 40 här. 
Under nästa vecka äger BioStock Life Science Summit rum under två dagar med start kl 10.00 onsdagen den 20 oktober. Följ det digitala eventet här eller via bannern nedan.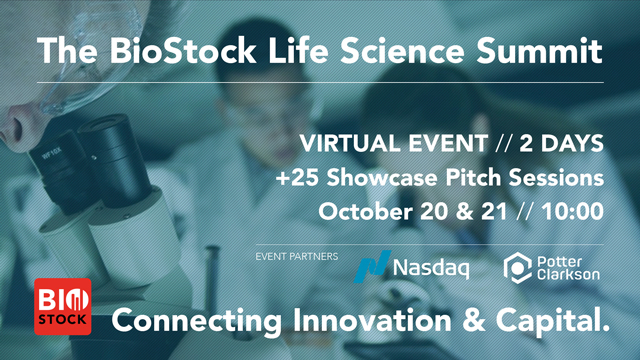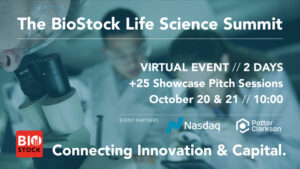 Xintelas dotterbolag Targinta väljer läkemedelskandidat för trippelnegativ bröstcancer. Läs mer.
Clinical Laserthermia Systems ska presentera sitt MR-guidade fokala laserablationssytem inom prostatacancer under Italian Society of Urologys 94:e konferens. Läs mer.
AstraZeneca meddelar att Imfinzi i kombination med tremelimumab signifikant förbättrar överlevnaden för patienter med inoperabel levercancer i fas III-studien Himalaya. Läs mer.
2cureX har genomfört EU-projeket MicroCaT och erhållit det återstående bidraget om 3,0 MEUR. Läs mer.
Q-linea tecknar det första det kommersiella utvärderingsavtalet för ASTar. Läs mer.
Valberedningen i MedCap har utsetts. Läs mer.
IRRAS deltar och presenterar data vid två neurokirurgiska konferenser. Läs mer.
Nytt patentbeviljande i USA för Episurf Medical. Läs mer.
Implantica informerar om den första kirurgiska utbildningen i Storbritannien för RefluxStop. Läs mer.
Corline Biomedical och Imperative Care tecknar avtal om produktleveranser för 7,5 Mkr. Läs mer.
Senzime har lyft fram höjdpunkter från bolagets medverkan vid American Society of Anesthesiologists årsmöte i San Diego. Läs mer.
Lumito meddelar om byte av mentor till Mangold Fondkommission. Läs mer.
Nyheter inkomna sedan igår lunch:
BrainCool har erhållit en order på IQoolTM System och miljonorder på engångsartiklar i USA. Läs mer.
iZafe Group har kommunicerat priset för Dosell Konsument. Läs mer.
Prostatype Genomics har etablerat sig på den italienska marknaden. Läs mer.
Förändring i Brighters styrelse har meddelats. Läs mer.
BICO har stärkt IP-portföljen med patent i USA och Sverige för 3D-bioprintning av temperaturkänsliga biobläck. Läs mer.
Medfield har flyttat fram inlämnandet av teknisk dokumentation till Intertek. Läs mer.
Diagonal Bio har flyttat in i nytt laboratorium i Lund. Läs mer.
Episurf Medical har givit en covid-19 relaterad affärsuppdatering. Läs mer. Bolaget har även genomfört en riktad nyemission om 159 Mkr, där Ilija Batljan kliver in som ny stor aktieägare. Läs mer.
Onxeo stärker sin styrelse med två erfarna personer från hälsovårdssektorn. Läs mer.
Förmiddagens vinnare: Episurf +16,2%, AegirBio +12,2%, Follicum +7,0%, Paxman +6,4%, BiBBInstruments +6,0%, Elos +4,7%
Förmiddagens förlorare: Euris -13,0%, ADDvise Group A -7,9%, Idogen -7,5%, iZafe -7,2%, Stayble Therapeutics -7,2%, Ultimovacs -6,7%
Index: OMXS30 2305,62 +0,39%, Hälsovård +0,43%
Fler artiklar från BioStock
» BrainCools vd om de nya dotterbolagen
» Lovande resultat från klinisk studie med CLS produkt
» Ultimovacs levererar positiva fas I-data
» Respiratorius RCD405 visar effekt i preklinisk studie
» CombiGene i miljardavtal med Spark Therapeutics

Prenumerera på BioStocks nyhetsbrev