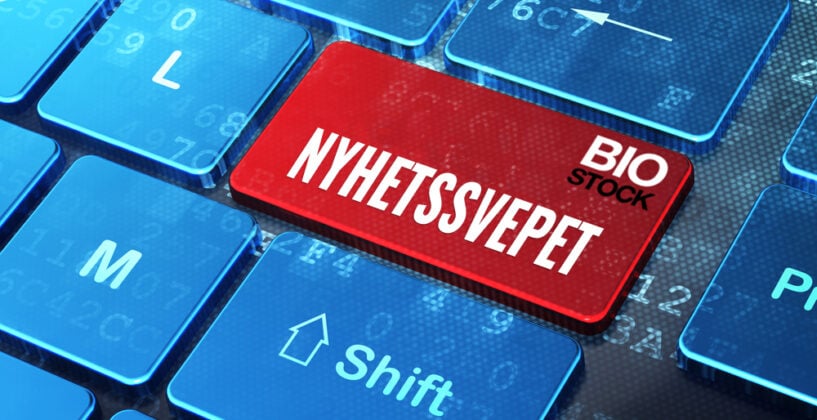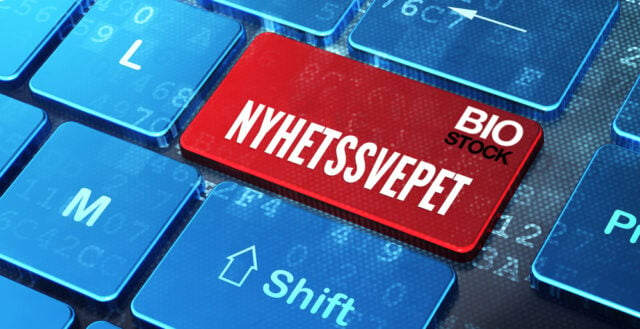 Nyhetssvepet torsdag 16 september
De senaste artiklarna från BioStock
» Coegin Pharma på väg att starta COAK-studien  
» Invent Medic vill öka takten med företrädesemission
» BioStock Studio: Immunicums vd om bolagets nya terapeutiska fokus
» BioStock Live: World Sepsis Day Seminar med Aptahem
» Dicot stärker kassan inför det prekliniska upploppet

Läs BioStocks nyhetsbrev för vecka 36 här.
Carbiotix släpper produktlanseringsplan för de kommande fem åren. Läs mer.
Fluicell gör framsteg i tidig utveckling av avancerade terapiläkemedel mot diabetes baserade på Biopixlar. Läs mer.
Lipums vd Einar Pontén har ökat sitt aktieinnehav. Läs mer.
Pharmacolog meddelar att det första DrugLog-systemet levereras till B. Braun i Spanien. Läs mer.
Inlösenperioden i Curasights teckningsoption TO 1 inleds idag. Läs mer.
Targovax ska genomföra en posterpresentation under European Society for Medical Oncology (ESMO). Läs mer.
Doxa utser Patrik Melin till ny CFO. Läs mer.
EQL lanserar det första CE-märkta salivbaserade covid-19 antigen-självtestet. Läs mer.
Cantargia presenterar positiva interimsdata för kombinationsterapi med nadunolimab på ESMO-konferensen. Läs mer.
Medivir bjuder in till telefonkonferens om nya kliniska data och fortsatta studier med MIV-818. Läs mer.
Aberas nya vaccinplattform valideras i ny doktorsavhandling. Läs mer. Bolaget har även meddelat om en nedflaggning. Läs mer.
Ortoma lämnar in regulatorisk ansökan för OTS Hip Plan i Japan. Läs mer.
Allarity Therapeutics presenterar överlevnadsdata för Dovitinib–DRP-screenade patienter under ESMO. Läs mer. Bolaget har även tagit in 23,3 Mkr genom inlösen av teckningsoptionerna TO 2 och TO 3. Läs mer.
Kommunikéer:
Nyheter inkomna sedan igår lunch:
Saniona har utsett Wendy Dwyer till CBO. Läs mer.
Idogen fortsätter att optimera sin produktionsmetod inför starten av patientstudien med IDO 8. Läs mer.
Arjo har tilldelats Innovative Technology-kontrakt av Vizient för den nyligen lanserade SEM-skannern. Läs mer.
Magle Chemoswed har träffat tillverkningsavtal med Oncopeptides. Läs mer.
Ortivus har tilldelats kontrakt på defibrillatorer till Region Jönköping. Läs mer.
Diamyd Medical har köpt en fastighet med tillverkningsanläggning i Umeå. Läs mer.
Lifecare har registrerat nya aktier efter optionsinlösen. Läs mer.
PharmaLundensis har publicerat ny information avseende nyttjandeperiod av teckningsoptioner av serie 2018/2021 II. Läs mer.
Herantis Pharma har tagit in 4 MEUR genom en private placement. Läs mer.
BICO har förvärvat HUREL, som fokuserar på mikroleverteknik för att erbjuda marknadens mest omfattande in vitro-tjänster för lever. Läs mer.
ADDvise förvärvar Graham Medical Technologies, LLC. Läs mer.
Förmiddagens vinnare: Allarity Therapeutics +15,2%, Magle Chemoswed +13,1%, Fluicell +9,6%, ADDvise Group A +8,7%, Carbiotix +8,0%, Medfield +7,3%
Förmiddagens förlorare: ODI Pharma -8,7%, Real Heart -5,7%, BBS-Bioactive Bone -5,6%, Alphahelix -5,3%, Medimi -5,2%, Observe Medical -5,0%
Index: OMXS30 2333,16 +0,36%, Hälsovård +0,59%
Fler artiklar från BioStock
» KD:s portföljbolag OssDsign inleder klinisk prövning
» Lipum är inne på det sista steget innan klinisk fas
» Enzymaticas nya vd tillträder tidigare än planerat
» Nytt cancerprojekt i Sprint Biosciences portfölj
» Cereno Scientific utökar patentportföljen

Prenumerera på BioStocks nyhetsbrev