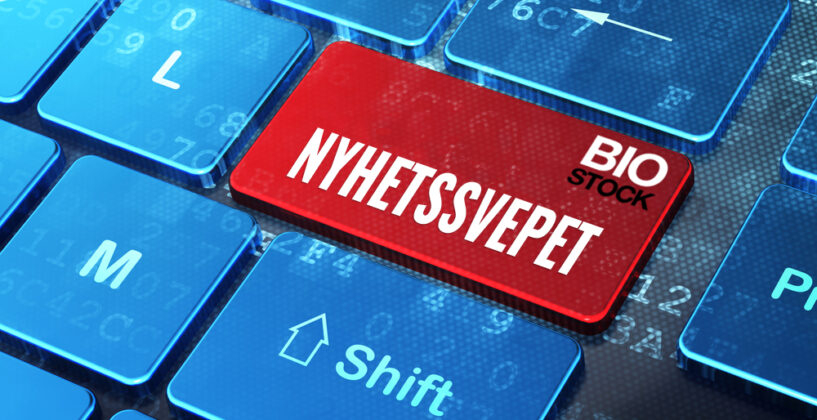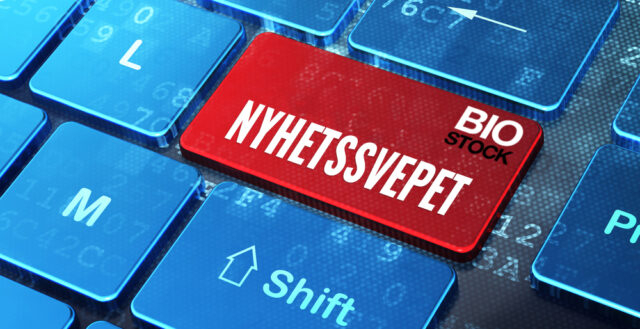 Nyhetssvepet tisdag 21 september
De senaste artiklarna från BioStock
» Cereno Scientific erhåller IND-godkännande för fas II-start
» RhoVacs fas IIb-studie fullrekryterad
» PolarCool tecknar avtal med svenska topphockeyligor
» BioStock Studio: Cereno Scientifics vd om milstolpen i CS1-projektet
» Ablivas NV354 fortsätter mot klinisk utveckling

Läs BioStocks nyhetsbrev för vecka 37 här.
Idag inleds nyttjandeperioden för teckningsoptioner av serie TO 4 i Idogen. Läs mer.
Toleranzia tillförs cirka 42 Mkr genom fulltecknad riktad nyemission. Läs mer.
Ascelia Pharma tecknar kliniskt samarbetsavtal med Taiho Oncology för utveckling av Oncoral i kombination med LONSURF. Läs mer.
AstraZeneca avser att investera 360 miljoner USD i en avancerad tillverkningsanläggning i Irland. Läs mer.
Scandinavian Real Hearts presentation av datorsimuleringar finns nu tillgänglig. Läs mer.
Kallelser till bolagsstämmor:
Chordate Medical  Phase Holographic Imaging
Nyheter inkomna sedan igår lunch:
RhoVac har meddelat att dess kliniska fas IIb-studie BRaVac med läkemedelskandidaten RV001 i prostatacancer nu bedöms vara fullrekryterad. Läs mer.
Coegin Pharma har informerat att de tillsatt Kristian Lykke Fick som Chief Commercial Officer med mål att stärka sitt kommersiella fokus. Läs mer.
Raytelligence har informerat att de stärker försäljningsorganisationen. Läs mer.
Genmab och Seagen har informerat att FDA beviljat accelererat godkännande till TIVDAKTM för behandling av livmoderhalscancer. Läs mer.
Brighter har meddelat att Qatari Transport and Communication Authority beviljat godkännande för behandling av personuppgifter för Actiste och Actiste Mini. Läs mer.
Double Bond Pharmaceutical International har beslutat om en riktad nyemission om 5 Mkr för ökad utvecklingstakt. Läs mer. Bolaget har också rapporterat att positivt svar för SI-053 från den behöriga myndigheten i Nederländerna erhållits. Läs mer.
Novo Nordisk har informerat om transaktioner i återköpsprogram. Läs mer.
Lifecare har bjudit in till investerarpresentation. Läs mer.
Vaccibody har rapporterat om aktietransaktioner utförda av ledande befattningshavare. Läs mer.
Förmiddagens vinnare: PharmaLundensis +28,0%, BiBBInstruments +8,7%, Doxa +6,9%, Miris +6,3%, BBS-Bioactive Bone FI +5,9%, PolarCool +5,5%
Förmiddagens förlorare: Euris -11,8%, Lifecare -9,6%, Magle Chemoswed -9,0%, Vo2 Cap -8,0%, RLS Global -7,9%, SoftOx Solutions -7,9%
Index: OMXS30 2291,32 +0,83%, Hälsovård -0,07%
Fler artiklar från BioStock
» Carbiotix har en marknadsplan
» Coegin Pharma på väg att starta COAK-studien  
» Invent Medic vill öka takten med företrädesemission
» BioStock Studio: Immunicums vd om bolagets nya terapeutiska fokus
» BioStock Live: World Sepsis Day Seminar med Aptahem
Prenumerera på BioStocks nyhetsbrev