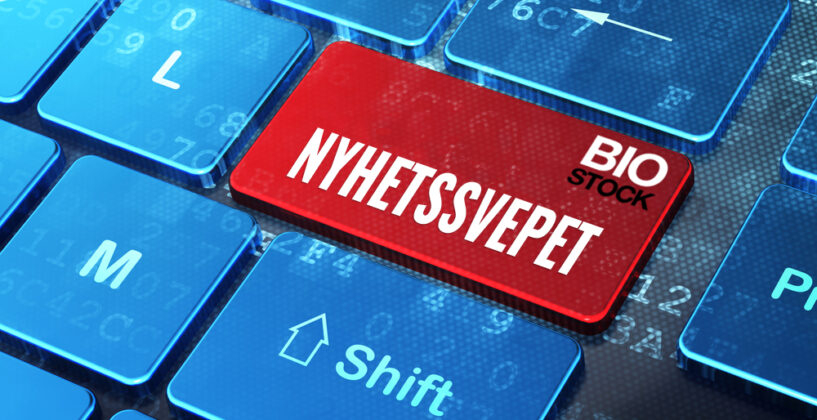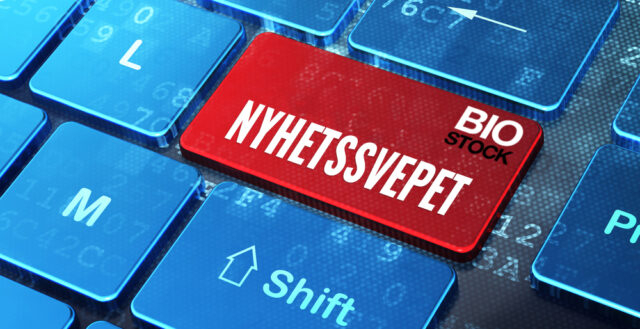 Nyhetssvepet måndag 27 september
De senaste artiklarna från BioStock
» Curasight gör framsteg i kampen mot cancer
» Konkurrenslandskapet öppnar möjligheter för Stayble Therapeutics
» Saniona stärker styrelsen
» Evaxion Biotech använder AI för att bekämpa cancer och infektionssjukdomar
» Iconovo blickar mot USA där man nu uppfyller kvalitetskraven
Läs BioStocks nyhetsbrev för vecka 38 här.
Sista dag för handel med teckningsoptionerna av serie TO1 i Cereno Scientific är idag, den 27 september 2021. Läs mer.
Hemcheck Sweden har meddelat att en första order blivit mottagen från den indonesiska distributören Pt Setia Guna Medika. Läs mer.
Observe Medical tillkännager att ett stort regionalt sjukhus i Italien har beslutat att implementera Sippi på intensivvårdsavdelningen. Läs mer.
Intellego tecknar avtal med thailändsk distributör och får order på 20 000 euro. Läs mer.
Scandinavian Real Heart rekryterar biomediciningenjör till blodlaboratoriet på KS. Läs mer.
GPX Medicals vd berättar om företrädesemission och spännande planer för hösten i investerarbrev. Läs mer.
Idag den 27 september kl. 11:00 är Demant värd för en kapitalmarknadsdag i Köpenhamn för investerare och analytiker. Läs mer.
Pila Pharma ska presentera på Aktiedagen i Lund den 28 september. Läs mer.
Lipigon deltar på Umeå på börsen den 29 september. Läs mer.
Vator Securities har på uppdrag av Immunovia givit ut marknadsföringsmaterial. Läs mer.
Nyheter inkomna sedan fredag lunch:
BrainCool har erhållit patentgodkännande för Cooral Systems i EU. Läs mer. Bolaget har också informerat att de omstrukturerar för att öka flexibiliteten och att de har planer på att byta till Nasdaq First North under Q2 2022. Läs mer.
Cyxone har meddelat att man nyttjar bolagets IND-ansökan och erbjudandet från FDA att förhandsgranska fas II-studien med Rabeximod i covid-19-patienter. Läs mer.
Första patienten har inkluderats i Initiator Pharmas fas IIb-studie med IPED2015 i patienter med erektil dysfunktion. Läs mer.
Bavarian Nordic har meddelat att finansieringsavtalet med danska hälsoministeriet har blivit godkänt avseende utvecklingen av vaccinkandidaten ABNCoV2. Läs mer.
Recipharm har meddelat att de fått en första läkemedelskund på sin plattform. Läs mer.
Targovax har beviljats europeiskt patent för ONCOS-102 i kombination med kemoterapi. Läs mer.
University of Rochester Medical Center har presenterat resultat med Glycorex Transplantations medicintekniska UBP-produkt under Society for the Advancement of Blood Management-konferensen 2021. Läs mer.
Nanexa har meddelat att inkluderingen av patienter i bolagets fas I-studie med NEX-18 är pausad på grund av hudreaktioner på injektionsstället. Läs mer.
iZafe har offentliggjort prospekt med anledning av den förestående företrädesemissionen av units. Läs mer.
Scandinavian ChemoTechs dotterbolag Vetiqure kommer att delta i sin första amerikanska veterinärkonferens. Läs mer.
Nanoform Finland har rapporterat om aktietransaktioner utförda av ledande befattningshavare. Läs mer.
Vaccibody har informerat om transaktioner utförda av bolagets Chief Innovation and Strategy Officer. Läs mer.
Förmiddagens vinnare: Chordate Medical +16,1%, SenzaGen +10,1%, Emotra +7,7%, EXACT Therapeutics +7,2%, Aptahem +6,2%, Immunovia +6,1%
Förmiddagens förlorare: Nanexa -20,2%, Fluicell -8,3%, Herantis Pharma -8,3%, Lifecare -5,5%, Eurocine Vaccines -5,3%, Spago Nanomedical -5,2%
Index: OMXS30 2317,72 +0,19%, Hälsovård -0,32%
Fler artiklar från BioStock
» Marknadsrapport förutspår stark tillväxt för Chordate Medicals teknologi  
» Coegin Pharma fusioneras med svenska bioteknikbolaget Follicum
» Thomas Eldered om sitt inträde i Toleranzia
» Fokus på mitokondriella sjukdomar
» Sanionas nya CBO om strategi och affärsutveckling

Prenumerera på BioStocks nyhetsbrev