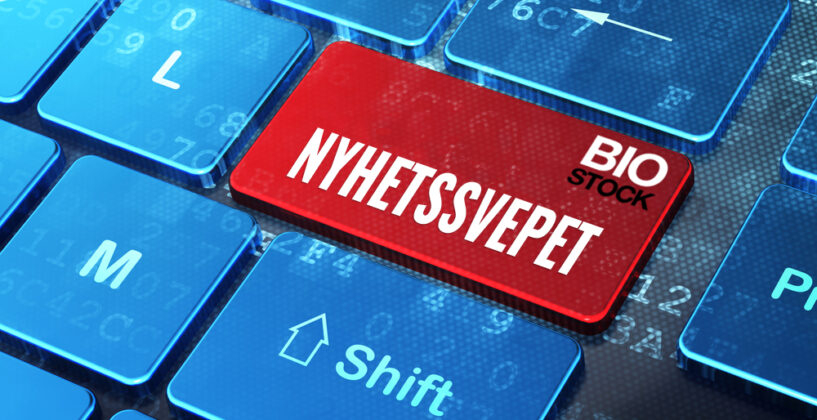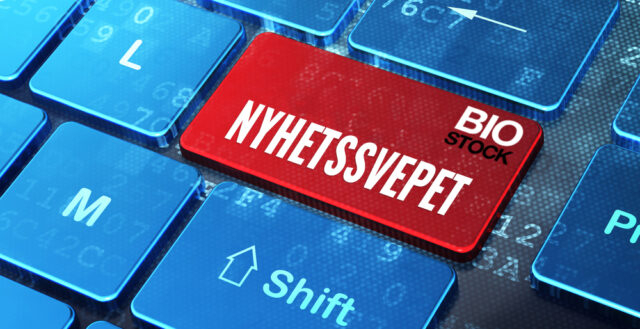 Nyhetssvepet fredag 24 september
De senaste artiklarna från BioStock
» Iconovo blickar mot USA där man nu uppfyller kvalitetskraven
» Marknadsrapport förutspår stark tillväxt för Chordate Medicals teknologi  
» Coegin Pharma fusioneras med svenska bioteknikbolaget Follicum
» Thomas Eldered om sitt inträde i Toleranzia
» Fokus på mitokondriella sjukdomar
Läs BioStocks nyhetsbrev för vecka 37 här.
SynAct Pharma slutför rekryteringen till fas IIa studien BEGIN med AP1189 på nydebuterade patienter med akut reumatoid artrit. Läs mer.
Styrelsen och ledningen i Idogen utnyttjar samtliga sina teckningsrätter i TO 4 och förvärvar nya aktier. Läs mer.
AstraZeneca meddelar att Lynparza i kombination med abirateron visat signifikant försenad sjukdomsprogression vid metastatisk kastrationsresistent prostatacancer. Läs mer.
Arcoma har under pågående rekrytering av ny CFO tillsatt Carina Kenneman som interim CFO från och med 25 september 2021. Läs mer.
Paxman publicerar nyhetsbrev om bolagets återkomst till den kanadensiska marknaden. Läs mer.
Oasmia presenterar på Naventus Life Science Summit den 29 september. Läs mer.
Rapporter:
Kommunikéer:
Nyheter inkomna sedan igår lunch:
Ziccums nya utvecklingsdirektör Anna Lönn om en hektisk och avgörande period för bolaget. Läs mer.
Fluicell har ingått avtal med Hoffman-La Roche om nytt forskningsprojekt kring Biopixlar. Läs mer.
Lipigon har presenterat på världens största industrikonferens för RNA-läkemedel, TIDES USA . Läs mer.
GPX Medical har offentliggjort prospekt samt publicerat en rättelse gällande tidigare information om tecknings- och garantiåtaganden. Läs mer.
Raysearch Laboratories har meddelat att National Cancer Centre Singapore lagt en beställning på RayStation. Läs mer.
Eurocine Vaccines har rapporterat om positiva resultat med Endocine tillsammans med bolagets vaccinkandidat mot covid-19. Läs mer.
Nanoform har blivit utvalda i kategorin 'Star of Innovation' på den årliga European Small and Mid-Cap Awards. Läs mer.
Diamyd Medical med samarbetspartners har tilldelats 40 Mkr i VINNOVA-finansiering för förebyggande av autoimmuna sjukdomar. Läs mer. En ny analys som stödjer effekten av bolagets diabetesvaccinet Diamyd kommer att presenteras på en vetenskaplig konferens den 13 oktober. Läs mer.
Tre nyckelpersoner hos Surgical Science har avtalat om förvärv av sammanlagt 110 000 köpoptioner i bolaget. Läs mer.
AlphaHelix har beslutat att säga upp avtalet om likviditetsgaranti för bolagets aktie som löpt sedan 11 juni 2021. Läs mer.
Brighters dotterbolag Camanio har vunnit tilldelningsbeslut med Borgholms kommun för stationära trygghetslarm och larmmottagning. Läs mer.
QuiaPEG har utsett Erik Magnusson till CFO. Läs mer.
Förmiddagens vinnare: Lifecare +14,0%, Herantis Pharma +12,2%, Fluicell +9,2%, Elos +8,4%, Observe Medical +7,7%, ADDvise Group B +7,0%
Förmiddagens förlorare: AcouSort -6,5%, Eurocine Vaccines -5,9%, Kontigo Care -5,6%, Alteco Medical -4,8%, Invent Medic -4,3%
Index: OMXS30 2314,42 -1,01%, Hälsovård -0,85%
Fler artiklar från BioStock
» Sanionas nya CBO om strategi och affärsutveckling
» Pila Pharma tar sista stegen innan toxikologiska studier
» BrainCool om Medicare-beskedet
» BioStock Studio: Aegirbios vd om förvärvet av Dynamic Code
» Cereno Scientific erhåller IND-godkännande för fas II-start

Prenumerera på BioStocks nyhetsbrev