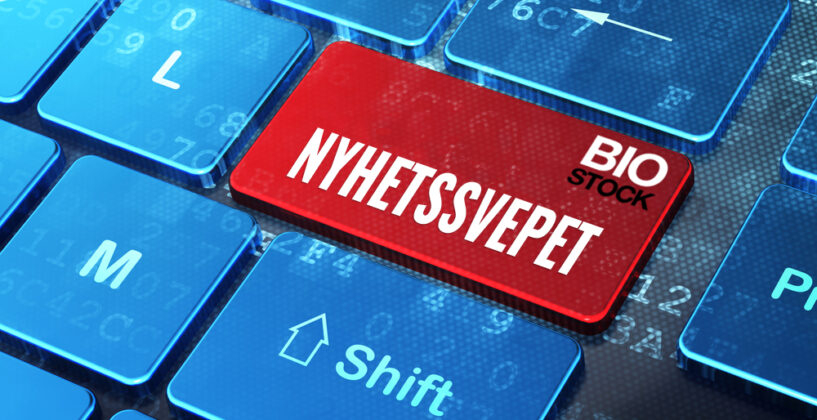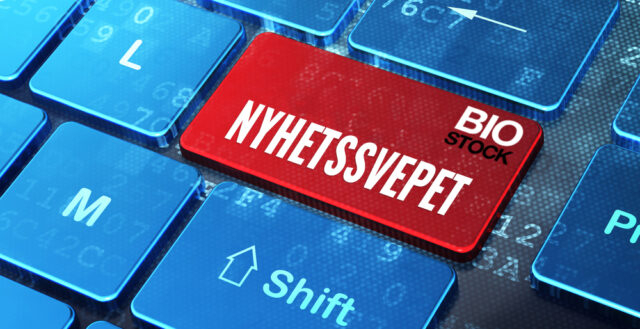 Nyhetssvepet fredag 10 september
De senaste artiklarna från BioStock
» KD:s portföljbolag OssDsign inleder klinisk prövning
» Lipum är inne på det sista steget innan klinisk fas
» Enzymaticas nya vd tillträder tidigare än planerat
» Nytt cancerprojekt i Sprint Biosciences portfölj
» Cereno Scientific utökar patentportföljen
Läs BioStocks nyhetsbrev för vecka 35 här.
På måndag, den 13 september, är det internationella sepsisdagen, BioStock sänder ett seminarium med Aptahem som värd, följ eventet här med start kl 15.00 eller via bannern nedan.
Lipigon tillkännager positiva resultat i förberedande preklinisk säkerhetsstudie för den blodfettssänkande läkemedelskandidaten Lipisense. Läs mer.
Aptahem har meddelat att sista dag för teckning av units i den pågående företrädesemissionen är idag den 10 september 2021. Läs mer.
STENOCARE informerar om att deras odlingsanläggning är färdigställd. Läs mer.
Labkompaniet meddelar att de gör en strategisk affär för att stärka AlphaHelix. Läs mer.
ExpreS2ion Biotechnologies informerar om att sista dagen för handel för handel med optioner serie TO5 är den 16 september 2021. Läs mer.
Medivir kommer idag att presentera vid Wainwrights årliga investerarkonferens. Läs mer.
Hemply Balance och Meds Apotek meddelar att de inleder ett samarbete. Läs mer.
Nyheter inkomna sedan igår lunch:
Coegin Pharma har meddelat att de erhållit villkorat godkännande på COAK-studien från den etiska kommittén. Läs mer.
Genmab har informerat om att resultat från kliniska försök med Epcoritamab publicerats i The Lancet. Läs mer.
Bonesupport har meddelat att resultaten för bolagets
Investigational Device Exemption studie FORTIFY är icke-konklusiva. Läs mer.
Calmark Sweden har informerat om att en klinisk studie för Neo-Bilirubin startats upp på Sachsska barnsjukhuset. Läs mer.
AstraZeneca har informerat om effekt av Imfinzi och tremelimumab i lungcancerceller jämfört med kemoterapi. Läs mer.
Zealand Pharma har meddelat att bolaget kommer presentera vid European Society for Clinical Nutrition and Metabolism virtuella kongress. Läs mer.
Oncopeptides kommer att presentera data från OCEAN-studien på den vetenskapliga kongressen 18th International Myeloma Workshop den 11 september. Läs mer.
LifeClean International har beslutat om en riktad nyemission
om 1 577 283 aktier till ett urval av befintliga aktieägare.. Läs mer.
Diamyd Medical har genomfört en riktad nyemission om 150 Mkr. Läs mer.
Förmiddagens vinnare: ADDvise Group A +38,7%, PharmaLundensis +20,0%, Doxa +15,7%, Zenicor Medical +11,0%, ADDvise Group B +9,6%, Corline Biomedical +6,9%
Förmiddagens förlorare: Bonesupport -40,5%, Diamyd Medical -14,4%, Episurf -5,9%, PolarCool -5,7%, Cereno Scientific -5,4%, Miris -5,4%
Index: OMXS30 2352,89 -0,02%, Hälsovård -0,85%
Fler artiklar från BioStock
» WntResearch fokuserar på rekrytering av patienter och ny vd
» BrainCool om storordern från Sydkorea
» BioStock Studio: Genetic Analysis om nyemissionen och noteringen
» Chordate Medical återupptar satsning i Kina med Nanos Medical
» Immunicum riktar sig mot viktiga utmaningar inom cancerbehandling
Prenumerera på BioStocks nyhetsbrev