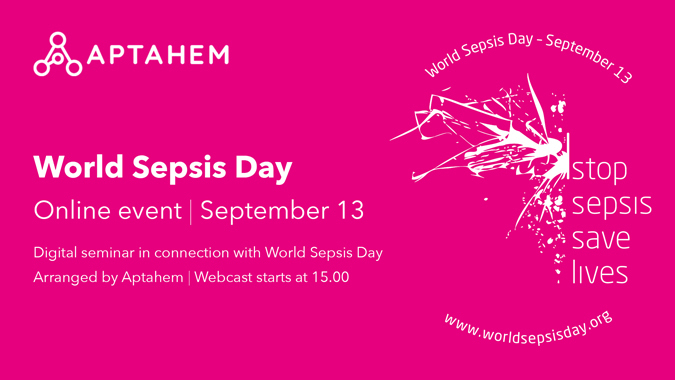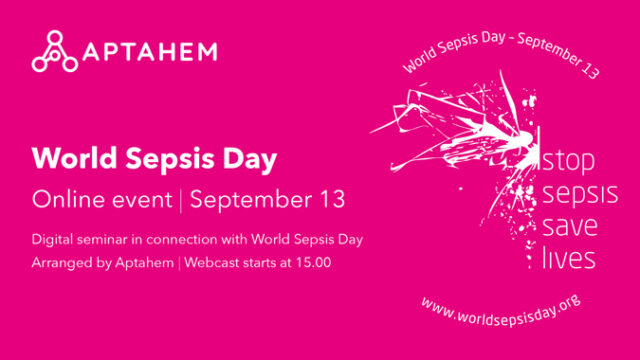 BioStock Live: World Sepsis Day Seminar med Aptahem
Den 13 september är #WorldSepsisDay och i år är det 10-årsjubileum. Över hela världen arrangeras event med syftet att öka medvetenheten om sepsis, ett tillstånd som globalt orsakar minst 11 miljoner dödsfall varje år. Idag klockan 15.00 har det svenska bioteknikbolaget Aptahem samlat framstående forskare inom området, som kommer att tala mer om det dödliga tillståndet som går under benämningen "the silent killer".
Se seminariet genom att klicka nedan.
PROGRAM
Datum: Måndag 13 september
Tid: Sändningen pågår mellan kl 15:00-17.30
Plats: Digital event
OBS: Presentationerna kommer att hållas på engelska.
TITEL/PRESENTATÖR
Aptahem introduction – Mikael Lindstam, CEO Aptahem
Sepsis; clinical manifestations, treatment and ongoing research – Mats Eriksson, Associate Professor, Section of Anesthesiology and Intensive Care, Department of Surgical Sciences, Uppsala University, Sweden
Sepsis – Laboratory diagnostics. A focus on neutrophils
Anders Larsson, Professor, Department of Clinical Chemistry and Pharmacology, Uppsala University, Sweden
Future diagnostics of sepsis – SepsIT
Anna-Karin Pernestig, Associate Professor in Biosciences, University of Skövde, Sweden
Aptahem – pågående forskning
Apta-1 – a drug candidate to fight sepsis – Luiza Jedlina, PhD, CSO Aptahem
Apta-1 and Covid-19 – Mingyao Liu, MD, Senior Scientist, Toronto General Hospital Research Institute, Canada
Sepsis meeting Apta-1 and Haemostasis – Magnus Grenegård, Professor, School of Medical Sciences, Örebro University, Sweden
Closure – Mikael Lindstam, CEO Aptahem
Innehållet i BioStocks nyheter och analyser är oberoende men BioStocks verksamhet är i viss mån finansierad av bolag i branschen. Detta inlägg avser ett bolag som BioStock erhållit finansiering från. 
Prenumerera på BioStocks nyhetsbrev