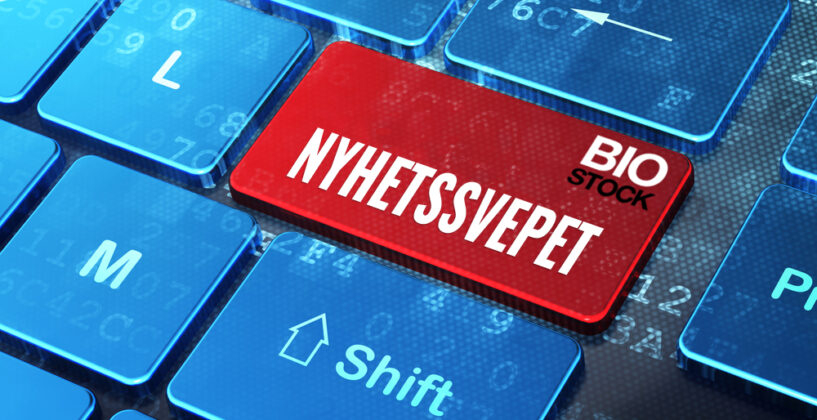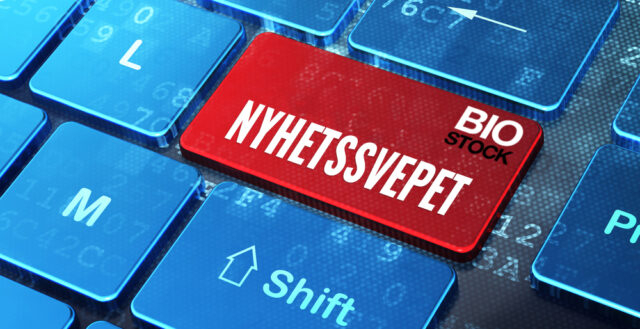 Nyhetssvepet torsdag 26 augusti
De senaste artiklarna från BioStock
» Sprint Biosciences vd om första tiden och utvecklingen
» Cereno Scientifics vd ser fram mot studiestart
» Stärkt klinisk validering av Ultimovacs UV1 under andra kvartalet
» Carbiotix vd om byggplaner och nyrekryteringar
» CLS vd och VP Clinical Affairs om Q2
Läs BioStocks nyhetsbrev för vecka 33 här.
Clinical Laserthermia Systems meddelar att CLS Thermoguide Workstation anpassas för GE Healthcares MR-skannrar. Läs mer.
FluoGuide har fått godkänt av Läkemedelsverket och etiska kommittén i Sverige för att inleda fas II-studier med FG001 för kirurgi i patienter med höggradig gliom. Läs mer.
Pharmiva rapporterar positiva resultat från användarstudie med Vernivia mot bakteriell vaginos. Läs mer.
Oasmia har utnämnt Kia Bengtsson till Head of Clinical Development och Johanna Röstin till Head of Regulatory Affairs. Läs mer.
AstraZeneca meddelar att fas III-studien FoCus med ALXN1840 i patienter med Wilsons sjukdom nådde primära mål. Läs mer. Vidare har Forxiga blivit godkänt i Japan för behandling av kronisk njursjukdom och med och utan diabetes typ-2. Läs mer.
Vd och ledande befattningshavare i Egetis Therapeutics förvärvar aktier. Läs mer.
NextCell utser en tillförordnad CFO. Läs mer.
Allarity Therapeutics har meddelat inlösen för teckningsoptionerna ALLR TO 3 under perioden 30 augusti – 13 september 2021. Läs mer.
Flaggningsmeddelande i Miris. Läs mer.
Lipigon deltar med investerarpresentation på ProHearings den 26 augusti. Läs mer.
Rapporter:
Alzinova  Arctic Bioscience  BBS-Bioactive Bone Substitutes  BiBBInstruments  BioInvent International BrainCool  Cereno Scientific  Circa Group  Dicot  Doxa  Faron Pharmaceuticals  Follicum  Gabather  Herantis  Immunicum  IRRAS  ISR Immune System Regulation  Inhalation Sciences Sweden  LIDDS  Lipigon Pharmaceuticals  Nanoform Finland  Orphazyme  Saniona  SpectraCure  Vaccibody  Vicore Pharma  Ziccum
Kommunikéer:
Nyheter inkomna sedan igår lunch:
Idogen har uppdaterat kring bolagets Q2-rapport samt nyckelaktiviteter. Läs mer.
Orion Corporation har redovisat transaktioner för Kari Jussi Aho. Läs mer.
Intellego har tecknat ett exklusivt avtal med en chilensk distributör, får initial order på  63 000 EUR. Läs mer.
Lipum ska delta vid LSX Nordic Congress. Läs mer.
Infant Bacterial Therapeutics har meddelat att rekryteringen av de minsta barnen är pausad i The Connection Study. Läs mer.
NeoDynamics har beviljats amerikanskt patent för sin biopsinål. Läs mer.
Photocure har återfått rättigheterna för Cysview i Kanada. Läs mer.
Intervacc har tidigarelagt rapporten för första halvåret 2021 till den 31 augusti 2021. Läs mer.
Sprint Bioscience ska arrangera en digital kapitalmarknadsdag den 8 september. Läs mer.
Gentian Diagnostics har meddelat om insidertransaktioner. Läs mer.
Pharmiva presenterar på Erik Penser Banks bolagsdag den 26 augusti. Läs mer.
Pareto Securities och Analysguiden har publicerat analyskommentarer om ExpreS2ion Biotechnologies. Läs mer.
Förmiddagens vinnare: Magle Chemoswed +10,8%, Gentian Diagnostics +10,2%, Clinical Laserthermia +8,7%, AlzeCure Pharma +8,0%, PolarCool +6,0%, Guard Therapeutics +5,7%
Förmiddagens förlorare: Herantis Pharma -10,5%, Curando Nordic -7,1%, Dicot -7,0%, Redsense Medical -5,8%, ExpreS2ion Biotech -5,4%
Index: OMXS30 2370,50 -0,24%, Hälsovård +0,37%
Fler artiklar från BioStock
» Idogens vd kommenterar kvartalsrapporten
» CS MEDICAS vd om noteringen
» Klaria står starkt inför hösten efter händelserikt kvartal
» Årets andra kvartalsrapport visar stark klinisk utveckling för Abliva
» KDs halvårsrapport ger en positiv bild
Prenumerera på BioStocks nyhetsbrev