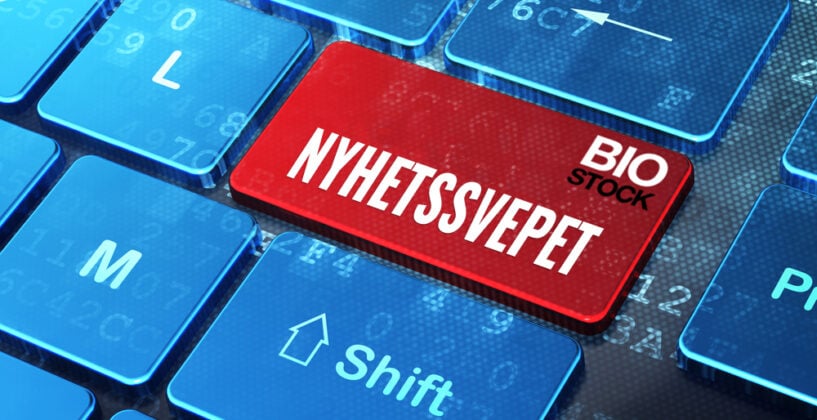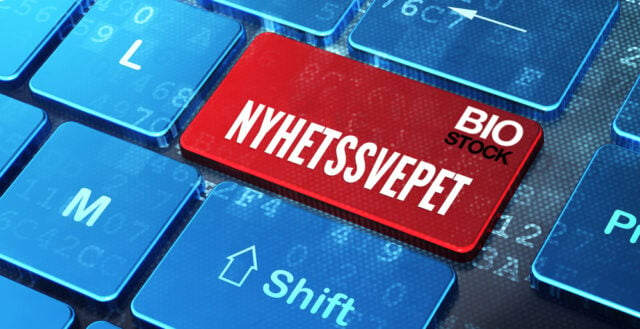 Nyhetssvepet onsdag 30 juni
De senaste artiklarna från BioStock
» Cereno Scientific erhåller IR-skydd i Australien
» CombiGene meddelar flera milstolpar för CG01
» Ny kvalitetschef och kommunikationschef i Enzymatica
» CLS partnersjukhus får grönt ljus för prostatacancerstudie
» PolarCool tar ett nytt grepp om behandling av hjärnskador

Läs BioStocks nyhetsbrev för vecka 25 här.
På fredag den 2 juli kl 10:00 är det dags för BioStock Live med Modus Therapeutics. Följ eventet här eller via bannern nedan.
SynAct Pharma tillkännager positiva data från en fas IIa-studie med AP1189 hos covid-19-infekterade patienter. Läs mer.
Alligator Bioscience och Scandion Oncology presenterar lovande prekliniska data. Läs mer.
Sprint Bioscience upptar konvertibellån om 10 Mkr, tidigarelägger q2-rapport samt informerar om styrelsens avsikt att besluta om en fullt garanterad företrädesemission om cirka 65 Mkr. Läs mer.
Respiratorius meddelar att vd Johan Drott och tidigare ordförande Christer Fåhraeus tecknar samtliga tilldelade teckningsoptioner. Läs mer.
Integrum utser Magnus Lindholm till R&D Manager. Läs mer.
FluoGuide ingår avtal med Linköpings universtitetssjukhus för den andra fasen av den pågående kliniska studien FG001. Läs mer.
Andreas Pettersson, Senior Director of Corporate Finance på Northvolt, om att bli Ziccums nya styrelsemedlem. Läs mer.
Cyxone undersöker möjligheten att lägga till nya regioner för att motverka potentiell försening av covid-19-prövning. Läs mer.
Handeln i Senzimes aktier på Nasdaq Stockholm inleds idag. Läs mer.
Positiva fas I-data med Oasmia Pharmaceuticals Cantrixil publiceras i tidskriften Cancers. Läs mer.
Egetis Therapeutics ger statusuppdatering gällande den registreringsgrundande studien med Emcitate. Läs mer.
Cellink har beviljats sitt första patent för ett robot-baserat system för individanpassade och automatiserade estetiska medicinska ingrepp. Läs mer.
Biovica International har publicerat sin årsredovisning för verksamhetsåret 2020/2021. Läs mer.
Mentice anställer Gunilla Andersson som CFO. Läs mer.
Intellegos vd köper aktier i bolaget. Läs mer.
LifeCleans desinfektion klassificerad som icke-irriterande för ögon. Läs mer.
Privata Affärer har publicerat en artikel om Miris: "Fortsatt världsledande med nyemission". Läs mer.
Cline Scientific kommer att genomföra en livepresentation på Facebook-gruppen Aktietips. Läs mer.
SensoDetect byter likviditetsgarant. Läs mer.
Rapporter:
Kommunikéer:
Förändring av antalet aktier och röster:
Camurus  Cellink  Immunicum  Irras  Oncopeptides  Q-linea  Vaccibody  Xvivo Perfusion
Nyheter inkomna sedan igår lunch:
Den kliniska utvärderingen av Chordates K.O.S-behandling av rinit på offentliga sjukhus i Saudiarabien har blivit godkänd. Läs mer.
Cereno Scientific har fått beviljat patent för CS1 som utökar IP-skyddet i Australien. Läs mer.
Cantargia breddar utvecklingen av nadunolimab i tre cancerformer och ansöker om start av fas I/II kliniska studien CESTAFOUR. Läs mer.
Covid-19-vaccin baserat på Aberas teknologi visar goda resultat i en studie från Johns Hopkins University School Of Medicine. Läs mer.
RaySearch Laboratories har meddelat om den första behandlingen med Raystation i Indien. Läs mer.
Attana har erhållit CE-IVD-märkning för sina första produkter inom klinisk diagnostik. Läs mer.
Peptonic Medical har meddelat att resultaten från en klinisk studie med VagiVital hos kvinnor som genomgår cancerbehandling och lider av vaginal atrofi har publicerats hos Dove Press. Läs mer.
Berenberg Bank har inlett bevakning av Biotage. Läs mer.
Redsense har publicerat hållbarhetsrapport för 2020. Läs mer.
BioPorto har uppdaterat om sin pipeline avseende covid-19 test . Läs mer.
SciBase har meddelat byte av Certified Adviser till Vator Securities. Läs mer.
Zealand Pharma ska presentera data om Glepaglutide på konferensen CIRTA. Läs mer.
BlackRock har flaggat ner i Orion Corporation. Läs mer.
Styrelseledamot köper ytterligare aktier i Scandinavian ChemoTech. Läs mer.
Förmiddagens vinnare: Monivent +11,4%, Follicum +6,9%, Lifecare +6,4%, Raytelligence +5,6%, Spago Nanomedical +5,5%, Bio-Works +5,3%
Förmiddagens förlorare: Sprint Bioscience -41,9%, Papilly -12,9%, Chordate Medical -9,9%, Cyxone -8,1%, QuiaPEG -7,5%, Kontigo Care -6,2%
Index: OMXS30 2264,72 -0,66%, Hälsovård +0,26%
Fler artiklar från BioStock
» Respiratorius blickar framåt mot en spännande höst
» Modus Therapeutics vd om den nya strategin och noteringen
» Elicera erhåller ATMP-klassificering av EMA
» Karolinska Developments vd kommenterar senaste tidens nyhetsflöde
» Amniotics utvinner stamceller från fostervatten

Prenumerera på BioStocks nyhetsbrev