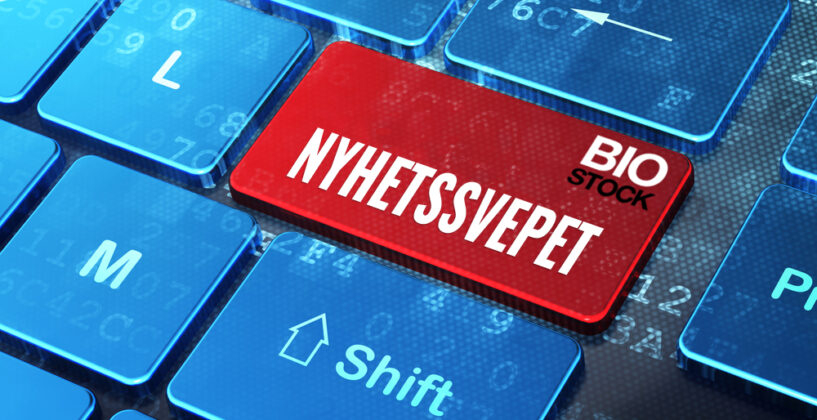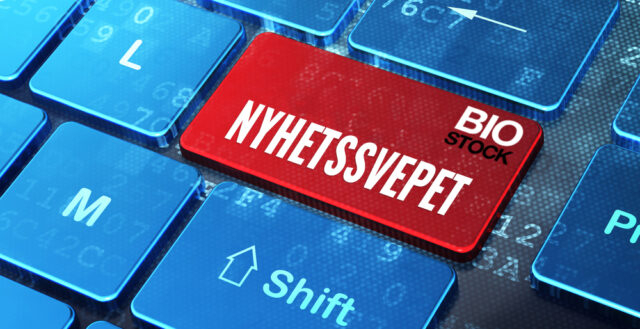 Nyhetssvepet torsdag 6 maj
De senaste artiklarna från BioStock
» Utvidgning av fas IIb-studie i fokus för RhoVac under Q1
» CLS företrädesemission övertecknad
» Aptahems styrelseordförande om de senaste nyheterna
» Cereno Scientific utökar samarbetet med University of Michigan
» Enzymaticas Q1-rapport visar att pandemin drabbar försäljningen
Läs BioStocks nyhetsbrev för vecka 17 här.

Follicum rapporterar top-line-resultat från fas IIa-studien av FOL-005 vid behandling av håravfall (alopeci). Läs mer.
Bactiguard sluter avtal med ytterligare en ledande svensk apotekskedja. Läs mer.
Vårdgivare i Jerusalem väljer Sectras digitala patologilösning för fullskalig primärdiagnostik. Läs mer.
Isofol Medical slutför rekryteringen av japanska patienter i den globala fas III AGENT-studien. Läs mer.
Observe Medical stärker det globala patentskyddet för Sippi. Läs mer.
Lifecare rekryterar Kine Hereid som ny Controller and Head of Investor Relations. Läs mer.
Karo Pharma säljer egna aktier. Läs mer.
Årsredovisningar:
2cureX  Cereno Scientific  Coegin Pharma  iZafe Group  Pharmacolog  Promore Pharma
Rapporter:
Annexin Pharmaceuticals  Bonesupport  BioGaia  Genmab  IRLAB Therapeutics  Lipidor  Nanexa  Optomed  Prolight Diagnostics  Q-linea  Sedana Medical Senzime  Stenocare  Soleno Therapeutics  Targovax  Toleranzia  Xbrane Biopharma  Xspray Pharma
Kommunikéer:
Ascelia Pharma  ContextVision  Enzymatica  Invent Medic Sweden  Ortivus  Medivir  PExA  PolarCool  Prolight Diagnostics  Qlife  SenzaGen  Spago Nanomedical  Vaccibody
Kallelser till bolagsstämmor:
Nyheter inkomna sedan igår lunch:
Klaria meddelade om positivt utfall för bolagets registreringsgrundande bioekvivalensstudie med Sumatriptan Alginatfilm. Läs mer.
Oncopeptides slutför patientrekryteringen till fas II-studien PORT. Läs mer.
OliX Pharmaceuticals och PCI Biotech ingår samarbete. Läs mer.
Peter Mørch Eriksen avgår som vd i BioPorto efter 8 år som vd för bolaget. Läs mer.
Miris har publicerat en upplaga av Miris Invest. Läs mer.
Vaccibody har utsett Dr. Birgitte Volck, M.D., Ph.D. som ny styrelseledamot. Läs mer.
Allarity Therapeutics uppdaterar den preliminära tidsplanen för den planerade företrädesemissionen. Läs mer.
BlackRock har flaggat upp i Orion Corporation. Läs mer.
Össur rapporterade transaktioner av ledande befattningshavare. Läs mer.
Förmiddagens vinnare: Doxa +16,3%, Klaria Pharma +12,2%, Alphahelix +11,0%, 2cureX +9,7%, Invent Medic +6,8%, PCI Biotech +6,2%
Förmiddagens förlorare: Follicum -61,9%, Annexin -9,1%, BBS-Bioactive Bone -7,4%, Senzime -6,4%, ExpreS2ion Biotech -5,9%, DexTech Medical -5,6%
Index: OMXS30 2247,96 -0,33%, Hälsovård +0,04%
Fler artiklar från BioStock
» BrainCools migränstudie fullrekryterad
» RhoVacs kandidat attackerar cancern när den är som svagast
» Karolinska Development mot nya milstolpar med förnyat team
» Stayble Therapeutics rekryterar VP CMC och Regulatory Affairs
» Miris vd om den nylanserade strategin

Prenumerera på BioStocks nyhetsbrev