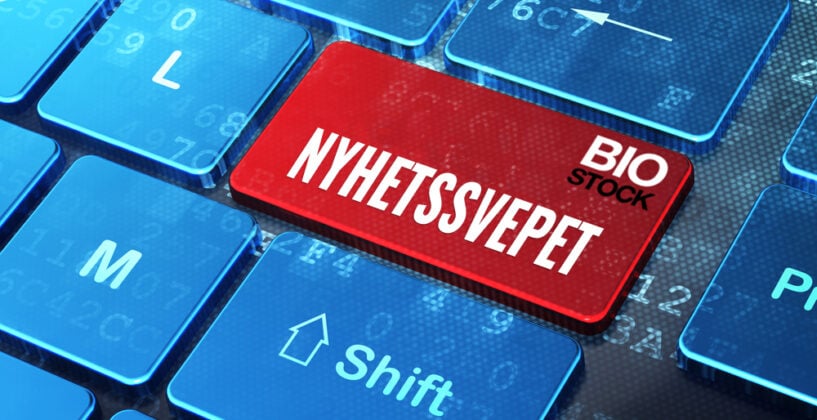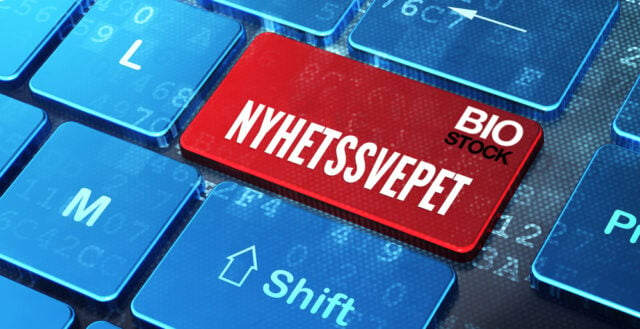 Nyhetssvepet tisdag 11 maj
De senaste artiklarna från BioStock
» BioStock Studio: Idogens vd om Q1-rapporten
» 2cureX låser upp kraften i precisionsonkologin
» Ny vd för Xintelas dotterbolag Targinta
» Covid unmasks need for better mental health medication
» Försäljningen tickar uppåt för Invent Medic

Läs BioStocks nyhetsbrev för vecka 18 här.
ExpreS2ion Biotechnologies har valt ledande kandidat till bolagets bolagets projekt för bröstcancervaccin. Läs mer.
BerGenBio ska presentera prekliniska covid-19-data för bemcentinib vid VIRTUAL IMMUNOLOGY 2021. Läs mer.
SciBase lanserar icke-melanom hudcancer indikation för Nevisense. Läs mer. Bolaget har även meddelat att de erhåller viktig europeisk mdr-certifiering. Läs mer.
BioArctic får japanskt patent för nya antikroppar mot alzheimers sjukdom. Läs mer.
Rapporter:
Alteco Medical  Carbiotix  Emotra  Idogen  Lundbeck  Moberg Pharma  Navamedic   Obstecare  Surgical Science Sweden  SyntheticMR  Ultimovacs
Kommunikéer:
Episurf Medical  MedCap  Scandion Oncology  Sedana Medical
Kallelser till bolagsstämmor:
Abera Bioscience  BiBBInstruments  Cereno Scientific  Doxa  Glycorex Transplantation  Intervacc  Promore Pharma
Nyheter inkomna sedan igår lunch:
Saniona lanserar ny videoserie för att belysa hur Prader-Willis syndrom och hypotalamisk fetma drabbar patienter och anhöriga. Läs mer.
Follicum utser Jonas Edelswärd till ny finansdirektör. Läs mer.
Chordate Medical erhåller CE-märkning för K.O.S-metoden mot kronisk migrän – ett år före plan. Läs mer.
Miris offentliggör tilläggsprospekt och påminner att den 12 maj 2021 är sista dagen för teckning av units i den pågående företrädesemissionen. Läs mer. Bolagets Miris HMA har blivit golden standard på mjölkbanker i Polen enligt intervju med dr Aleksandra Wesolowska. Läs mer.
Ultimovacs medverkar på ASCO UV1 Phase I Data in Webcast and Investors Meetings. Läs mer.
Cantargia har presenterat nya prekliniska data som visar att antikroppen CAN10 åstadkommer en unik förbättring av hjärtfunktion vid hjärtmuskelinflammation. Läs mer.
Biomedical Bonding har utökat styrelsen med Lena Söderström and Catrin Molund. Läs mer.
Scandinavian ChemoTech kommer att inleda en förstudie för att undersöka möjligheten att starta ett kliniskt program med inriktning på pankreascancer. Läs mer. Erik Penser Bank har publicerat en analys av bolaget. Läs mer.
Annette Colin har informerat att hon lämnar posten som CFO för Biotage. Läs mer.
Inbjudan har skickats till presentation av Elektas räkenskapsår 2020/21. Läs mer.
Brighter har meddelat ändringar i deras finansiella kalender. Läs mer.
Cline Scientific har publicerat sin årsredovisning för 2020. Läs mer.
Valberedningens förslag inför årsstämman i Doxa. Läs mer.
Flaggning har meddelats i Faron Pharmaceuticals. Läs mer.
Ellen inleder ett samarbete med Designkontoret Silver, en av Nordens ledande varumärkes- och designbyråer. Läs mer.
Camurus annonserar publikation som visar högre tillfredsställelse bland patienter vid behandling av opioidberoende med Buvidal vecko- och månadsdepåer. Läs mer.
Transaktioner har redovisats i Novozymes återköpsprogram. Läs mer.
ALK-Abelló har rapporterat transaktioner för ledande befattningshavare. Läs mer.
Coloplast har redovisat transaktioner i aktieåterköpsprogrammet för vecka 18. Läs mer.
Förmiddagens vinnare: Chordate Medical +36,9%, 2cureX +6,7%, PharmaLundensis +6,4%, ExpreS2ion Biotech +6,0%, Alteco Medical +5,9%, MedicPen +5,8%
Förmiddagens förlorare: ObsteCare -13,1%, AroCell -12,6%, EXACT Therapeutics -12,5%, IDL Biotech -12,0%, Emotra -10,1%, Klaria Pharma -10,0%
Index: OMXS30 2207,34 -2,55%, Hälsovård -1,59%
Fler artiklar från BioStock
» CombiGene bäddade för 2022 under 2020
» Coegin Pharma – värdebyggande och riskreducering under 2021 
» Positiva studieresultat för Klarias Sumatriptan Alginatfilm
» Nyemission ska befästa Miris ställning inom bröstmjölksanalys
» DanCanns vd om det intensiva nyhetsflödet

Prenumerera på BioStocks nyhetsbrev