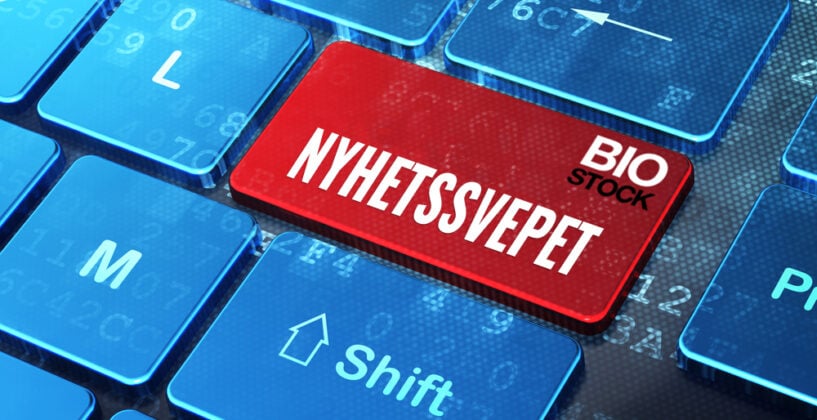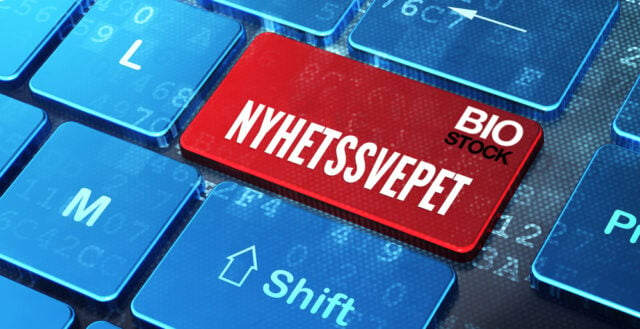 Nyhetssvepet måndag 3 maj
De senaste artiklarna från BioStock
» Miris vd om den nylanserade strategin
» 2021 – ett omdanande år för Scandion Oncology
» BioStock Studio: Carbiotix vd om de senaste nyheterna
» Sprint Bioscience nye vd om bolagets affärsmodell och cancerprojekt
» Cereno Scientific adderar ny kandidat till pipelinen

Läs BioStocks nyhetsbrev för vecka 17 här.
Immunicum presenterar prekliniska data från studier med ilixadencel och DCP-001 vid det 18:e årsmötet för cancerimmunoterapi (CIMT). Läs mer.
Cereno Scientific förlänger prekliniskt utvecklingsavtal med University of Michigan för att ta CS014 in i klinisk fas. Läs mer.
Sobi meddelar att anakinra förbättrade kliniskt utfall med 64 procent hos patienter inlagda med covid-19-relaterad lunginflammation. Läs mer. Även Virogates rapporterade om detta. Läs mer.
Stayble Therapeutics har publicerat månadens upplaga av Inside Stayble. Läs mer.
AlzeCure får late-breaking abstract om smärtprojektet TrkA-NAM accepterad för presentation. Läs mer.
Lundbeck meddelar att ny studie visar att vortioxetine hjälper patienter med depression och generaliserat ångestsyndrom. Läs mer.
Camurus meddelar att läkemedelsmyndigheten i Australien godkänner viktiga regulatoriska uppdateringar för Buvidal. Läs mer.
Nyttjandeperiod av teckningsoptioner i Qlife serie TO 1 inleds idag. Läs mer.
Genmab rapporterade transaktioner i samband med aktieåterköpsprogrammet. Läs mer.
Årsredovisning:
Cantargia  Kontigo Care  Lipigon  Navamedic  Scandinavian ChemoTech
Rapporter:
LifeClean International  Redsense Medical
Kommunikéer:
Kallelser till bolagsstämmor:
Nyheter inkomna sedan fredag lunch:
AstraZeneca meddelade att Farxiga har godkänts i USA för behandling av kronisk njursjukdom. Läs mer.
Scandinavian ChemoTech har stärkt rörelsekapitalet genom lån på 10 Mkr. Läs mer. Scandinavian ChemoTech har fått ett datum för den slutliga revisionen för att erhålla CE-märkning. Läs mer.
PCI Biotech meddelade att den första patienten har skrivits in fimaChem pivotal RELEASE studie. Läs mer. PCI Biotech bjuder in till presentation av resultaten för första kvartalet. Läs mer.
BerGenBio meddelar ökat aktiekapital. Läs mer.
Brighter presenterar på Aktiedagen Stockholm den 4 maj 2021. Läs mer.
Vistin Pharma har gett information angående utdelning. Läs mer.
Ändring av antalet aktier och röster i BONESUPPORT. Läs mer.
Micropos Medical har gjort ändringar i förslaget till valberedning. Läs mer.
Revenio Group Corporation rapporterade transaktioner av ledande befattningshavare. Läs mer.
Ökat antal aktier och röster i Ascelia Pharma. Läs mer.
Förmiddagens vinnare: IDL Biotech +13,1%, Xbrane Biopharma +10,4%, Attana +7,2%, ViroGates +6,2%, Klaria Pharma +5,9%, Surgical Science +5,5%
Förmiddagens förlorare: AegirBio -10,8%, Lifeassays -9,3%, Isofol Medical -8,6%, Curando Nordic -6,3%, Zenicor Medical -5,6%, WntResearch -5,4%
Index: OMXS30 2236,66 +0,89%, Hälsovård +0,47%
Fler artiklar från BioStock
» Iconovo visar upp den nya inhalatorn ICOpre på RDD
» 2cureX en blivande nyckelspelare inom precisionscancerbehandling
» KD-bolaget Umecrine publicerar resultat i ansedd tidskrift
» Diabetesveteran om noteringen av Pila Pharma
» Första godkända patentet i USA för Iconovos ICOone

Prenumerera på BioStocks nyhetsbrev