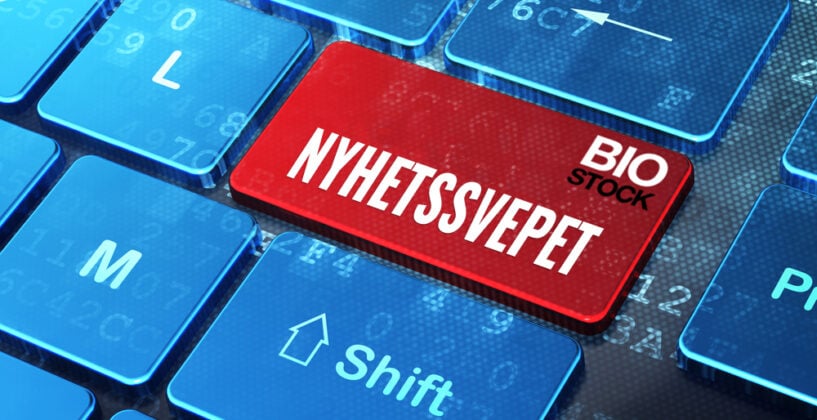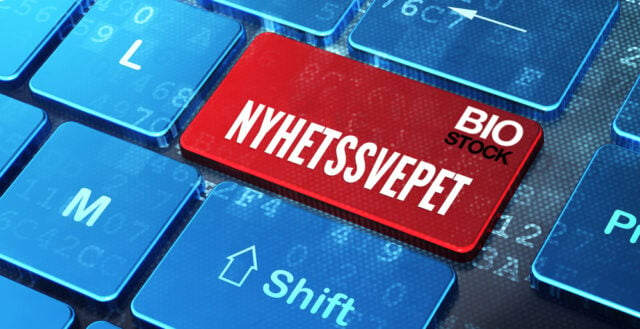 Nyhetssvepet måndag 24 maj
De senaste artiklarna från BioStock
» Godkänt patent stärker Enzymaticas position i Japan
» BioStock Studio: Cereno Scientifics vd om utbyggd portfölj och kommande fas II
» Elicera Therapeutics vd om bolagets kliniska satsning
» Nya data från 2cureX IndiTreat på ASCO
» Respiratorius och Iconovo samarbetar kring inhalationsprodukt mot KOL
Läs BioStocks nyhetsbrev för vecka 20 här.
Följ BioStock Live på tisdag den 25 maj kl 10:00 med Klas Arildsson, vd för emissionsaktuella Odinwell. Följ eventet här.
Den 26-27 maj går BioStock Life Science Summit av stapeln med start kl 10:00. Följ eventet här.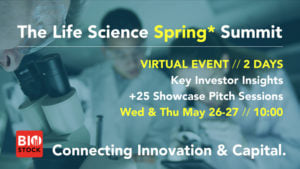 Iconovos styrelseledamot och största ägare har förvärvat aktier för 689 000 kr. Läs mer.
SenzaGen har breddat sin laboratorieverksamhet inom in vitro hudtoxikologi. Läs mer.
CELLINK Bioprinting kommer från och med årsskiftet 2022 att flytta in i nybyggda Entré Kallebäck i Göteborg. Läs mer.
Teckningsperioden inför Elicera Therapeutics introduktion på Nasdaq First North Growth Market inleds idag och pågår till den 8 juni. Läs mer.
ADDvise har tecknat avsiktsförklaring att förvärva Medisuite. Läs mer.
Kancera har tillförts cirka 101,3 Mkr i emissionslikvid. Läs mer.
Seniora key opinion leaders och forskningsexperter har anslutit till Inhalation Sciences nya vetenskapliga råd. Läs mer.
Arcomas vd Sanna Rydberg har sammanfattat bolagets verksamhet under 2020 och första kvartalet 2021. Läs mer.
Rapporter:
Kommunikéer:
Bio-Works Technologies  Scandinavian ChemoTech  SynAct Pharma
Kallelser till bolagsstämmor:
Nyheter inkomna sedan fredag lunch:
Klaria har meddelat att kombinationspatentet för Alginatfilm med Sumatriptan har godkänts i USA. Läs mer.
Genmab har fått ett positivt CHMP-yttrande som rekommenderar DARZALEX för patienter med nyligen diagnostiserad AL-amyloidos. Läs mer. Bolaget har också meddelat att att Janssen beviljats FDA-godkännande för RYBREVANTTM. Läs mer.
Biohit har meddelat att bolagets vd Jukka Kainulainen har beslutat att lämna bolaget och att rekryteringsprocessen efter en ny vd har inletts. Läs mer.
EQL Pharma har informerat att Mellozzan (melatonin) kommer att ingå i högkostnadsskyddet. Läs mer.
PAXMAN har tillkännagett ett Singapore-UK-teamet med mål att utveckla en unik enhet för att minska biverkningar av kemoterapi. Läs mer.
Kancera har meddelat att ansökan om klinisk fas IIa-studie med KAND567 efter hjärtattack har lämnats in till den brittiska läkemedelsmyndigheten. Läs mer.
Diamyd Medicals har meddelat att resultaten från fas IIb- studien med Diamyd har publicerats i Diabetes Care. Läs mer.
ProstaLund har informerat om kort- och långtidsresultat av behandling av prostator med bolagets metod CoreTherm. Läs mer.
Senzime har meddelat att brittiska Association of Anaesthetists har utfärdat nya riktlinjer för monitorering av neuromuskulär blockad i Storbritannien och Irland. Läs mer.
Edison har publicerat en analys av Brighter. Läs mer.
Coloplast har informerat om transaktioner utförda av ledande befattningshavare. Läs mer.
Episurf Medical kommer att presenterat vid ABG Life Science Summit den 25 maj 2021. Läs mer.
Soleno Therapeutics har meddelat att de ska presentera vid European Congress of Endocrinology 2021 om DCCR (diazoxidkolin)-tabletter för behandling av Prader-Willis syndrom Läs mer.
QuiaPEG Pharmaceuticals har föreslagit två nya ledamöter med gedigen läkemedelsbakgrund till styrelsen. Läs mer.
Scandinavian ChemoTechs har publicerat en presentation inför årsstämman som hålls den 24 maj 2021. Läs mer.
Virogates har informerat om kapitalökning i samband med utnyttjande av teckningsoptioner. Läs mer.
Biovica har bjudit in till kapitalmarknadsdag den 9 juni 2021. Läs mer.
Förmiddagens vinnare: Prolight Diagnostics +17,4%, PolarCool +16,1%, Cyxone +14,4%, Diamyd Medical +14,2%, Toleranzia +13,1%, Chordate Medical +12,1%
Förmiddagens förlorare: Isofol Medical -18,2%, Idogen -8,7%, Allarity Therapeutics -8,1%, PExA -7,0%, DexTech Medical -6,5%, Scibase -5,5%
Index: OMXS30 2239,59 -0,06%, Hälsovård +0,13%
Fler artiklar från BioStock
» Karolinska Developments portföljbolag Umecrine Cognition går mot börsen
» BioStock studio: Genovis vd summerar 2020 och ser framåt
» Nya data styrker Ultimovacs cancervaccin
» Cyxone expanderar möjligheterna för T20K inom MS
» Biosergens vd om bolagets IPO

Prenumerera på BioStocks nyhetsbrev