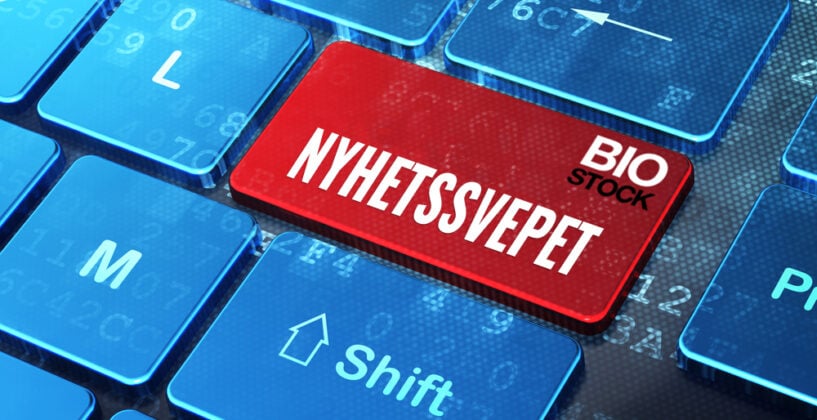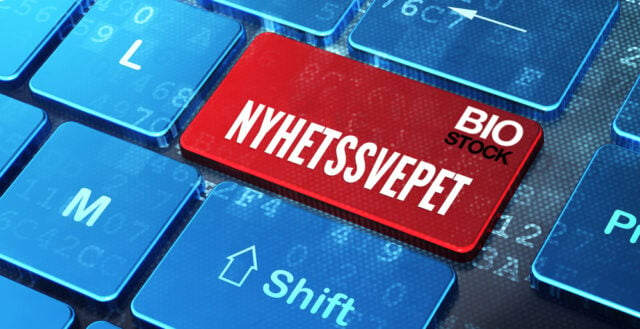 Nyhetssvepet torsdag 22 april
De senaste artiklarna från BioStock
» DanCann Pharma startar produktion av medicinsk cannabis
» Enzymaticas styrelseordförande om nyemissionen
» Scandion Oncologys COO om viktiga kommande kliniska milstolpar
» Cereno Scientific avser inleda en fas II-studie i September 2021
» BrainCool erhåller order från Sydkorea
» Duearity vill hjälpa personer med tinnitusbesvär
Läs BioStocks nyhetsbrev för vecka 15 här.
Saniona uppdaterar tidsplanerna för den kliniska utvecklingen av Tesomet baserat på besked om tillverkningen från FDA. Läs mer. Bolaget har även meddelat utfallet i inlösen av teckningsoptionen TO 3. Läs mer.
Immunovia meddelar om en process för att uppnå kostnadsersättning för IMMray PanCan-d. Läs mer. Bolaget har även presenterat en uppdatering av marknadens storlek i USA för IMMray PanCan-d i den familjära/ärftliga riskgruppen. Läs mer.
DanCann Pharma har tryckt på startknappen i BIOTECH PHARM1-anläggningen. Läs mer.
Abera Bioscience erhåller nytt patent i USA för vaccinteknik. Läs mer.
Inhalation Sciences tecknar exklusivt distributionsavtal med Apex Inhalation för försäljning till Indien, Bangladesh och Sri Lanka. Läs mer.
Lipidor ger en uppdatering om bolagets kliniska fas III-studie med läkemedelskandidaten AKP02 för behandling av psoriasis. Läs mer.
H.Lundbeck meddelar att Vortioxetine signifikant förbättrar det dagliga livet för patienter med svår depressiv sjukdom. Läs mer.
Nightingale Health och Terveystalo har ingått strategiskt partnerskapsavtal. Läs mer.
DBP International har fastställt teckningskursen i förestående företrädesemission av units. Läs mer. DBP International meddelar att kliniska feasibility studierna för den planerade SI-053 klinisk fas I är slutförda och att sju av tio milstolpar för den kliniska prövningen av SI-053 har slutförts. Läs mer.
Nytt datum för årsstämma har meddelats för IDL Biotech. Läs mer.
Orphazyme introducerar ett nytt långsiktigt incitamentsprogram. Läs mer.
Årsredovisning:
Glycorex Transplantation  Guard Therapeutics
Rapporter:
ArcticZymes  Active Biotech  AlphaHelix Molecular Diagnostics  ContextVision  Ellen  Egetis Therapeutics  Bactiguard  Hansa Biopharma  IDL Biotech  Karo Pharma Onxeo  Vitrolife
Kommunikéer:
Asarina Pharma  Double Bond Pharmaceutical International  Gentian Diagnostics  Karo Pharma
Kallelser till bolagsstämmor:
Nyheter inkomna sedan igår lunch:
Scandion Oncology har utsett Dr. Richard L. Schilsky till bolagets Clinical Advisory Board (CAB). Läs mer.
Iconovo har erhållit ett första godkänt patent i USA för ICOone. Läs mer.
Mount Sinai Hospital i New York ansluter sig till RhoVacs fas IIb-studie i prostatacancer. Läs mer.
Redsense Medical har ändrat avstämningsdag för utdelning av dotterbolaget Odinwell. Läs mer.
Stayble Therapeutics gav en uppdatering om den pågående fas IIb-studien med anledning av covid-19-pandemin. Läs mer.
IRRAS utser Will Martin till vd. Läs mer.
iZafe Group tillförs 2,6 Mkr genom lösen av teckningsoptioner av serie TO9. Läs mer.
QLIFE tecknar exklusivt europeiskt distributionsavtal med Aidian. Läs mer.
Diamyd Medical presenterar på precisionsmedicinsk konferens. Läs mer.
Novo Nordisk initierar fas III-utveckling med med oral semaglutid i fetma. Läs mer.
Hamlet Pharma meddelade att studieresultat i urinblåsecancer har accepterats för publikation i Nature Communications. Läs mer.
Ellen rapporterade ett förbättrat resultat för de tre första månaderna 2021. Läs mer.
Medistim bjuder in till presentation av resultaten för första kvartalet. Läs mer.
Calmark Sweden meddelade att uppstart av nya kliniska studier på Sachsska barnsjukhuset stoppas tillfälligt. Läs mer.
Alzinova gav en statusuppdatering avseende ansökan om att starta den kliniska studien med ALZ-101. Läs mer.
ODI Pharma uppdaterade uppdaterade om "Project Poland" and "Project Skin". Läs mer.
Förmiddagens vinnare: AegirBio +11,0%, Lifeassays +11,0%, Xvivo Perfusion +9,1%, Vitrolife +7,7%, AroCell +7,6%, PharmaLundensis +7,4%
Förmiddagens förlorare: IDL Biotech -6,6%, OssDsign -6,5%, QLife -5,8%, Emotra -5,6%, Saniona -5,5%, Attana -4,4%
Index: OMXS30 2230,52 +0,10%, Hälsovård +1,05%
Fler artiklar från BioStock
» Coegin Pharma drar nytta av decentraliserade kliniska prövningar
» BioStock Studio: Alligator Biosciences ordförande om de senaste nyheterna
» Respiratorius ser stor potential för ny behandling av KOL
» WntResearch blickar framåt med kapitalinjektion
» BioStock Studio: Acarix's CEO on the company's vision

Prenumerera på BioStocks nyhetsbrev