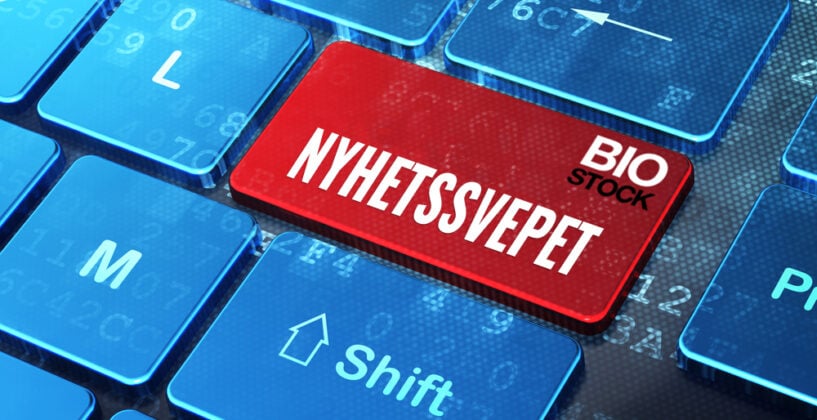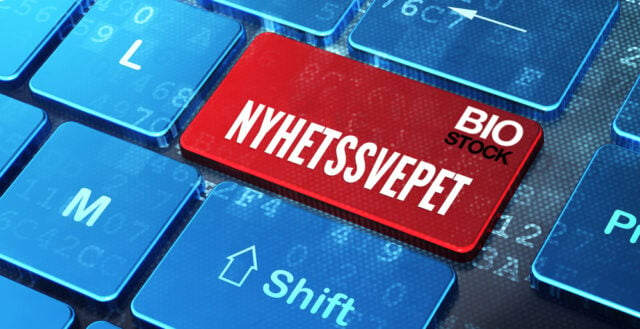 Nyhetssvepet tisdag 13 april
De senaste artiklarna från BioStock
» Duearitys grundare om bolagets produkter och kommande börsnotering
» BioStock Live with Acarix
» BioStock Live med WntResearch
» BiBBInstruments lämnar in en tredje internationell patentansökan
» BioStock Studio: Aptahems CSO om sepsiskandidaten Apta-1
Läs BioStocks nyhetsbrev för vecka 14 här.

Se BioStock Live med Duearity på torsdag kl 10:00. Följ eventet här.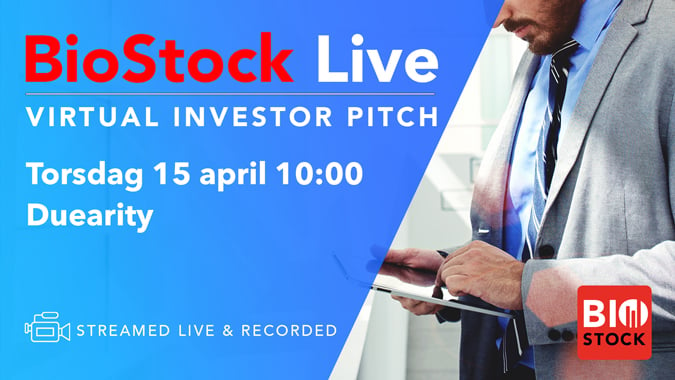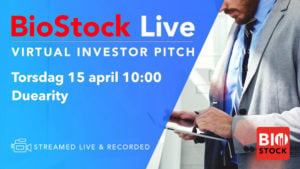 Aptahem meddelar att idag är sista dag för handel med teckningsoptioner serie TO 5. Läs mer. Aptahems ledning, styrelse och anställda har för avsikt att nyttja teckningsoptioner av serie TO 5. Läs mer.
Respiratorius genomför en riktad nyemission om cirka 25 Mkr. Läs mer.
Scandinavian Real Heart ingår avtal om mekaniska hjärtklaffar med CryoLife. Läs mer.
Styrelsen för Medfield Diagnostics beslutar om en företrädesemission om cirka 21,3 Mkr. Läs mer.
Sobi meddelar att första patienten har doserats i fas III-studien XTEND-Kids med efanesoctocog alfa hos barn med hemofili A. Läs mer.
Lundbeck och Otsuka har beslutat om att fortsätta klinisk fas III-studie med utvärdering av brexpiprazol för behandling av agitation hos patienter med Alzheimers. Läs mer.
Capitainer anställer Mikael Ström som affärsutvecklingschef, han var tidigare enhetschef på Karolinska Universitetslaboratoriet i Solna. Läs mer.
Sectra får ny order och blir motorn i medicinsk bildhantering för amerikansk vårdgivare. Läs mer.
VibroSense Dynamics inleder kartläggning av den tyska marknaden för Diabetes Foot Screening. Läs mer.
DBP International meddelar att tillverkning av excipienten till SI-053 är klar. Läs mer.
Årsredovisningar: 
Ortivus Monivent  Spago Nanomedical
Kommunikéer:
Kallelser till bolagsstämmor:
Acarix  Alteco Medical  AstraZeneca  Corline Biomedical  AlzeCure Pharma  Guard Therapeutics  Senzime  Sprint Bioscience  Virogates
Nyheter inkomna sedan igår lunch:
Lipum meddelade att bolagets nyemission inför planerad notering på Nasdaq First North övertecknades. Läs mer.
BrainCool meddelade att inlösen av TO 2 tillför bolaget ca 0,150 Mkr. Läs mer.
Intervacc och Dechra Pharmaceuticals ingår avtal för kommersialisering av Strangvac i Europa. Läs mer.
AddLife förvärvar irländska Healthcare 21 Group som omsätter cirka 1 700 Mkr. Läs mer.
EQL Pharmas finanschef har valt att lämna sin tjänst. Läs mer.
Valberedningens förslag till val av styrelseledamöter och revisor i AcuCort. Läs mer.
Novo Nordisk har rapporterat genomföra transaktioner i aktieåterköpsprogrammet. Läs mer.
Novozymes har meddelat transaktioner under bolagets aktieåterköpsprogram. Läs mer. Bolaget rapporterade även om minskning i aktiekapitalet. Läs mer.
Orion publicerar delårsrapport den 27 april. Läs mer.
Gentian Diagnostics presenterar resultaten för första kvartalet den 16 april. Läs mer.
NattoPharma meddelade att Lesaffre har registrerat inlösenaktier. Läs mer.
Förmiddagens vinnare: Cline Scientific +10,9%, Phase Holographic +8,7%, AroCell +7,7%, Redwood Pharma +6,5%, Intervacc +6,0%, Initiator Pharma +4,4%
Förmiddagens förlorare: Respiratorius -12,4%, Medfield -10,9%, Lundbeck -9,6%, iZafe -9,2%, Invent Medic -8,9%, Herantis Pharma -8,8%
Index: OMXS30 2247,49 +0,64%, Hälsovård +0,44%
Fler artiklar från BioStock
» Riktad emission på 20,7 Mkr stärker kassan i Sprint Bioscience
» CombiGene tog in 75Mkr i företrädesemission
» Dilafor har fullbordat patientinklusion till fas IIb-studie
» BioStock Studio: Sanionas CFO om sina visioner för bolaget
» Intervju med Idogens CSO

Prenumerera på BioStocks nyhetsbrev