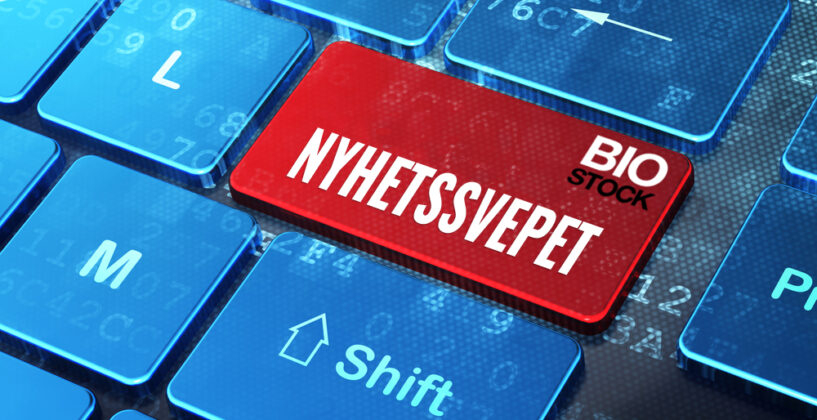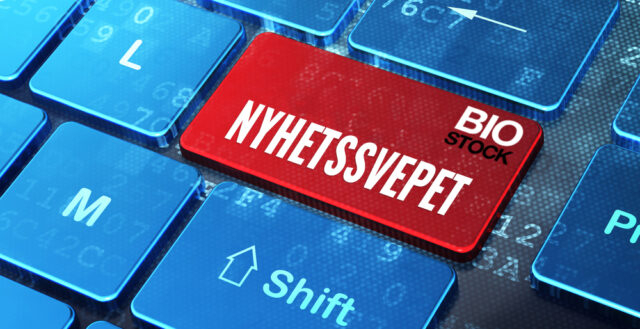 Nyhetssvepet onsdag 28 april
De senaste artiklarna från BioStock
» Iconovo visar upp den nya inhalatorn ICOpre på RDD
» 2cureX en blivande nyckelspelare inom precisionscancerbehandling
» KD-bolaget Umecrine publicerar resultat i ansedd tidskrift
» Diabetesveteran om noteringen av Pila Pharma
» Första godkända patentet i USA för Iconovos ICOone
Läs BioStocks nyhetsbrev för vecka 16 här.
Cereno Scientific ingår avtal med University of Michigan för att ta prekliniska kandidaten CS585 in i klinisk fas. Läs mer
Sprint Bioscience presenterar bolag och projekt för investerare och internationella läkemedelsbolag. Läs mer.
Nanexa startar klinisk studie för NEX-18. Läs mer.
Calliditas Therapeutics meddelar att FDA beviljar prioriterad granskning av Nefecon för patienter med IgA-nefropati. Läs mer.
Vaccibody utser Harald Gurvin till ny CFO. Läs mer.
Kanceras slutredovisning av EU-projektet SYNTRAIN har slutgodkänts. Läs mer.
Medistim handlas idag utan rätt till utdelning. Läs mer.
NattoPharma presenterar finansiell kalender. Läs mer.
ALK-Abelló släpper rapporten för första kvartalet den 5 maj och håller telefonkonferens samma dag. Läs mer.
Årsredovisningar: 
Abliva  ArcticZymes Technologies  Bio-Works  Calliditas Therapeutics  Genovis  Iconovo  Micropos  RhoVac
Rapporter:
AcuCort  AddLife  BioInvent International  CellaVision  Elos Medtech  Lumito  Medistim  Medivir  Mentice  Orion  Spago Nanomedical  Stille
Kommunikéer:
Arjo  Medistim  Virogates  Ziccum
Kallelser till bolagsstämmor:
Cantargia  Neodynamics  Vaccibody  WntResearch
Nyheter inkomna sedan igår lunch:
Elicera Therapeutics lämnar in patentansökan för utveckling av nästa generations onkolytiska virus. Läs mer.
2cureX vd Fernando Andreu har köpt aktier i bolaget. Läs mer.
GPX Medical publicerar investerarbrev. Läs mer.
The New England Journal of Medicine publicerade resultatet av två fas III-studier med UCBs bimekizumab vid måttlig till svår plackpsoriasis. Läs mer.
PolarCool har erhållit order på PolarCap System från Ystad IF. Läs mer.
Photocure har meddelat om en aktiepant. Läs mer.
Västra Hamnen har publicerat en analysuppdatering med anledning av Promore Pharmas strategiändring för läkemedelskandidaten ensereptide. Läs mer.
Hemcheck upprättar ett internationellt medicinskt råd. Läs mer.
Orphazyme presenterar vid kommande investerarkonferenser. Läs mer.
NeoDynamics meddelade att Matthew E. Colpoys föreslås till styrelsen. Läs mer.
Vibrosense Dynamics rapporterade ökad försäljning under januari till mars jämfört med samma period förra året. Läs mer. Bolaget skickade sedan ut en komplettering angående detta. Läs mer.
Orion Corporation meddelade sammansättningen i valberedningen. Läs mer.
Episurf Medical bjuder in till presentation i samband med Q1-rapporten. Läs mer.
Novo Nordisk har publicerat bolagsordning. Läs mer. Novo Nordisk meddelade minskat aktiekapital. Läs mer.
Förmiddagens vinnare: AddLife +11,7%, Elos +9,8%, Clinical Laserthermia +6,9%, Calliditas Therapeutics +6,6%, Euris +5,3%, Arcoma +4,8%
Förmiddagens förlorare: Lumito -18,8%, Zenicor Medical -9,9%, BBS-Bioactive Bone -6,5%, ADDvise Group A -6,4%, Alteco Medical -6,1%, PharmaLundensis -6,0%
Index: OMXS30 2225,09 -1,67%, Hälsovård -0,57%
Fler artiklar från BioStock
» BioStock Studio: Noteringsaktuella Duearitys vd om vägen framåt
» Stayble Therapeutics uppdaterar om fas IIb-studien
» DanCann Pharma startar produktion av medicinsk cannabis
» Enzymaticas styrelseordförande om nyemissionen
» Scandion Oncologys COO om viktiga kommande kliniska milstolpar

Prenumerera på BioStocks nyhetsbrev