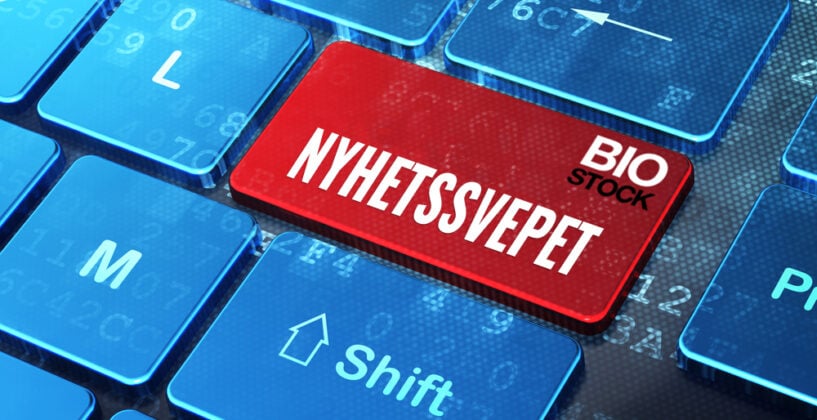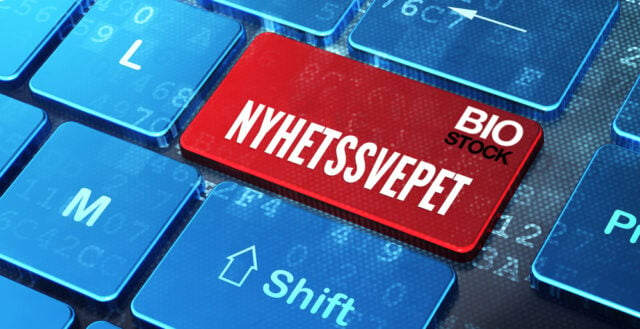 Nyhetssvepet onsdag 14 april
De senaste artiklarna från BioStock
» Respiratorius genomför riktad emission och inleder bryggstudie med VAL001
» Stor potential i onoterade svenska life science-bolag
» BioStock Studio: WntResearchs vd om studieåterstart och emission
» PHIs vd om försäljningen till Harvard och EU-center
» Ultimovacs presenterar studiedesign för INITIUM på AACR
Läs BioStocks nyhetsbrev för vecka 14 här.

Se BioStock Live med Duearity på torsdag kl 10:00. Följ eventet här.
WntResearch meddelar att ytterligare 12 patienter har randomiserats i NeoFox-studien under första kvartalet 2021. Läs mer. WntResearch presenterar på Digitala Aktiekvällen idag den 14 april. Läs mer.
Aegirbio lanserar snabbtest för Covid-19. Läs mer.
Immunicum inleder forskningssamarbete med Icahn School of Medicine vid Mount Sinai. Läs mer.
Clinical Laserthermia Systems meddelar att teckningsperioden i bolagets företrädesemission inleds idag. Läs mer.
AstraZeneca meddelar att Tagrisso har godkänts i Kina för adjuvant behandling av patienter med EGFR-muterad lungcancer i tidigt stadium. Läs mer.
Gustaf Frithz har presenterats som kandidat till PolarCools styrelse. Läs mer.
PExA gör framsteg som möjliggör avsevärt förbättrad biokemisk analys. Läs mer.
Hansa Biopharma bjuder in till telefonkonferens den 22 april för att presentera delårsrapporten och ge en verksamhetsuppdatering. Läs mer.
Össur publicerar de finansiella resultaten för första kvartalet den 27 april. Läs mer.
Årsredovisning:
BONESUPPORT  Invent Medic  Magle Chemoswed  Prolight Diagnostics
Kommunikéer:
Kallelser till bolagsstämmor:
Nyheter inkomna sedan igår lunch:
Genovis och Waters samarbetar för att utveckla effektiva metoder för att analysera biologiska läkemedel. Läs mer.
SynAct stärker IP-portföljen och får "Intention to Grant" från Europas patentverk för ett centralt patent som täcker AP1189. Läs mer.
Redwood Pharma har godkänts för listning på Nasdaq First North Growth Market. Läs mer.
Brighter har skickat ett nyhetsbrev från bolagets vd. Läs mer.
Boehringer Ingelheim och Zealand Pharma avancerar till kliniska prövningar i fas II i NASH och fetma. Läs mer.
AroCell meddelade att en ny studie stöder att TK1 kan förutsäga död i prostatacancer. Läs mer.
Initiator Pharma föreslår en riktad och fullt garanterad företrädesemission på totalt 60 Mkr för att expandera med ny särläkemedelsindikation. Läs mer.
Micropos Medical planerar en företrädesemission. Läs mer.
BioGaia meddelade att kombination av L. reuteri-stammar minskar symptom hos barn med halsont. Läs mer.
Genmab har infört ett incitamentsprogram till anställda och en ny medlem i ledningen. Läs mer. Bolaget rapporterade även transaktioner för ledande befattningshavare. Läs mer.
Förmiddagens vinnare: Lifeassays +34,9%, AegirBio +31,6%, Euris +12,6%, Herantis Pharma +12,3%, EXACT Therapeutics +8,3%, SensoDetect +7,0%
Förmiddagens förlorare: RhoVac -4,5%, Calmark -4,3%, Gabather -4,0%, Brighter -3,9%, Klaria Pharma -3,9%, Aptahem -3,3%
Index: OMXS30 2231,43 -0,70%, Hälsovård +0,44%
Fler artiklar från BioStock
» Duearitys grundare om bolagets produkter och kommande börsnotering
» BioStock Live with Acarix
» BioStock Live med WntResearch
» BiBBInstruments lämnar in en tredje internationell patentansökan
» BioStock Studio: Aptahems CSO om sepsiskandidaten Apta-1

Prenumerera på BioStocks nyhetsbrev