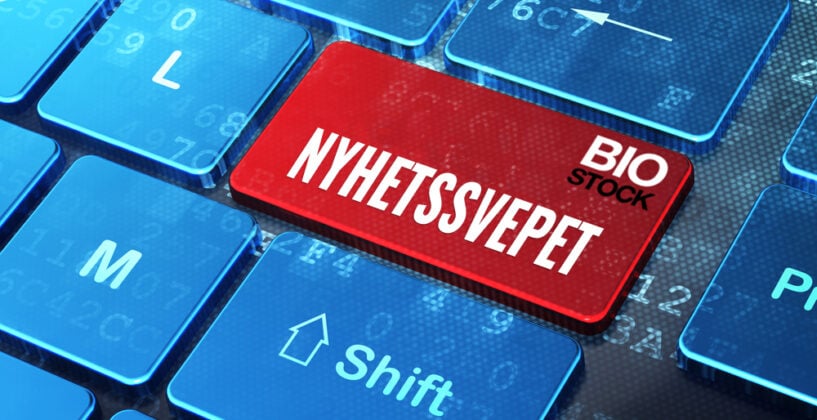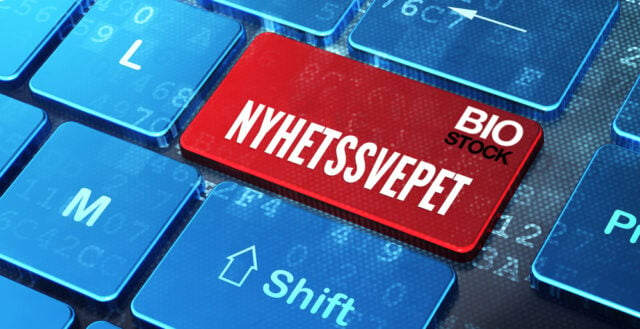 Nyhetssvepet torsdag 11 mars
De senaste artiklarna från BioStock
» Karolinska Developments Modus Therapeutics utvecklar sevuparin mot sepsis
» Första nya amerikanska kliniken i RhoVacs fas IIb-studie startad
» Se presentationerna från BioStock Live
» Aptahems vd om den icke-bindande avsiktsförklaringen
» Saniona om den positiva återkopplingen från FDA
Läs BioStocks nyhetsbrev för vecka 9 här.

Alligator Bioscience presenterar nya prekliniska data på American Association for Cancer Research Annual Meeting 2021 (AACR) – Mitazalimab förstärker effekten av kemoterapi. Läs mer.
Forskningsprojekt med Fluicells bioprinting-plattform Biopixlar har inletts. Läs mer.
Vicore Pharma's läkemedelskandidat C21 vidgar perifera blodkärl vid fibrotisk sjukdom. Läs mer.
Amerikanska Emory Healthcare köper Sectras IT-lösning för medicinsk bildhantering. Läs mer.
BioInvent presenterar proof-of-concept-data för antikroppen BI-1607 på AACR 2021. Läs mer.
Cline Scientific lämnar in en patentansökan för en cancerdiagnostisk produkt. Läs mer. Sista dagen i teckningsperioden för teckningsoptioner Cline TO 1 B är 12 mars 2021. Läs mer.
Scandinavian ChemoTech är fortsatt optimistiska inför CE-märkningsrevisionen. Läs mer.
Rapporter:
Kommunikéer:
Kallelser till bolagsstämmor:
Nyheter inkomna sedan igår lunch:
Saniona presenterar på Oppenheimers 31:a årliga hälso- och sjukvårdskonferens. Läs mer.
Spago Nanomedical genomför riktad emission av aktier till garanter efter övertecknad företrädesemission. Läs mer.
Lipigon utökar samarbetet med HitGen för att utveckla ytterligare ett nytt läkemedel för lipidsjukdomar. Läs mer.
Aegirbio meddelar att inlösen av TO1 har i februari tillfört bolaget 432 423 kr före emissionskostnader. Läs mer.
Karolinska Developments portföljbolag Modus Therapeutics förbereder kliniskt utvecklingsprogram för sevuparin vid sepsis / septisk chock. Läs mer.
SyntheticMR tillsätter Johanna Norén som CFO och Head of Investor Relations. Läs mer.
Alteco Medical beviljas bidrag från Vinnovas utlysning om "Innovationsprojekt i små och medelstora företag 2020". Läs mer.
InDex Pharmaceuticals presenterar på Barclays Global Healthcare Conference och Carnegie Nordic Virtual Healthcare Seminar. Läs mer.
Genmab kommer presentera preklinisk data vid AACR Annual Meeting 2021. Läs mer.
Attana meddelade att AdaptVac har fått godkännande för att inleda kliniska fas I/II-studier för Covid-19-vaccin. Under utvecklingsprocessen har vacciner blivit analyserat och validerat med hjälp av Attanas QCM-biosensor. Läs mer.
Q-linea får första order på ASTar. Läs mer.
Cline Scientific meddelar att styrelsemedlemmar och stora investerare utnyttjar samtliga teckningsoptioner av serie 2020/2021. Läs mer. Cline Scientific undersöker att byta noteringsplats till Nasdaq First North. Läs mer.
Calmark har tecknat distributörsavtal med Enox Pharma avseende fem nyckelmarknader i Mellanöstern. Läs mer.
ALK-Abelló rapporterar aktietransaktioner av ledande befattningshavare. Läs mer.
Nanoform Finland meddelade att nya aktier har registrerats. Läs mer.
Förmiddagens vinnare: Aptahem +7,8%, ODI Pharma +7,1%, Fluicell +5,9%, Cellink +5,3%, Prebona +5,2%, AegirBio +4,9%
Förmiddagens förlorare: ScandiDos -8,3%, Doxa -8,2%, Papilly -7,6%, EXACT Therapeutics -6,9%, Miris -5,8%, Nordic Nanovector -5,4%
Index: OMXS30 2149,12 +0,69%, Hälsovård +0,39%
Fler artiklar från BioStock
» BioStock Studio: Dicots vd om Q4-rapporten och prekliniska aktiviteter
» Coegin Pharma utökar satsningen
» BiBBInstruments har en ny vision för cancerdiagnostik
» BioStock Studio: RhoVacs vd om vaccineringsrelaterad studieförsening
» BioStock Live med åtta intressanta life science-bolag

Prenumerera på BioStocks nyhetsbrev