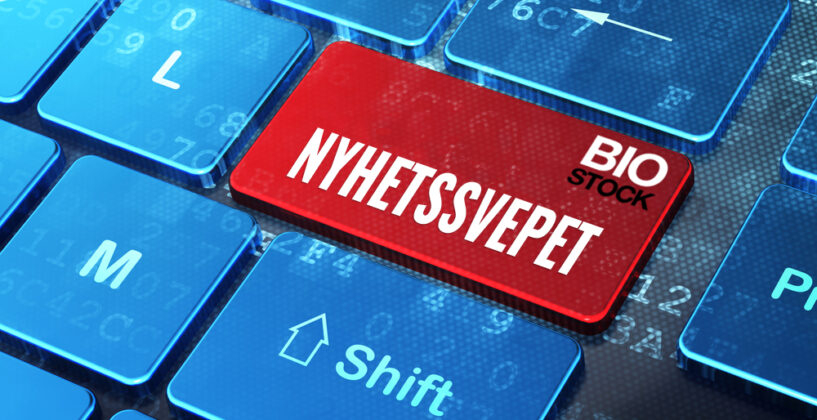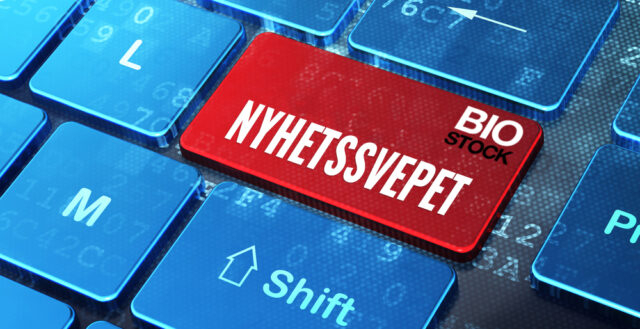 Nyhetssvepet måndag 8 mars
De senaste artiklarna från BioStock
» BioStock Studio: Cline Scientifics vd om vägen framåt
» Spago Nanomedical om den övertecknade emissionen och planen framåt
» BioStock's article series on MDR and IVDR: Key changes in IVDR
» BioStock Studio: DanCann Pharma om det nya avtalet
» Sanionas CMO om särläkemedelsklassningen från FDA i Prader-Willis syndrom
Läs BioStocks nyhetsbrev för vecka 9 här.
På tisdag den 9 mars sänder vi nästa BioStock Live med start kl 10:00, följ eventet här.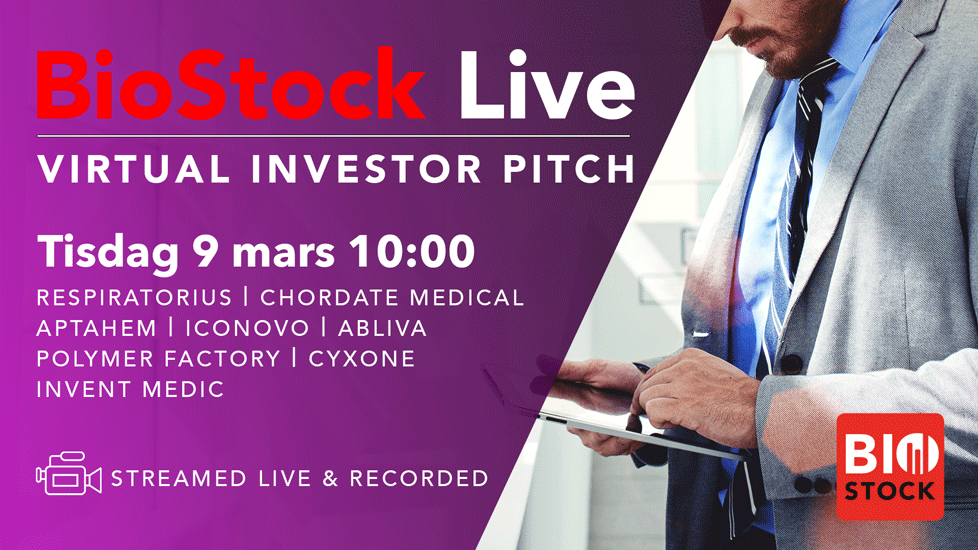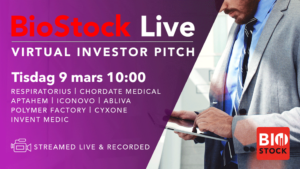 CombiGenes styrelse beslutar om en fullt garanterad företrädesemission om cirka 75 Mkr. Läs mer.
Bavarian Nordic rapporterar uppmuntrande preklinisk data för Covid-19-vaccinkandidat. Läs mer. Bavarian Nordic kommer hålla ett konferenssamta den 12 mars angående resultaten för 2020. Läs mer.
Sprint Biosciences licenspartner har sålt PETRA01-projektet till HiberCell. Läs mer.
Oncopeptides stärker ledningen i Europa och inleder ett Early Access Program i multipelt myelom. Läs mer.
Implanticas medicinska implantat RefluxStop tar ett kliv in i den svenska sjukvården. Läs mer.
Elekta vinner rättstvist med Livian GmbH. Läs mer.
Episurf Medical meddelar att den första operationen med Episealer Talus har genomförts i Asien. Läs mer.
Observe Medical levererar blod- och vätskevärmesystem till tre nordiska sjukhus. Läs mer.
Calliditas stärker sin organisation inom US Commercial and Medical Affairs. Läs mer.
Medivir presenterar vid H.C. Wainwright Global Life Sciences Conference. Läs mer.
BerGenBio presenterar preklinisk Covid-19-data vid Conference on Retroviruses and
Opportunistic Infections (CROI). Läs mer. BerGenBio kommer presentera vid ett antal investerarkonferenser. Läs mer.
Targovax kommer delta vid kommande investerarkonferenser och vetenskapliga konferenser. Läs mer.
Scandinavian ChemoTech presenterar valberedningens förslag på styrelse inför årsstämman 2021. Läs mer.
Kommunikéer:
Scandinavian ChemoTech  Senzime Vicore Pharma
Transaktioner i samband med återköpsprogram:
Nyheter inkomna sedan fredag lunch:
Carbiotix meddelar att utnyttjande av teckningsoptioner är registrerat hos Bolagsverket. Läs mer.
DanCann Pharma utser Malene Gottfredsen till Product Manager. Läs mer.
Bio-Works erhåller order från Chr. Hansen värd 2,4 Mkr. Läs mer.
Curasight presenterar på Økonomisk Ugebrev Life Science Investor Conference. Läs mer.
Båda grupperna i de två pågående bioekvivalensstudierna med Xspray Pharmas produktkandidat HyNap-Dasa har nu doserats. Läs mer.
DBP International har presenterat en tidsplan för den föreslagna företrädesemissionen av units. Läs mer.
Demant har presenterar besluten från den årliga årsstämman. Läs mer.
En studie visade att Eli Lillys tirzepatid ger bättre resultat gällande både blodsockerkontroll (HbA1c-värde/"långtidssocker"), och viktminskning vid diabetes typ-2 än Novo Nordisks semaglutid. Läs mer.
Genmab rapporterade transaktioner för ledande befattningshavare. Läs mer.
Förmiddagens vinnare: ExpreS2ion Biotech +23,0%, Chordate Medical +10,3%, Inhalation Sciences +9,4%, QuiaPEG +8,5%, FluoGuide +7,5%, Bavarian Nordic +7,4%
Förmiddagens förlorare: CombiGene -19,6%, Sprint Bioscience -9,1%, Alteco Medical -6,5%, Nordic Nanovector -5,8%, Gabather -5,3%, SpectraCure -5,2%
Index: OMXS30 2067,20 +0,91%, Hälsovård +1,30%
Fler artiklar från BioStock
» CombiGene avancerar i preklinik och nyrekryterar
» BioStock Studio: SenzaGen is aiming to increase market activity in 2021
» Polymer Factory marknadssatsar med nyemission och notering
» Karolinska Developments Forendo Pharma går vidare till fas II
» KD-bolaget OssDsign satsar med ny strategi och emission
» BioStock Studio: CLS om fokus för 2021, milstolpar och nyemission

Prenumerera på BioStocks nyhetsbrev