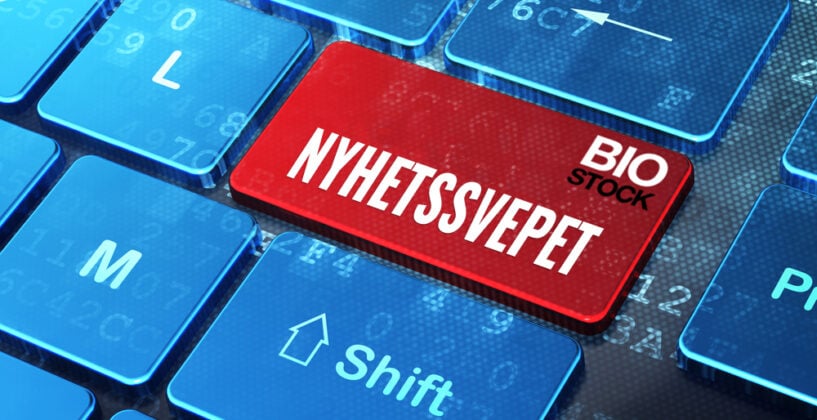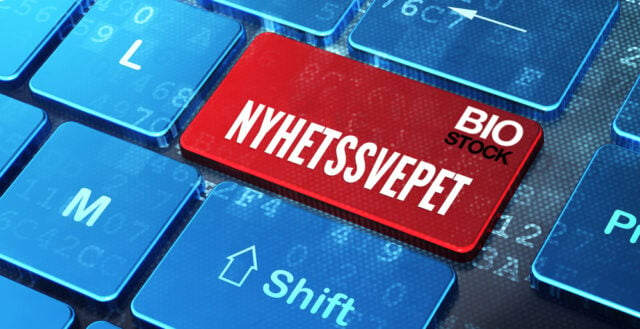 Nyhetssvepet måndag 15 mars
De senaste artiklarna från BioStock
» Cereno Scientific erhåller rätten att inlicensiera preklinisk kandidat
» Coegin Pharma ansöker om klinisk studiestart
» DanCanns vd förutspår en nyhetsintensiv vår
» Karolinska Developments Modus Therapeutics utvecklar sevuparin mot sepsis
» Första nya amerikanska kliniken i RhoVacs fas IIb-studie startad
Läs BioStocks nyhetsbrev för vecka 10 här.
Fluicell lanserar Biozone 6  – en ny nivå inom encells-farmakologi. Läs mer.
BibbInstruments meddelar att den första patienten har undersökts i en ny klinisk pilotstudie för patienter med misstänkt muskelinvasiv urinblåsecancer. Detta är en ny indikation för det eldrivna biopsiinstrumentet EndoDrill Model X. Läs mer.
Karolinska Developments portföljbolag Modus Therapeutics förbereder notering på Nasdaq First North Growth Market. Läs mer.
Integrum lanserar "Find a Center"-kampanj för att öka medvetenheten om tillgängligheten av OPRA Implant System bland specialister och patienter. Läs mer.
Spago Nanomedicals aktie har godkänts för handel på Nasdaq First North Growth Market. Läs mer.
Calliditas lämnar in ansökan till FDA för behandling med Nefecon för patienter med primär IgA-nefropati. Läs mer.
Implantica gör framsteg i Italien och Spanien med sitt medicinska implantat RefluxStop. Läs mer.
BioArctic och Eisai presenterade nya data för lecanemab på AD/PD 2021. Läs mer.
AcouSort stärker sitt kommersiella erbjudande med nya AcouWash applikationer. Läs mer.
Nexstim håller två virtuella investerarmöten. Läs mer.
SoftOx Solutions meddelar att danska läkemedelsverket godkänner first-in-human-studie med bolagets sårbehandling. Läs mer.
Johan Folkunger utses till ny vd i SpectraCure. Läs mer.
Neodynamics presenterar prekliniska resultat 17 mars kl 13.00. Läs mer.
Genmab rapporterar transaktioner I samband med aktieåterköpsprogram. Läs mer.
Brighter har anmält personuppgiftsincident till Integritetsskyddsmyndigheten (IMY). Läs mer.
Årsredovisning:
Kallelser till bolagsstämmor:
LifeClean International  XVIVO Perfusion
Nyheter inkomna sedan fredag lunch:
Cereno Scientific erhåller rättigheter att inlicensera en preklinisk kandidat från University of Michigan genom ett optionsavtal. Läs mer.
Xintela meddelade att resultaten från bolagets prekliniska glioblastomstudie med funktionsblockerande antikroppar har publicerats i den vetenskapliga tidskriften Cancers. Läs mer.
ZICCUM summerar tankarna från Global Vaccine-mötet – "Fill and Finish focus welcome, now let's really collaborate". Läs mer.
AstraZeneca menar att det inte finns några bevis på att Covid-19-vaccinet ökar risken för blodproppar. Läs mer.
H. Lundbeck meddelade att en ny ledamot föreslås till styrelsen. Läs mer.
Oriola Corporation rapporterade avyttring av egna aktier baserat på incitamentsprogram. Läs mer.
InDex Pharmaceuticals meddelade att ägarlistan har uppdaterats. Läs mer.
Prolight Diagnostics har publicerat ett investerarbrev för mars 2021. Läs mer.
Förmiddagens vinnare: Lifeassays +17,5%, AegirBio +13,6%, BiBBInstruments +11,7%, ChemoTech +11,2%, Fluicell +7,9%, Zenicor Medical +7,1%
Förmiddagens förlorare: Hamlet Pharma -64,7%, Curando Nordic -9,2%, Euris -8,0%, Papilly -6,9%, Dicot -6,3%, Chordate Medical -6,3%
Index: OMXS30 2184,83 +0,73%, Hälsovård +1,20%
Fler artiklar från BioStock
» Se presentationerna från BioStock Live
» Aptahems vd om den icke-bindande avsiktsförklaringen
» Saniona om den positiva återkopplingen från FDA
» BioStock Studio: Dicots vd om Q4-rapporten och prekliniska aktiviteter
» Coegin Pharma utökar satsningen
» BiBBInstruments har en ny vision för cancerdiagnostik

Prenumerera på BioStocks nyhetsbrev