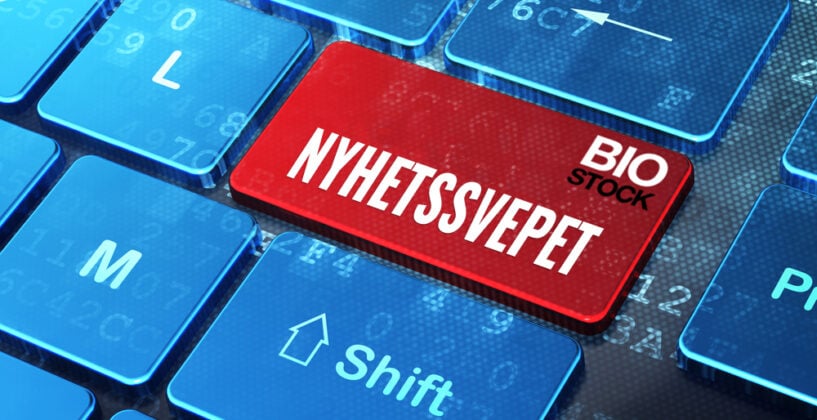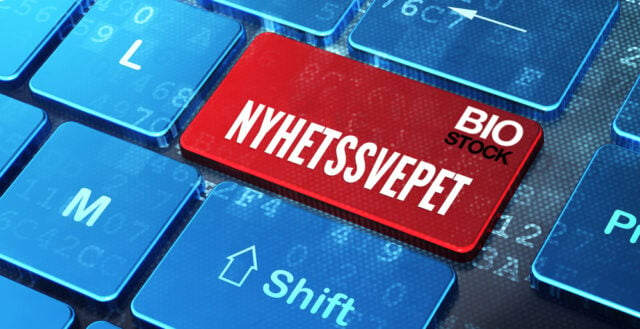 Nyhetssvepet tisdag 23 februari
De senaste artiklarna från BioStock
» Invent Medic tar första steget mot USA-lansering
» Iconovo avslutade 2020 med goda omsättningssiffror
» Biologiska läkemedel är en framgångsfaktor enligt Lipum
» CombiGene rustar för klinik
» Enzymatica har bäddat för fortsatt tillväxt  
Läs BioStocks nyhetsbrev för vecka 7 här.
Saniona senarelägger publicering av bokslutskommuniké för 2020 till följd av omräkning och förnyad revision av tidigare finansiella rapporter för att uppfylla amerikanska revisionsstandarder. Läs mer. 

BioInvent genomför en riktad nyemission om cirka 962 Mkr. Läs mer.
ExpreS2ion och University of Bologna tillkännager forskningssamarbete för att testa HER2-cVLP i mössmodeller av bröstcancer. Läs mer.
BG Klinik Tübingen är bland de första klinikerna  i Tyskland för tumamputation med Integrums OPRA Implant System. Läs mer.
Targovax presenterar fortsatt överlevnadsfördel i bolagets ONCOS-102-studie i mesoteliom vid 21-månadersuppföljningen. Läs mer.
DBP International rapporterar att man valt en tre plus tre design för doseskalering följt av en expansionsfas under klinisk fas I för SI053 istället för en adaptiv design som man tidigare ansåg var passande. Läs mer.
Biohit rapporterar aktietransaktioner för ledande befattningshavare. Läs mer.
Rapporter:
BioInvent International  Observe Medical  Lipidor  Saniona  RaySearch Laboratories
Kallelser till bolagsstämmor:
BioInvent International  Novo Nordisk
Nyheter inkomna sedan igår lunch:
Inbjudan till webbsänd intervju med Chordate Medicals vd Anders Weilandt, fredag 26 feb kl 10.00. Läs mer.
Hemcheck erhåller Notice of Allowance avseende sin designskyddsansökan i USA. Läs mer.
Redwood Pharma meddelar att emissionen är registrerad och handeln med BTA upphör. Läs mer.
Sedana Medical meddelar att första patienten är inkluderad i pediatrisk IsoCOMFORT-studie. Läs mer.
Lumito har publicerat ett pressmeddelande med anledning av diskussioner i media. Läs mer.
Kancera meddelar tidsplan för omvänd split. Läs mer.
Genmab har utnämnt Tahamtan Ahmadi till Chief Medical Officer, Head of Experimental Medicines. Läs mer.
Novo Nordisk har publicerat information om aktieåterköpsprogram. Läs mer.
Novozymes rapporterar transaktioner under aktieåterköpsprogram. Läs mer.
C-RAD meddelade att Alliance Radiation Oncology vid Anna Jaques Hospital installerar hela C-RADS plattform. Läs mer.
Calmarks dotterbolag i Wuxi, Kina är nu registrerat. Läs mer.
ODI Pharma uppnår milstolpe mot marknadsinträde i Polen. Läs mer.
Västra Hamnen Corporate Finance har publicerat en analysuppdatering av ProstaLund – "mot ljusare tider". Läs mer.
Förmiddagens vinnare: Nordic Nanovector +32,9%, Ortivus A +16,7%, Observe Medical +12,9%, Chordate Medical +8,3%, SpectraCure +7,9%, Lumito +5,8%
Förmiddagens förlorare: ViroGates -9,5%, QLife -8,9%, ExpreS2ion Biotech -8,4%, Cellink -7,1%, Biohit -7,0%, Eurocine Vaccines -6,9%
Index: OMXS30 2017,89 -0,65%, Hälsovård -1,55%
Fler artiklar från BioStock
» BioStock's article series on MDR and IVDR: Key changes in MDR
» Q4 report points to progress in the clinic for Gabather
» BioStock Studio: Invent Medics vd om bolagets satsning på kvinnohälsa
» BioStock Studio: Enzymaticas ordförande om framgångarna under 2020
» Ziccum om samarbetet med Janssen

Prenumerera på BioStocks nyhetsbrev