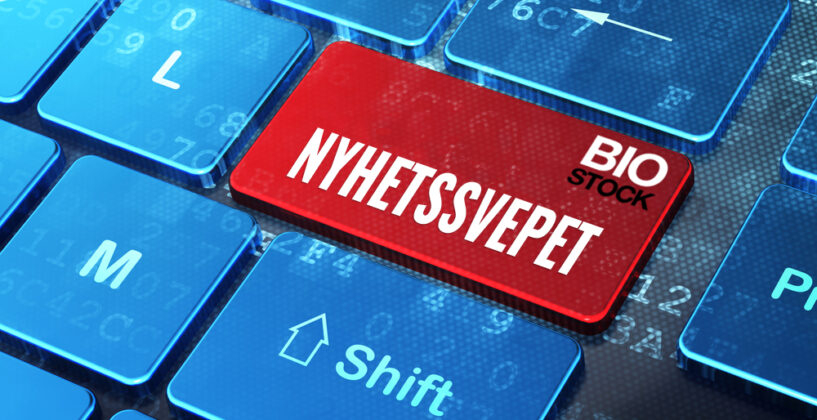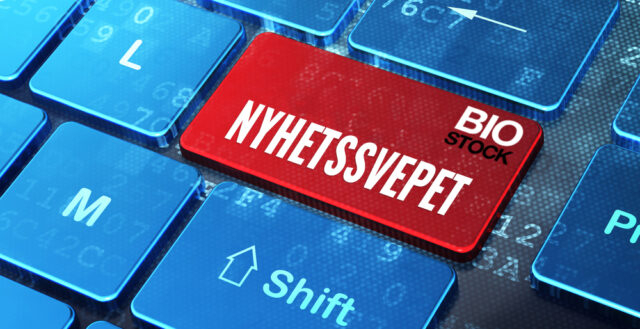 Nyhetssvepet onsdag 3 februari
De senaste artiklarna från BioStock
» BioStock Live med Stayble Therapeutics
» Invent Medic stärker marknadsorganisationen och sluter avtal
» Gabather – focus on CNS diseases
» BrainCool erhåller Breakthrough Device-klassificering i USA
» Ultimovacs kan se tillbaka på ett starkt 2020
Se Stayble Therapeutics presentera på BioStock Live den 3 februari kl 13:00 här.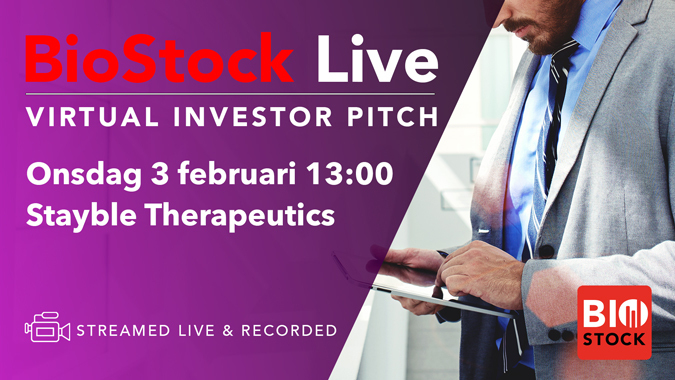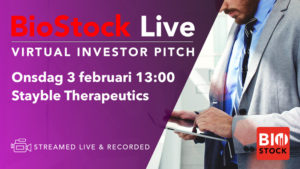 Iconovo får första ordern för utvecklingsarbete från Monash University. Läs mer.
CLS förstärker organisationen med Perjan Pleunis som ny chef för marknad och försäljning i Europa. Läs mer.
Idag inleds teckningsperioden i Stayble Therapeutics företrädesemission. Läs mer.
SpectraCure stöttar kampen mot cancer och uppmärksammar Världscancerdagen. Läs mer.
BioArctis partner Eisai ökar antalet deltagare i Clarity AD-studien. Läs mer.
Monivent ingår avtal om vederlagsfri garanti inför lösenperiod av teckningsoptioner av serie TO 1. Läs mer.
AstraZeneca har presenterat data för bolagets Covid-19-vaccin från kliniska fas III-prövningar. Läs mer.
Scibase utser valberedning inför årsstämman 2021. Läs mer.
SoftOx Solutions och norska Forsvarets Forskningsinstitutt (FFI) signerar en avsiktsförklaring (letter of intent, LOI). Läs mer. Bolaget rapporterar även utnyttjande av aktieoptioner och kapitalökning. Läs mer.
C-RAD ingår samarbete med WITH-GLOBAL för den sydkoreanska marknaden. Läs mer.
FluoGuide publicerar bolagsbeskrivning inför bytet från Spotlight till Nasdaq First North Sweden. Läs mer.
Rapporter:
Arjo  Coloplast  DexTech Medical  Novo Nordisk  Respiratorius
Kommunikéer:
Nyheter inkomna sedan igår lunch:
Corline Biomedicals samarbetspartner Kardium tar in 115 MUSD för att accelerera marknadslanseringen i Europa och registreringsgrundande kliniska studier i USA. Läs mer.
NextCell Pharma meddelade att kliniska prövningar med ProTrans i Covid-19 har godkänts. Läs mer.
Sectra vinner 5 utmärkelser inom radiologi och patologi. Läs mer.
FluoGuide har publicerat två nya patentansökningar. Läs mer.
ViroGates tillkännagav ett nytt privat sjukhus som klinisk rutinkund i Spanien. Läs mer.
Scandinavian ChemoTech meddelade 98 procentigt utnyttjande av teckningsoptioner. Läs mer.
Elektas produkter MOSAIQ och Versa HD topprankas i Best in KLAS. Läs mer.
PAXMAN genomför riktad nyemission och tillförs härigenom cirka 59 Mkr. Läs mer.
Novo Nordisk har publicerat information om sitt aktieåterköpsprogram. Läs mer.
Bioextrax ingår ramavtal för utvärderingar med europeisk bioplastfokuserad komponderare. Läs mer.
Novozymes har valt styrelserepresentanter. Läs mer.
Nanexa bjuder in till webcast. Läs mer.
Förmiddagens vinnare: Paxman +17,5%, Lifecare +11,1%, FluoGuide +9,3%, PCI Biotech +7,0%, Scandinavian ChemoTech +5,8%, Papilly +5,8%
Förmiddagens förlorare: Respiratorius -8,9%, DexTech Medical -7,6%, Monivent -5,7%, RhoVac -5,0%, Double Bond Pharma -4,9%, Euris -4,7%
Index: OMXS30 1989,48 +0,05%, Hälsovård +1,36%
Fler artiklar från BioStock
» Cereno Scientific stärker sitt patentskydd
» Samtliga patienter har slutfört behandlingen i Follicums fas IIa-studie
» Xintela laddar för avancemang under 2021
» Coegin Pharma har en ny vision för cancerbehandling
» Alligator har bäddat för fas II med övertecknad emission

Prenumerera på BioStocks nyhetsbrev