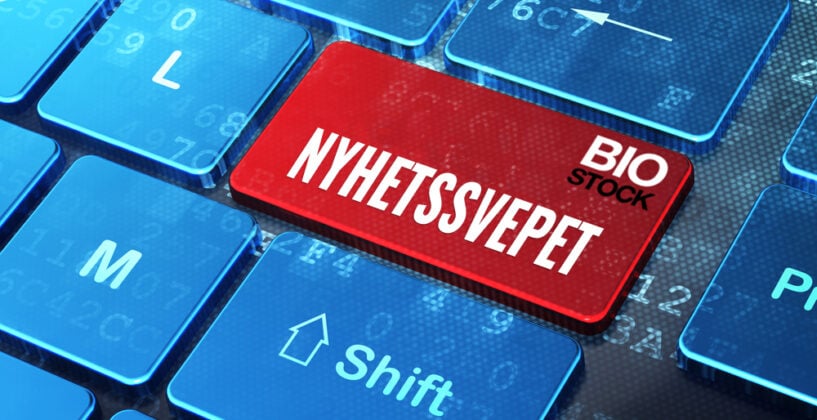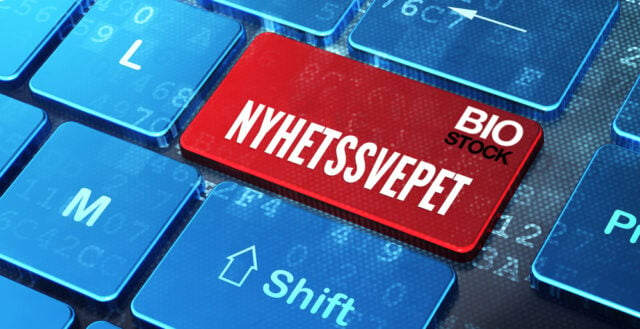 Nyhetssvepet onsdag 17 februari
De senaste artiklarna från BioStock
» Iconovos vd kommenterar bokslutskommunikén
» Cereno Scientific utvidgar sitt patentskydd till Japan
» Ablivas nytillträdda vd vill ta bolaget till nästa nivå
» Milstolpar i sikte för Karolinska Development
» Spago Nanomedical växlar upp med Tumorad
Läs BioStocks nyhetsbrev för vecka 6 här.
Integrum meddelar att samarbetet med Onkos banar väg för ytterligare tillväxt i USA. Läs mer.
Isac Brandberg AB med närstående har meddelat ökat ägande i Chordate Medical. Läs mer. Även Jinderman & Partners har meddelat ökat innehav i bolaget. Läs mer.
WntResearch meddelar att sista dag för handel med teckningsoptionerna av serie 2020/2021 är den 17 februari 2021. Läs mer. Bolaget meddelade även att styrelsemedlemmar utnyttjar samtliga teckningsoptioner av serie 2020/2021. Läs mer.
Enorama Pharma ingår låneavtal om 8 Mkr med DS Global Pte. Limited. Läs mer.
SpectraCure meddelar att läkare uppvisar goda resultat i bröstcancerstudie med PDT i fas I och IIa. Läs mer.
Bio-Works tecknar licenssavtal med Amicogen Inc vilket ger engångsintäkter om 5 MUSD samt löpande royalties. Läs mer.
BerGenBio presenterar preklinisk Covid-19-data vid konferensen för Retroviruses and Opportunistic Infections. Läs mer.
AstraZeneca meddelar att fas III-studien OlympiA med Lynparza visar positiva resultat jämfört med placebo enligt en interimanalys. Läs mer.
Brighter bjuder in till telefonkonferens i samband med bokslutskommunikén för 2020. Läs mer.
Rapporter:
AlphaHelix Molecular Diagnostics  Biohit  Bonesupport  CombiGene  Egetis Therapeutics  Enorama Pharma  Iconovo  Lumito  Nattopharma  Neodynamics  Redwood Pharma  Sprint Bioscience  Ultimovacs
Nyheter inkomna sedan igår lunch:
Carbiotix offentliggör fullt nyttjande av teckningsoptioner av serie TO 1. Läs mer.
Sobi meddelar att Kineret (anakinra) har godkänts i Ryssland för behandling av kryopyrin-associerade periodiska syndrom. Läs mer.
ISR's Immunolid förstärker effekten av checkpointblockad i djurmodell för tjocktarmscancer. Läs mer.
iZafe Group bjuder in aktieägare och andra intressenter till en frågestund i samband med publiceringen av bokslutskommunikén. Läs mer.
Inbjudan till presentation av Oasmias bokslutskommuniké den 19 februari. Läs mer.
Miris meddelade att neonatala intensivvårdsavdelningen vid University of Lousiville Hospital erbjuder individuell berikning för prematura barn med Miris HMA. Läs mer.
ADDvise Group förvärvar MRC Systems FZE. Läs mer.
SoftOx Solutions meddelade att ett nationellt prospekt har registrerats och att teckningsperioden inleds idag. Läs mer.
Novo Nordisk rapporterade aktietransaktioner för ledande befattningshavare. Läs mer.
Förmiddagens vinnare: Bio-Works +17,4%, Observe Medical +11,6%, Lifecare +10,9%, Doxa +8,3%, SpectraCure +7,9%, Integrum +6,2%
Förmiddagens förlorare: Sprint Bioscience -10,8%, Herantis Pharma -10,2%, Enorama Pharma -9,6%, ViroGates -7,9%, Ortoma -7,6%, Alphahelix -7,3%
Index: OMXS30 2024,80 -0,65%, Hälsovård -0,58%
Fler artiklar från BioStock
» BioStock Studio: Rhovacs vd kommenterar bokslutskommunikén
» WntResearch ökar fokus på Foxy-5
» BioStock's article series on MDR and IVDR: An introduction to the upcoming changes
» Chordate Medical vill motverka en av Sveriges vanligaste folksjukdomar
» Dicots nya styrelseordförande tar bolaget in i nästa fas

Prenumerera på BioStocks nyhetsbrev