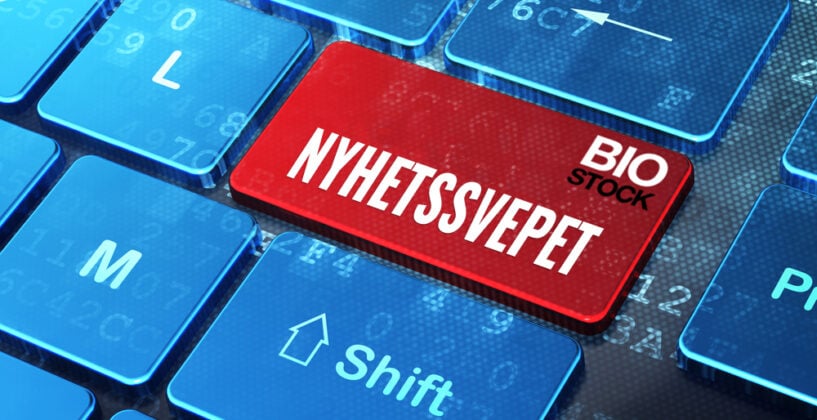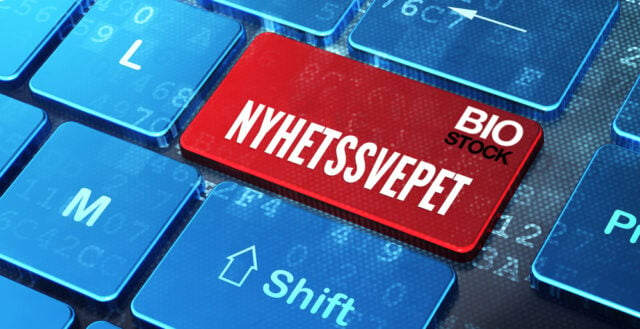 Nyhetssvepet fredag 26 februari
De senaste artiklarna från BioStock
» Idogen uppmärksammar Rare Disease Day
» PHIs säljchef i USA ökar aktiviteterna
» Ultimovacs påbörjar klinisk evaluering av ny TET-plattform
» Polymer Factorys vd om bolagets kommersiella transformation
» Coegin Pharmas kliniska utveckling inom aktinisk keratos
Läs BioStocks nyhetsbrev för vecka 7 här.

CLS genomför en företrädesemission av units om upp till 55 Mkr inklusive övertilldelningsoption samt en riktad emission om 10 Mkr. Läs mer.
ZICCUM har gett feedback till EU – "Pandemic preparation demands innovation in vaccine formulation". Läs mer.
Ortivus signerar ett distributionsavtal med Bexen Cardio Italia. Läs mer.
Coegin Pharma genomför en riktad emission och en företrädesemission om totalt cirka 31,4 Mkr. Läs mer. Bolaget har även gett en statusuppdatering. Läs mer.
Curasight meddelar att en artikel från en fas II-studie i prostatcancer har publicerats i Journal of Nuclear Medicine. Läs mer.
Sprint Bioscience utser Erik Kinnman till ny verkställande direktör. Läs mer. Kinnman var mellan 2016 och januari 2021 vd för Abliva. Läs mer.
Cline Scientific lämnar in internationell patentansökan för StemCART-terapiprodukt. Läs mer. Bolaget har även publicerat ett nyhetsbrev. Läs mer.
Nanoform sätter nya affärsmål för 2021 och 2022. Läs mer.
SenzaGen får order på 0,6 Mkr från ny europeisk kund inom kemikalieindustrin. Läs mer.
Valberedningen för Biovica inför årsstämman 2021 har utsetts. Läs mer.
Monivent meddelar att sista dag för handel med teckningsoptioner av serie TO 1 är den 2 mars. Läs mer.
Miris har publicerat ett nyhetsbrev. Läs mer.
Rapporter:
2cureX  Aegirbio  Alligator Bioscience  AlzeCure Pharma  BerGenBio  Bioextrax  BrainCool  Calmark Sweden  Chordate Medical  DancannPharma  Cline Scientific  Clinical Laserthermia Systems  Hamlet Pharma  Corline Biomedical  Glycorex Transplantation  Isofol Medical  LifeAssays  Lundbeck MedicPen  Medivir  Nicoccino  Nanoform  Nextstim  ODI Pharma  PExA  Peptonic Medical  PolarCool  Raytelligence  SensoDetect  SelectImmune Pharma  Senzime  Vicore Pharma  Xbrane Biopharma  Xintela  2cureX
Ändring i antalet aktier och röster
Active Biotech  BioInvent International  Medivir  Orphazyme  Vicore Pharma
Nyheter inkomna sedan igår lunch:
Spago Nanomedicals företrädesemission blev övertecknad och bolaget genomför övertilldelningsemission. Läs mer.
DanCann Pharma signerar Letter of Intent med kanadensiska Tetra Bio-Pharma Inc. för exklusiv distribution av Reduvo Adversa och Qixleef i Skandinavien och Tyskland. Läs mer.
Brighter meddelar att Nectarine Health erhåller sista utestående FCC-godkännandet. Läs mer. Unitemission i Brighter tecknad till ca 121 procent – övertilldelning har nyttjats. Läs mer.
iZafe Group utser valberedning. Läs mer.
SciBase USA partners studie visar att Covid-19 fördröjer diagnos av hudcancer. Läs mer.
Lumitos bilder kommer fortsatt att anpassas till Sectras system. Läs mer.
Eurocine Vaccines bekräftar god immunologisk effekt i preklinisk studie med klamydiavaccinkandidaten. Läs mer.
Kallelse till bolagsstämma i BerGenBio. Läs mer.
Västra Hamnen har publicerat en analysuppdatering av Promore Pharma – "strategi under utvärdering". Läs mer.
ObsteCare offentliggör memorandum avseende den fullt garanterade företrädesemission om cirka 24,9 Mkr. Läs mer.
SoftOx Solutions meddelar att Claus Seeberg har åtagit sig att teckna aktier. Läs mer.
Genmab rapporterar köp av ADS av primär insider. Läs mer.
Förmiddagens vinnare: Eurocine Vaccines +15,5%, Emotra +7,5%, NattoPharma +6,7%, Brighter +6,0%, AlzeCure Pharma +4,9%, PharmaLundensis +4,4%
Förmiddagens förlorare: Clinical Laserthermia -27,0%, EXACT Therapeutics -10,0%, Ortivus A -9,8%, Prolight Diagnostics -6,8%, PolarCool -6,6%, ExpreS2ion Biotech -6,5%
Index: OMXS30 2026,25 -0,62%, Hälsovård +0,61%
Fler artiklar från BioStock
» OncoZenge tar upp kampen mot oral mukosit
» Återstart för Chordate Medicals migränstudie
» BioStock Studio: FluoGuide om listbytet och vägen framåt
» Framsteg i Q4 sätter tonen för Cyxone under 2021
» Invent Medic tar första steget mot USA-lansering

Prenumerera på BioStocks nyhetsbrev