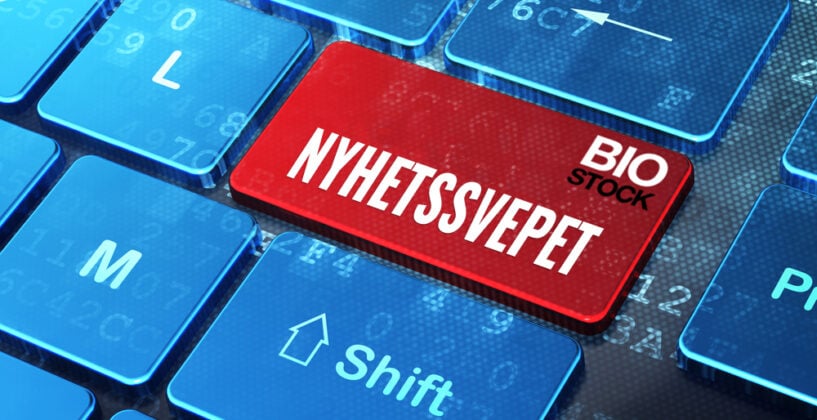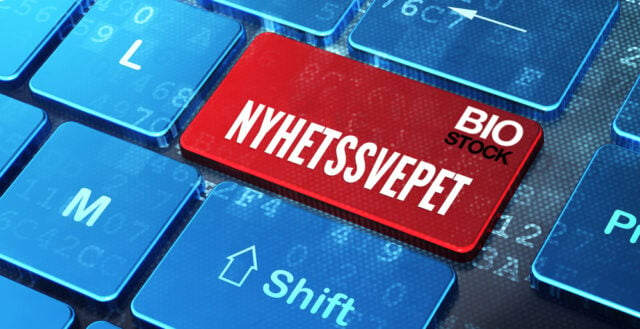 Nyhetssvepet måndag 28 september
De senaste artiklarna från BioStock
»  PolarCools nye vd ser bred potential för PolarCap System
»  BioStock Studio: IPO-aktuella Prostatype Genomics
»  Cyxone har samlat nya krafter
»  Carbiotix har en uppskalningsplan för sina AXOS-fibrer
»  Ultimovacs väg mot ett universellt cancervaccin
»  Chordate Medical tar sig an kronisk migrän
Läs BioStocks senaste nyhetsbrev för vecka 39 här.
Guard Therapeutics rapporterar positiva top line-resultat från sin fas I-studie av ROSgard i individer med nedsatt njurfunktion. Läs mer. Dessutom förlänger bolaget teckningsperioden i den pågående företrädesemissionen till den 1 oktober 2020. Läs mer.
CombiGene inleder storskalig produktion av CG01 för kommande säkerhets- och biodistributionsstudier. Läs mer.
Scandion Oncology får slutgiltigt godkännande från Danmarks läkemedelsmyndighet och etiska kommitté för start av en klinisk prövning med läkemedelskandidaten SCO-101 på patienter med bukspottkörtelcancer. Läs mer.
The Journal of Medical Virology har granskat, godkänt och publicerat resultaten från Enzymaticas in vitro-studie på SARS-CoV-2. Läs mer.
Inhalation Sciences installerar den första DissolvIt-modulen i ett labb på ett internationellt företag i Schweiz. Läs mer.
Xbrane Biopharma meddelar att Margareta Hagman tillträder befattningen som interim CFO. Läs mer.
LifeClean International har godkänts för notering på Nasdaq First North Growth Market. Läs mer.
Vator Securities har publicerat en analys av Diamyd Medical – " Diamyd på rätt spår för fas III med 50% LOA, inriktad på en multimiljardmarknad". Läs mer.
Rapporter
Phase Holographic Imaging  ScandiDos
Nyheter inkomna sedan i fredags:
Carbiotix har meddelat förändring av aktiekapitalet och antal aktier i bolaget efter riktad emission. Läs mer.
Prostatype Genomics offentliggjorde tilläggsprospekt avseende pågående emission av units. Läs mer. Bolaget har även presenterat i BioStock Studio. Läs mer.
Galecto meddelade att de har ökat sitt kapital med 64 MUSD som de avser att använda för förberedelse för EU-godkännande av GB0139 för behandling av idioptisk lungfibros (IPF) och för att utveckla sin kliniska utvecklingspipeline. Läs mer.
BerGenBio meddelade att de återupptar fas-II studie ACCORD som utvärderar bemcentinib i Covid-19-patienter i Storbritannien. Läs mer.
ViroGates har mottagit en första beställning från universitetssjukhuset i Salamanca. Läs mer.
Hamlet Pharma meddelade att de startar två parallella kliniska studieprogram. Läs mer.
Peptonic Medical
har informerat om att Ekobrottsmyndigheten har inlett en utredning rörande grovt insiderbrott.
Läs mer
.
Calmark
har valt att placera sitt dotterbolag i Kina placeras i Guangzhou, Greater Bay Area.
Läs mer
.
Aptahem
har publicerat en kommuniké från extra bolagsstämma.
Läs mer
.
Oasmia Pharmaceutical
 meddelade att de väcker talan mot bolagets tidigare styrelse.
Läs mer
.
Lifecare
meddelar ökat aktiekapital efter utnyttjande av aktieoptionsprogram och aktieförsäljning.
Läs mer
.
Demant
har uppdaterat sin finanskalender för 2020.
Läs mer
.
Förmiddagens vinnare: 
ProstaLund 19,35%, Scandion Oncology 8,44%, Combigene 8,43%, Guard Therapeutics 7,76%, Orexo 7,79%
Förmiddagens förlorare: 
Phase Holographic -9,91%, Toleranzia -9,77%, Klaria Pharma -6,37%, Alzinova -5,21%, 2cureX -5,78%
Index:
OMXS30 1816,97 1,85%, Hälsovård 0,52%
Fler artiklar från BioStock
»  
WntResearch uppdaterar gällande fas II-studie
»  
Ultimovacs väg mot ett universellt cancervaccin
»
Enzymatica erhåller patent på två stora marknader
»  
BioStock Studio: Aegirbios vd om nyförvärven
»
SynAct Pharma ser potential inom flera virussjukdomar
Prenumerera på BioStocks nyhetsbrev